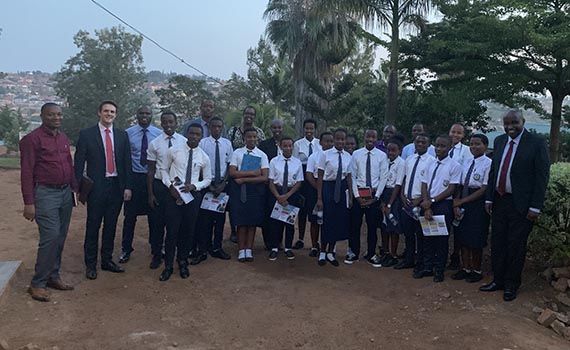 Since the genocide of the 1990s, Rwanda has been rebuilding its society. By making important economic and structural reforms, it aims to sustain its positive economic growth rates and stable society over the last decade – and ACCA has been helping with its recovery – working in partnership with the Institute of Certified Public Accountants of Rwanda (iCPAR). This collaboration is focused on strengthening iCPAR and enabling the institute to meet its goal to become a sustainable professional accounting organisation that can develop and support the accountants with the expertise Rwanda urgently needs.
Since 2016, we've been active in a joint capacity building project under a programme managed by the International Federation of Accountants (IFAC) with funding from the UK's Department for International Development (DfID). Together with our partners, we're collaborating to deliver a number of iCPAR's strategic priorities. For example, strengthening iCPAR's internal capability and capacity through the development of a human resources strategy and recruitment of the senior leadership team.
Public sector investment has been the main driver of Rwandan growth in recent years. Through the project we've worked together to develop a new Certified Accounting Technician (CAT) qualification, that meets global benchmarks but is tailored to the Rwandan environment. By including a Public Financial Management module, we're actively responding to the identified skills gap and shortage of qualified accounting technicians, particularly within the public sector in Rwanda.
At the same time, this initiative will strengthen iCPAR's role as a key service provider to the public sector in Rwanda – a great example of a Professional Accountancy Organisation (PAO working closely with their public sector partners. The new iCPAR qualification will help build a pipeline of skilled accounting technicians, who can meet the needs of employers, and in the longer-term strengthen the Rwandan economy.
In addition to the project, ACCA and iCPAR signed a long-term partnership agreement in 2016 focused on our ongoing collaboration and to ensure the sustainability of the project outputs and iCPAR's success in the longer-term.
iCPAR has made significant developments since its inception in 2008, facilitated through an effective focus on harnessing opportunity and partnerships, and we're proud to have supported their success. The partnership continues to go from strength to strength with many more exciting opportunities on the horizon – watch this space…