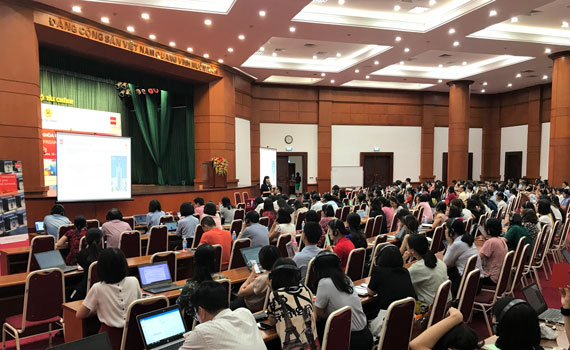 In the past 30 years, Vietnam has transformed remarkably from one of the world's poorest nations to a lower middle-income country. Its economy is performing well, driven by the sustained global recovery and ACCA has played an important part in the country's journey towards prosperity.
As globalisation and international economic integration became more intense in the 1990s, Vietnam urgently needed to improve the level and quality of their independent audit services in order to create an attractive business environment. In 2001, the Vietnamese Ministry of Finance (MoF) recognised the need to establish a professional audit organisation and welcomed our advice on how to set up the profession in Vietnam.
Since then, ACCA has made a number of interventions at critical points during the development of the accountancy profession in the country. This included:
In December 2003 the Ministry of Finance and ACCA signed a Joint Examination Scheme (JES). Under this agreement, ACCA introduced Vietnamese law and taxation variants and ACCA ran the first exam session for law and taxation with the Vietnamese variant in December 2006.
A World Bank project in 2004 to advise the MoF on the function and structure of a professional body and ACCA has continued to provide both formal and informal guidance to strengthen the national profession, for example by providing informal advice and guidance to the MoF and the Vietnam Association of Accountants and Auditors (the VAA) on establishing their regulatory functions.
Since then, the Vietnamese profession has made rapid progress:
The Vietnam Association of CPAs (VACPA) was established in 2005 as a membership body. After 14 years, membership grew significantly from the first 377 members to a total of 1,800 individual members and 130 firm members.
The Vietnam accounting law was revised in late 2015 with elements such as IFRS, IPSAS, & internal audit. The accounting & auditing policy department under the MOF was upgraded to General Department in 2017 with more autonomy, staff and services functions. An IFRS adoption roadmap will be announced in 2019.
The State Audit of Vietnam (SAV) earned the chairmanship of the Asian Organization of Supreme Audit Institutions (ASOSAI) for 2018-2021 term.
And the relationship with ACCA continues to grow. In 2012 ACCA worked in Vietnam on three separate initiatives funded by the World Bank:
Supporting the Accounting and Auditing Policies Department, within the Ministry of Finance of Vietnam to develop its institutional capacity and enhance its regulatory function and oversight of the accountancy and audit profession.
Working with VACPA to modernise their membership management and training functions.
A regional project, funded by the World Bank and managed by the Confederation of Asian & Pacific Accountants (CAPA) to develop a guide to PAO Development Guidance Series focused on Continuing Professional Development (CPD) systems of National PAOs. This project was undertaken in partnership with AARC Consulting.
In recent years, supporting the plan to move forward to IFRS, IPSAS and international professional standards, ACCA has work strategically with key stakeholders:
Supporting Vice Minister of Finance and his delegate to visit the UK and connect with IASB/IFRS Foundation to realise the national IFRS/IPSAS agenda in July 2018.
Supporting delegations of MoF, SAV and VACPA to attend various ACCA International Global Public Sector Conferences in March 2018 and 2019 to update with international trends of the profession and connect to thousands of ACCA's public stakeholders around the world.
Providing training on IFRS and IPSAS roundtables to MoF-led IFRS and IPSAS taskforce in 2017-2019.
Collaborating with VACPA in November 2018 on a joint Cert IFR to build IFRS capacity for the profession in Vietnam.
Being the only PAO supporting SAV in organizing the Symposium on environmental audit attached to the ASOSAI Congress in September 2018 in Vietnam.
Working with the State Securities Commission, stock exchanges on the annual reporting awards for listed companies since 2013 to promote international standards reporting including sustainability reporting.
Working with MoF, SAV, VAA and VACPA on emerging issues of the profession for example by co-hosting events on impact of Industry 4.0 on the profession, the future of the profession, sustainability issues, etc.
Vietnam now has a fully functioning accountancy profession and has achieved IFAC membership – a journey ACCA has supported through working in partnership with the national profession through capacity building and other numerous joint initiatives at key milestones.