A data analytics unit is being added to ACCA's Ethics and Professional Skills module to help members stay ahead of the curve. Judith Bennett explains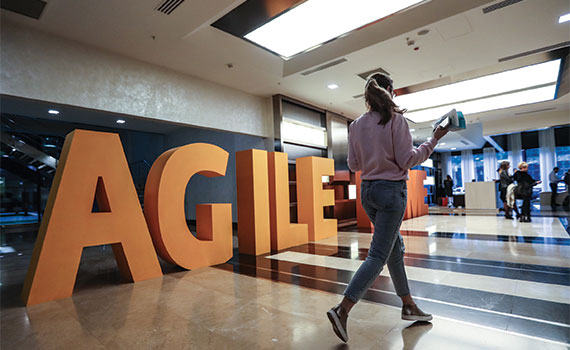 This article was first published in the April 2019 China edition of Accounting and Business magazine
None of us can stave off the invasion of technology into our lives, least of all at work. If there are any accountants left anywhere in the world who are less than fully computer-literate, with little interest in how modern businesses collect and use data, then their days seem to be numbered.
The description of professional accountants as number-crunchers has never been more inappropriate. Today, we are established business partners and advisers, and the central purpose of the finance function is to use data to inform decision-making and strategy. That requires, of course, a thorough understanding of data sources, collection and analysis, as well as the growing set of tools and technology deployed to make the most of the huge quantities of data generated and used by modern businesses.
ACCA's Drivers of change and future skills report identified seven 'quotients for success' for professional accountants for the future. The quotients cover professional competencies (technical knowledge and skills but also interpersonal qualities and behaviours) of value to professional accountants, employers and clients. One of these key qualities is the digital quotient (DQ), which refers to the understanding of – and the ability to apply – existing and emerging digital technologies, skills and capabilities.
The important point about the seven quotients for success is that they are not static. The world is changing rapidly, and so too are the needs of employers and clients. ACCA's priority is always that its members' skills remain relevant and current, wherever they are in the world and wherever they work. To accomplish this, ACCA reviews its syllabus annually to ensure that new developments and business practices are reflected in its training and qualification.
Data analytics
Technology is a fast-changing area. So although we already examine digital skills in the ACCA Qualification, we are enhancing the digital content across many of the exams to make sure that our students and members stay ahead of the curve. That is why, in April, we are introducing a data analytics unit as part of the Ethics and Professional Skills module.
Its introduction is a direct response to the ongoing march of digitisation and the latest technological developments affecting global business. Ethics has always sat at the core of the ACCA Qualification – ACCA was the first to introduce a dedicated ethics module in 2007 – but professional ethics move with the times, and the digital age presents new and different challenges.
ACCA's exams already test students on a wide range of business scenarios, encompassing big data, disruptive technology and cyber attacks. The Strategic Business Reporting exam and Strategic Business Leader case study already cover cloud and mobile technology, big data and data analytics, and the list of topics will be extended this year to include cryptocurrencies, blockchain and disruptive technologies.
Content
The new data analytics unit is designed to provide a comprehensive grounding in how data and analytics are used by businesses, with particular reference to the ethical questions raised in the digital age. The panel on the opposite page details exactly what is covered.
The unit brings in the important question of scepticism. In data, as in real life, if something looks too good to be true, then it probably is. Applying an appropriate level of scepticism is of particular importance when it comes to data, and the unit stresses that the results of data analysis should never be taken at face value. Further in-depth exploration may well be needed before any decisions are taken.
Privacy is another essential consideration when dealing with data, and the unit explores the ethical considerations of using data, including confidentiality and transparency.
Our data analytics unit is, we believe, a first for any professional body, in that it is practical rather than theoretical, and goes beyond the traditional classroom-to-exam approach to learning. This is a complex topic that is impossible to test adequately in a strict exam environment, so we have developed an engaging online approach, using business-related examples and interactive exercises designed to stretch your brain and test your understanding of the issues and the many ways in which they impact a business.
The highly interactive unit shows students (and members too, if they wish to hone their digital understanding), how commercial awareness helps shape business questions, and how relevant data is identified, manipulated and analysed using appropriate techniques, before conclusions are drawn. The unit also explains how findings from data analysis can and should be presented and communicated, allowing the relevant stakeholders to make good business decisions.
The unit ends with a mini case study, which asks students to analyse a set of data, draw conclusions and make recommendations.
Above all, it creates a safe and engaging environment where difficult ethical questions surrounding data can be explored and tested. It is comprehensive, relevant to a rapidly changing world, and an engaging and entertaining way to learn.
Judith Bennett is ACCA's director of professional qualifications.
"Our data analytics unit is practical, not theoretical, and goes beyond the traditional classroom-to-exam approach to learning"