Maryam makes a difference where she can
Foundation brings food, water, health and schooling to Nigeria's poor
"I know one person's effort is a tiny drop in a mighty ocean, but you have to try"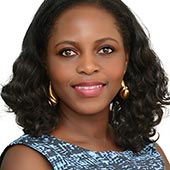 Maryam Abisola Adefarati knows that there is too much poverty, too much hunger, and too much disease in her home country of Nigeria. She knows that there is too much of it all for just one person to fix. But she does what she can to make a difference.
'I know one person's effort is a tiny drop in a mighty ocean, but you have to try,' she says.
And that is precisely what Maryam did when she and her husband set up the Babalola Adefarati Foundation, to bring four enormous benefits to as many people as possible in their community: food, clean water, proper healthcare and decent education.
'We had always wanted to do more to help people, and dreamed of setting up a foundation to do that,' said Maryam.
'When we returned to Africa after living in London, it was the wrong time to start. We didn't have a lot of money and we were starting new jobs. But in the end we said, let's just do it. And that's what happened, and we began the foundation in 2017.'
"All day there was music, and food for everyone who came"
Maryam persuaded a small army of medics – doctors, nurses, dentists, opticians – to run a free day-long clinic for as many patients as possible in her husband's home state of Ondo. More than 1,000 people who wouldn't normally receive any healthcare turned up.
'We saw everyone, said Maryam.
'They could get an instant diagnosis, and we were able to offer treatment and medicine, or glasses, and even crutches. It was such a wonderful feeling knowing that this day changed so many people's lives for the better.
'It was a carnival occasion too, and all day there was music, and food for everyone who came.'
The clinic is now an annual event.
In Ondo and Maryam's home state, Oyo, she and her family have provided relief to poor families in the midst of the Covid-19 pandemic, delivering staples such as rice, cooking oil and salt. They have also supported clean water projects, and helped children attend school.
Magic letters
Alongside her foundation, Maryam has also forged a successful career as a senior finance executive with firms including Coca-Cola, Pernod Ricard and BAT. Now she has also launched her own business, marketing a range of non-alcoholic cocktails in Nigeria, with recipes invented by Maryam and her team.
'It is an exciting venture for me,' said Maryam. 'I am lucky that I have enjoyed lots of interesting jobs, and that is thanks to ACCA.
'ACCA is all about opportunity. Even as a young accountant ACCA gave me the credibility I needed to move on with my profession. I could never have worked in the UK, for example, if I didn't have those magic letters on my CV.
'I would never had had the career I have without it.'