Paula sees a gap and goes for it
From shopfloor to YouTube influencer
"You have to get noticed. You have to stand-out. You have to make an impression. To sum it up: Be Noisy."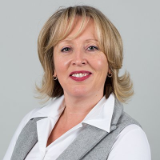 Who said gap years were for back-packing students?
Paula Kensington hit the road in search of adventure in her 30s when her career hit a bump in the road – and it turned out to be the best move she ever made.
Journey's end turned out to be Australia, where she fell in love with a culture and a landscape with horizons wide enough to match her own. The girl who had left school as a 16-year-old in South London finally found a new home in Sydney.
'I adored the place, it's that simple,' said Paula, who now works as a business consultant and coach advising executives and others on their next career steps.
Her newest venture is CFO Conversations, a series of themed interviews on YouTube which seek to guide the viewer through the thicket of modern business challenges.
'The idea is to create an online resource where new and potential CFOs can find out more about the role and to equip themselves with the kinds of skills and the information they need to understand just what it takes to be a CFO in today's world,' she said.
'The role has changed so much in just a few short years, so I think there's a real hunger for this kind of content.
"If you aspire to leadership you are on show the whole time whether you like it or not. It's important to understand that, and to work on how you come across in public"
'I'm especially keen to share with ambitious professionals in all countries. The role of CFO can be so isolating whether you are in a major city like London, New York or Sydney or somewhere more remote. The need is the same no matter the location. Finance professional need mentors and support networks. To become known for providing great support across the globe is my big aim.
'My goal is 10,000 subscribers and I have reached 119 so there's plenty of work to do.'
Paula's main passion in working with individuals is showing them ways in which they can build their profile, make themselves stand out in the marketplace, and shape what she calls their 'personal brand.'
'If I am talking to someone from the generation who didn't grow up living and breathing social media and the online world, quite often they appreciate help in using those technologies to get themselves noticed more in their organisation or profession,' she said.
'I encourage them to ask some key questions: what do I stand for? What are my values? How do people see me? How do I want people to see me? Answering those kinds of questions can help people realise what they want to do next in their careers and their lives.
'It's holding up a mirror so they can see themselves.
Next, I encourage them to think about how they present themselves.
'If you aspire to leadership, as a CFO or any other senior role, you are on show the whole time whether you like it or not. It's important to understand that, and to work on how you come across in public. It goes to the heart of what it means to be a leader.'
Bread today, jam tomorrow
Paula has carried a relish for risk throughout her career.
As well as throwing up home and job to travel the world, Paula gambled her future on a tiny tech start-up after she'd settled in Australia.
Rubik was selling bank-in-a-box software designed to move high street finance operations online. It sounds like an obvious idea now – but when Paula joined as CFO the sector was new - Rubik had no sales, hardly any staff, and was losing money fast.
'The CEO sold me a vison of what it could be like,' she said. 'He was offering bread today, jam tomorrow. I thought I could make it work.
'Eighteen months later Rubik was a $100m business. We'd gone from a corner shop to Tesco in less than two years.'
Golden rule
It all seems a long way from the time she quit school and worked in a department store to pay her own way.
'To be honest, after two years in retail I was tired of being on my feet all day and I wanted a change. I'd never considered accountancy, even though my dad and brother are both FCCA. But it seemed like a good route to financial independence which has always been so important to me.
'In hindsight it was such a great move. It has led to such a satisfying and rewarding career.'
Through it all she has picked up one golden rule which she is happy to share with any young professional with an eye on success.
'You have to get noticed. You have to stand-out. You have to make an impression,' she said.
'If I could sum it up in two words, I tell people: Be Noisy.'