Richard McLean FCCA, regional CFO, SAP Asia Pacific Japan, has embraced the constantly evolving environment of IT as it transforms the global business landscape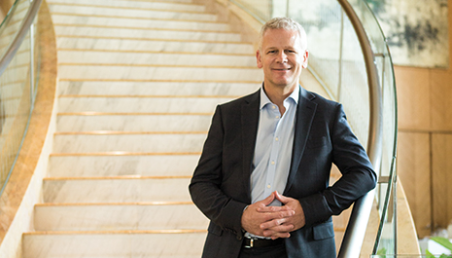 This article was first published in the September 2016 Malaysia edition of Accounting and Business magazine.
Richard McLean FCCA, regional CFO at SAP Asia Pacific Japan (APJ), is not one who is averse to change. In fact, he embraces it. This is reflected in his decision to uproot from the UK 13 years ago to live and work in Australia. It was there that McLean, who earlier worked in the life insurance, investment banking and automotive industries, decided to join the IT industry where the only constant is change.
At SAP, McLean is recognised as an agent of transformation within the finance function. The Northern Ireland native has been a leader of SAP's global finance transformation project execution within the APJ region in recent years. 'If you are in the IT industry, you have to get used to change. Things change frequently, often fuelled by innovation and new technology, which enables you to reimagine your business processes and ultimately change your entire business model,' says McLean, who is now based in Singapore, overseeing SAP's finance operations in the region.
He says that the IT industry has a healthy balance of really smart people who on the one hand feel successful and confident but are at the same time a little paranoid. 'Many run successful businesses but there is always a risk that someone will come along tomorrow and change your world by inventing something new that makes you less competitive or possibly even redundant,' he says.
'When you are in such an environment, it becomes normal to deal with change. You are always asking yourself: how can I become different? How can I be better? There's a culture of being curious, asking hard questions and challenging the status quo in search of better ways of doing things. I like that. I would never want to become complacent, and stop learning and growing.'
When McLean joined SAP, the market leader in enterprise application software's finance function was already on a journey of transformation. The German headquartered group had made the decision to implement shared services operations in-house rather than outsourcing. The APJ region pioneered the company's move towards shared services, starting in Singapore over a decade ago. Over time it expanded and evolved from regional to a single global operations unit with automated and standardised end-to-end global processes. Then, in 2012, there was an acceleration of the finance transformation agenda, with many more activities and roles falling into scope.
Facilities management, procurement, risk management, order-to-invoice, tax and statutory accounting are areas that now belong to global centres of expertise or shared services and away from local finance management, which is now tasked with providing much greater levels of commercial finance support and financial planning and analysis.
Win hearts and minds
However, bringing major change like this to an organisation is no easy task. In extending the scope of shared services, McLean recalls that SAP's leadership needed 'to sell the future vision' to the organisation. 'As leaders that's a really important role. You have to make the case for change, and you have to win the hearts and minds of the people in your organisation so that they get on board and move forward in the same direction.'
McLean notes that the nature of the IT industry means that nothing stands still for very long. 'We are always evolving and looking for continuous innovation in the way we work and use our technology because the business is continuing to grow,' he says. 'We need to scale as it grows, in order to support it and make that growth sustainable.'
There is, McLean continues, still a need to look at increasing the scope of shared services. 'That's something we talk about and regularly revisit,' he says. 'I don't think it will ever finish. That's the right approach because you can't become complacent.'
Interestingly, SAP's transformation journey was facilitated by the company's own software technology. 'We have a robust financial system that gives us the platform for efficient processes, strong controls, data integrity and analytical insight,' McLean explains. 'That, coupled with the organisational redesign, has helped us to be more customer-centric. We are not only better placed to work with our internal business partners but we are also increasingly asked to share our story and experience with many of our customers who are facing the same challenge of scaling their finance operations to support growing, and more complex, businesses.'
Oversight and leadership
As SAP's regional CFO for Asia Pacific Japan, McLean faces the challenge of providing effective leadership for the group's finance function in one of the world's fastest-growing regions. While he has his work cut out to achieve this, given the complexity and diverse nature of these markets, he is not fazed by the size of the task. McLean provides oversight and leadership for the company's finance and administration community in the region, with about 250 finance professionals under his leadership. 'However, it is more than just financial oversight,' he emphasises. 'At SAP, the regional CFO is asked to play a more expansive and business support-type role.
'APJ is a diverse and broad geographical spread. Therefore, the secret to success for finance is organising ourselves in a way that enables us to scale across that diverse business,' he says.
When it comes to operating in a global company, McLean acknowledges that one can't just adopt a 'cookie-cutter' European or North American approach to Asia. 'Perhaps it may work in Australia, which is culturally similar to Europe, but Japan, Korea, South-East Asia and India are very different places. You have to be aware of that and respect the differences. Certainly you want to drive consistent outcomes but you have to be culturally aware and adapt your leadership style at times to be effective.'
To operate successfully in the region, McLean says that SAP requires people who want to make a difference and create something of lasting value. 'It is about creating a legacy,' he says. 'We want to take on a function or a business and leave it in a better state than when we took it on, and that's very much aligned to the leadership principles of SAP.'
One important focus throughout the transformation process has been, says McLean, to nurture a 'one-team' culture. 'There is a danger with organisational change that you create silos that become isolated and operate independently of each other,' he says. 'Leaders need to be on their guard for this, and wherever possible build bridges and keep the different functions aligned.'
McLean also highlights three other areas that the SAP leadership focuses on, the first being the concept of driving simplicity. 'There's no question that over time businesses have become a lot more complex with their systems and internal processes,' he says. 'To be flexible and agile in today's global and digital economy, we need to better leverage technology and drive programmes on simplification of processes, simplification of organisational design and making sure we have end-to-end ownership, transparency and accountability of those key business processes.'
Become more relevant
Another leadership principle at SAP is the desire to be a customer-centric organisation. 'We look at how we can get close to our customers, internal and external, how we can better understand them, and how we can become more relevant for them,' he says. 'In finance, we spend time with our business partners to become empathetic to their challenges, align with them and collaborate to find solutions to those challenges. Over time that's how you become a trusted business partner.'
The third focus, says McLean, concerns people. 'How do we find and develop the best talent in the industry, in the market that we operate in? That's a global focus for all of us in SAP,' McLean says. He describes the 'Amazing People' programme, which features a range of talent development and learning initiatives within the finance function.
SAP also places importance on encouraging diversity within the company. 'I think diversity is a critical ingredient for any great business,' he says. 'We should celebrate our differences and encourage different opinions and rigorous debate among the team. That's ultimately how you make people feel engaged – when they feel they have a voice – and that's how you make better, more informed, decisions,' he says.
McLean highlights the need to build an environment of trust. 'You can't be everywhere doing everything,' he says. 'You need to know the people in your team are aligned and working towards the same goals. You need people you can trust collaborating with each other and doing their jobs proficiently and effectively.'
Finance professionals can be found throughout SAP – not just in the finance function. 'We probably have more accountants working outside finance than inside,' McLean notes. 'SAP's business is built on ERP [enterprise resource planning] and financial software, so wherever you go in our business, you'll find qualified accountants. That gives us comfort in many respects, as I believe that people with strong finance acumen also have sound business acumen.'
SAP has also been supportive of ACCA events in the region, particularly in Malaysia, where it has been a major sponsor of the ACCA Malaysia annual conference in recent years. 'We have been working with ACCA for a while, and are glad to be its partner. What I'm really impressed about ACCA in Malaysia is the number of active members. They come to these events, they are keen to network and learn, keen to engage in conversations, and when you invite them to a leadership event they turn up in their numbers,' says McLean, who was a panellist during this year's annual conference in May.
Working in Asia has been a real bonus for McLean. 'The fact that I moved halfway across the world, it's no surprise that I'm interested in travelling,' he says. 'I like going to new places and learning about new cultures, and the history of these many great countries,' he says. 'Asia is growing and looking to the future with optimism, and that is a refreshing place to work.'
MK Lee, journalist
"There's a culture of being curious, asking hard questions and challenging the status quo"