ACCA member Sanjay Rughani, CEO of Standard Chartered for Tanzania, says his background in finance underpins his leadership role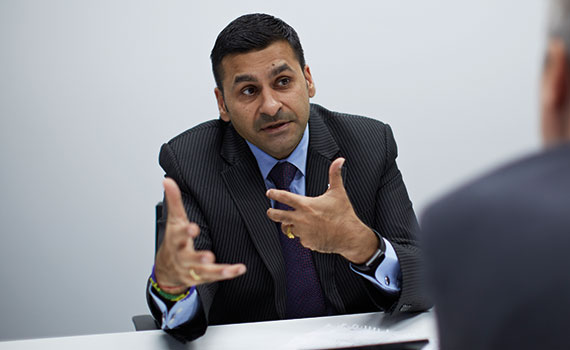 This article was first published in the April 2017 international edition of Accounting and Business magazine.
Sanjay Rughani ACCA is comfortable with leadership. Not only is he CEO of Standard Chartered for Tanzania in East Africa, he is also deputy chair of the Tanzania Bankers Association and deputy chair of the Professional Accountants in Business committee of the International Federation of Accountants (IFAC). He was nominated for that last role by ACCA.
CEO commonly stands for chief executive officer, but Rughani prefers to think of himself as the chief enabling officer. 'It's all about achieving big,' he says, 'driving for a bigger purpose, creating success – inspiring and enabling things that have not yet been done.' He sees the role as requiring thought leadership, creativity and innovation, including testing out appetite for risk in order to maximise organisational, team and individual potential. He enables and makes connections in three areas: vision, performance and operations.
'I'm the conduit for progress. The CEO's role is about driving and articulating the vision towards long-term organisational success,' Rughani adds. He puts a major emphasis on performance too – the numbers but also the efficiency and the client-centricity of the organisation. 'Performance includes upholding and continuously improving high professional standards.'
The final criterion in Rughani's definition of the job of a CEO is to deliver operational excellence. 'You have to be efficient and nimble and really drive the people agenda. As a CEO you are in the people business. You lead the people and they drive the organisation.'
Underscoring that is encouraging shared value and integrated thinking. 'What we do has a big impact on society, community and environment, and we have to be aware of that bigger purpose for the world we are in and tackle shared issues together.'
CFO to CEO – the jump
There is enduring fascination with making the switch from finance to wider organisational responsibility – and Rughani can speak from direct experience. A CFO brings certain skills to the role of CEO, he says: being analytical; looking at the performance from a numbers perspective; knowledge of controls and regulation; and independence of mind. It is also about driving intellectual curiosity, thinking through the meaning of the numbers, embracing technology. However, he notes that the job requirements for a CEO are much broader than for a finance chief, with many attributes built by engaging in the correct forums and reading widely.
CEOs are concerned with strategy and problem solving – often without a definite answer – so they must be comfortable with ambiguity, whereas the finance role often has definite answers that can be tested. The CEO needs emotional connections with staff, clients and shareholders. They have to align key performance indicators to the demands of different stakeholders. 'The CEO needs the insight to create impact in the short, medium and long term.'
However, Rughani's background as a financial professional still underpins his approach to the CEO role. 'You are close to numbers and to what the data is telling you. I have learnt to interpret what the economy, the markets and my company dashboards are saying from the purposeful angle of numbers.' He harnesses these numerical skills in dealing with the issues he faces as CEO, such as staff engagement levels, or customer satisfaction and loyalty, or what profit level means to his shareholders. And of course, as an accountant, he brings professionalism and personal integrity to the CEO role.
'When people – whether staff or clients – see me, they always recognise the financial professional. That cannot be divorced from me and so there is an element of trust and integrity because I was a financial professional who is now a CEO. The board is happy because it sees that I am clear about numbers – very transparent.
'One reason I chose the finance profession was because it was comfortable with what I felt in my heart and it accords with my personal values.'
These values provide stability in a world that is fast changing. 'You have new standards, new ways of looking at enterprise risk. You have new challenges, such as how to use technology to reduce manual operations and move into added-value work.'
As CEO of Standard Chartered Tanzania, Rughani is part of an organisation whose vision is to be the best international bank in Africa, Asia and the Middle East. 'You set parameters around what "best" could mean in terms of performance, shareholders and giving value to clients,' he explains. 'You are constantly looking at the changes in the landscape.'
He is determined to ensure that Standard Chartered in Tanzania is a great place to work, reckoning that if staff and colleagues are inspired, they will give best value to the clients. If that happens, then loyal clients should in turn give the bank more business, so driving a virtuous circle of performance within an integrated strategy.
You would expect a senior banker to have had a varied career but the breadth of the experience – in roles and places – that Rughani has packed in is astonishing. He admits to being ambitious personally, and also wanting his career to be as diverse as possible. 'All my roles have been about planning and seeing through what I wanted to do,' he says. 'It is about planning with purpose.'
Wider ambitions
Having succeeded as a CFO, Rughani was ambitious to take on the role of CEO. 'I wanted to be a CEO seven years ago. I took stock of my life, asking myself, "What does a CEO do that I would not immediately know how to do?"'
He came up with three answers: first was strategy and vision creation. Second, he says: 'The CEO makes decisions around ambiguity, while the CFO has a more structured life.' So he became involved in a role that required him to learn about dealing with that ambiguity. Finally, he also saw that it was key for a CEO to drive operational excellence, prompting him to consider how well he himself understood organisational operations. His last three years as CFO was spent as Standard Chartered's Africa head of shared services. 'With that I could jump into a CEO role when the right time came.'
Rughani's international experience was an essential part of his career development. He says: 'The world is clearly now a global village, partly due to technology. My global experience has taught me that there are no shortcuts in life, and as a global player there is a lot of competition. Being part of this has also given me confidence: I am comfortable with the culture and the diversity anywhere [I work]. In a global role I can be inclusive, and that is close to my heart.' He thinks this cross-border perspective has increased his creativity and desire to innovate.
It also gives him a unique perspective on the future. Banks, he says, are in for an exciting time, as long as they keep evolving and stay relevant in a changing world. He has seen the banking landscape transformed from the time he first joined the sector, 18 years ago. 'From an accountant's perspective we've moved from a bean-counter role to value creation and business partnering. These days there is more emphasis on the ability to provide insights, and to manage risk, people and stakeholders.'
He was, of course, in banking throughout the global financial crisis. When this took hold, in 2008, he was Standard Chartered's CFO for Ghana and West Africa. 'It was a disastrous time. Suddenly, trust was lost. It was made out of multiple causes, such as adverse micro-conditions, but also greed, and bad governance and oversight. Multiple stakeholders did not take the time to understand the implications of certain directions. As a financial professional I was aggrieved; we are about good governance and professionalism.'
It has to be significant that Rughani manages to draw positive conclusions from his final reflections on that defining event, which formed the biggest challenge in the corporate world for a generation. 'Many were impacted and hurt, but any crisis or challenge should be maximised and not wasted, and we should learn the lessons,' he says. For him, those lessons are around ensuring financial stability, treating customers fairly – which means not pampering them but serving them with what they need – and self-regulation, or being sensible about what you do.
As Rughani notes, the future of banking is tied up with mobile money and payments systems: 'The banking world is going to evolve into the digital space.' Tanzania is one of Africa's biggest countries, with a population of 50 million, and has one of the fastest rates of annual GDP growth in the world, at around 6% for the past decade or so. That rate is set to continue, fed by tourism (the wildlife is incredible) and natural resources (large gas reserves and fresh water), as well as by its strategic importance in East Africa. So it needs a vibrant banking sector, which provides Rughani – and Standard Chartered, now in its centenary year in Tanzania – with huge challenges and opportunities.
The talk is about digital, with regulation aligning the banking and mobile phone industries. 'We have the advantage of a late mover,' Rughani says. 'We are leapfrogging the legacy systems.' Tanzania may not yet have banking products as sophisticated as in Western Europe, but he expects that to change. 'As part of a global organisation, we can bring global knowledge driven by local talent – whether our clients are local or international.'
Peter Williams, accountant and journalist
"You have to drive the people agenda. As CEO you are in the people business. You lead and they drive the organisation"