When Anit Chandarana FCCA joined Network Rail, it was a company with an unclear destination. But the team is now on board and the journey ahead a lot smoother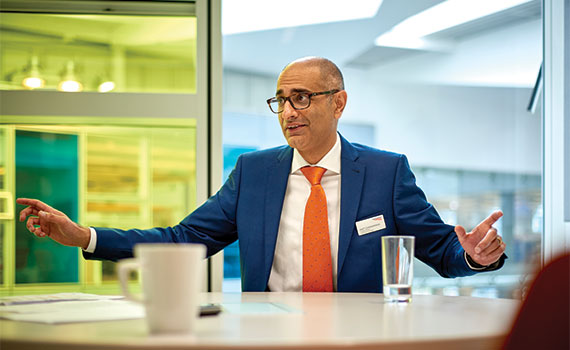 This article was first published in the October 2017 UK edition of Accounting and Business magazine.
Network Rail isn't always one of the most popular companies in Britain. Being responsible for most of the rail network, signalling, timetabling and 18 of the biggest railway stations, the company is in the line of fire from the travelling public when things go wrong.
Anit Chandarana FCCA, finance director for infrastructure projects, arrives at our interview wearing his Network Rail name badge. He knows full well passengers' frustrations for he, too, commutes by train from his home in Watford to Network Rail's office beside Milton Keynes station (or sometimes to offices in Euston). Wearing that name badge, he stands out like a lightning rod.
'I call it the lanyard test,' he says. 'How comfortable am I wearing this badge when the trains are not running well?' He admits that, when he first joined back in 2003, if there was any chance of strife from fellow passengers, the badge came off. 'It stays on now,' he says.
'When you explain to people what's going on, they're much more understanding about it, and often they just want to have somebody to have a bit of a rant at. Train travel has changed quite substantially in the last few years. Just look at the rolling stock. But that's not to say there are not frustrations from the public every day in our network.'
Chandarana is in the unique position of having some influence over the public's experience with the rail network. With £6bn to spend, he is responsible for delivering Network Rail's projects. That includes the huge mega-projects such as upgrades to Thameslink, which will transform north-south travel in south-east England through London, and the rebuilding of King's Cross and London Bridge stations. At the other end of the scale, it includes the replacement of worn out rails.
Routinely, this type of work means stretches of railway have to be taken out of action – preferably overnight but sometimes for several days: 'It's inconvenient, but passengers accept it.'
The problems come if the work isn't finished on time. Christmas 2014 is a date seared on Network Rail's collective memory. King's Cross was shut as engineering works overran, and Finsbury Park station was swamped by passengers told to go there instead. People queued in freezing temperatures and trains were delayed by hours. Not a good day at the office – but what is the finance department supposed to do about any of that?
'Two things happened,' recalls Chandarana. 'One, we didn't hand back the railway on time; and two, we didn't have strong enough plans to deal with the ensuing problem.'
Changes were put in place. 'Our planning is now much more stringent around when we take not just the go/no-go decision on whether we do the project or not, but all of the small decisions that happen in an evening of engineering work. Secondly, we have much stronger industry-wide contingency plans.'
Finance's role, he says, is 'to help our business in its decision-making capability through good analysis and good financial insight'. For 'possession overruns' – the industry jargon for what everyone else calls 'overrunning engineering works' – Chandarana says that his finance function has done 'a lot of work to understand the root causes of overruns and to help the business understand where it is best placed to start addressing those concerns'.
That doesn't mean that a finance person is out on the West Coast line at 3am making operational decisions about whether to replace another bit of track – 'but I really do encourage my team to get out every now and again to really experience that', he says. It means that 'we help the operational business take the decisions. It's quite numerical in its analysis and finance people tend to be really comfortable with the numbers. They also tend to be curious. That combination leads us towards that kind of thinking.'
That kind of thinking is much needed. As a result of what's known as the Hendy review, the infrastructure projects division was given a £193m 'efficiency target'. 'We're about halfway through realising that, and finance has had a big part to play in driving the project teams to be innovative,' Chandarana says.'
Start of the journey
State-owned British Rail was split up and privatised in the 1990s, with the rails and stations going to Railtrack. Whatever the travelling public may think today of Network Rail, its view of the whole railway set-up could hardly have been more dim back then. When Chandarana decided in 2003 to take a job at Network Rail, 'a lot of people said to me, "Why would you leave Shell to join that failing organisation?",' he recalls. 'The role was in the IT division and my interest was getting into the IT industry. But one of the things I realised was that joining a struggling organisation is a great place to learn.'
Today, the rail company is trying to behave like a more commercial organisation, devolving authority to regional teams. 'People now see us as much more customer-centric,' he says.
Network Rail has to ask the government for its major funding, and so for anything that Chandarana needs to spend money on, a business case has to be made to Whitehall, and that business case has to compete with every other big government expenditure.
Making the business case requires financial skill, not just financial input. Few rail projects can stand up just by showing a positive number in the bottom right-hand corner of the spreadsheet. 'Part of the reason that government will want to invest in a programme like Thameslink isn't just because of the additional rail revenue they get but because of the socio-economic benefits it brings,' Chandarana explains. There are specific metrics that define the value of a minute of rail journey time saved; there are metrics that determine the value of a life lost because of a safety issue.
'Our aim is to close every level-crossing in the country at some point. But the way in which we will prioritise those decisions is often around metrics about where we have our highest risk and how you evaluate that risk,' he says, readily admitting that metrics are no consolation to someone who has lost a loved one in an accident at a level-crossing that hasn't yet been replaced.
The regeneration at King's Cross is a transformation. Ten years ago the area was, in polite terms, insalubrious. Today, it's the chosen site for the new London headquarters of Google. 'If we had only looked at King's Cross on the basis of the direct rail revenue, we would never have done that project. But if you look at it from the socio-economic benefit it beings, the business case was a no-brainer,' Chandarana says. 'It's one of the interesting things about working in a finance role in Network Rail: you get absolutely involved in some of those concepts. For me it is one of the reasons I love working here.'
Trains and training
Chandarana admits that he wanted to be an accountant from the age of six. The ACCA Qualification suited him well: 'I wasn't sure whether I wanted to go into practice or into industry, and ACCA gave me the ability to do both. My boss at Sainsbury's was ACCA-qualified but mostly it was about that flexibility with opportunities beyond qualification,' he says.
Today, the qualification gives him 'instant credibility'. 'It gives me a real obligation to uphold that professional integrity.'
Chandarana left Network Rail in 2005 to start up a new food business. Things didn't work out as hoped, but fortuitously another finance vacancy opened up at Network Rail, so he returned in 2007. 'It was a massive learning curve for me; I never want to go and run my own business again.' There is no regret when he says that, though. 'It's something I'm quite proud of, actually. That role was the thing that gave me the ability to see myself as a leader.'
When he took up his current role in 2013, many members of his new team said they were considering leaving. 'They didn't see a place for finance in an organisation like this. Can you imagine? A business that spends £6bn a year?'
Chandarana set about providing clarity of vision, purpose, the role of finance and of the individuals in it. 'Within two or three months it was transformational,' he says. 'Five years before that, I regarded that kind of activity as management speak. But going through that Network Rail journey I began to see its importance. It's one of the key differences between leadership and management.'
For finance, at least, the journey continues, the team members are comfortably on board and Chandarana can continue to wear the badge with pride.
Andrew Sawers, journalist
"Part of the reason government will want to invest in a programme like Thameslink isn't just because of the revenue but because of the socio-economic benefits"