Gashe Yemane FCCA, director general of AABE, is bringing the accounting profession into existence in Ethiopia as well as a standards framework and new regulatory regime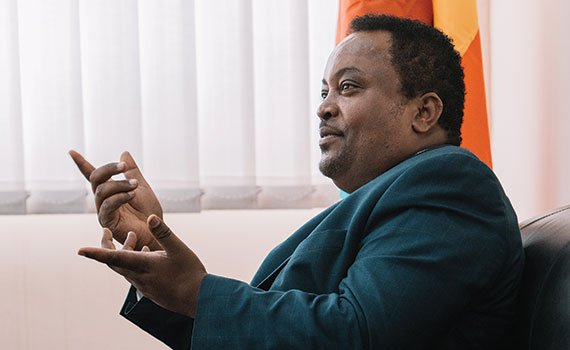 This article was first published in the November/December 2017 Africa edition of Accounting and Business magazine.
Ethiopia is taking great strides to build an accountancy and auditing regime fit for a country with an ambitious economic agenda.
As recently as 2014 Africa's second most populous nation had neither a regulatory body nor any professional accounting organisation, says Gashe Yemane FCCA, director general of the Accounting and Auditing Board of Ethiopia (AABE), which was set up in January 2015 following a financial reporting proclamation, issued in late 2014. Two months later Yemane was appointed to lead the fledgling body.
As Yemane admits, it is a formidable task – one that will not be completed for a long time to come. The foundation of AABE marks a clear watershed in the development of the accountancy profession in the country, he says: 'Before the proclamation there was no ownership of the profession.'
Cart before horse?
With Ethiopia lacking a well-established and properly functioning professional accountancy organisation, AABE needs to act as an independent regulator as well as carry out some functions that are normally handled by a professional accountancy organisation. Yemane says: 'For those outside Ethiopia, it looks like we have put the cart before the horse, having a regulatory body before we have a professional accountancy organisation. But we are going to build a strong professional accountancy organisation, which will be a member of IFAC [International Federation of Accountants].'
In truth, Ethiopia had no national accounting or auditing standards before the appearance of AABE. There was no clear definition of what was meant by preparing accounts under GAAP or auditing in accordance with auditing standards. This lack of standardisation and clarity is particularly pressing given the growth in the country's economy.
Ethiopia has witnessed rapid economic development. The growth in real gross domestic product averaged 10.9% between 2004 and 2014, lifting the country from being the second poorest in the world in 2000 to a projected middle-income country by 2025, as long as it can maintain its current growth trajectory. Development has been fuelled by both public and private sector investment.
The government's growth and transformation strategy envisages turning Ethiopia into a hub for manufacturing in Africa. The further investment that this sort of development demands – internally from tax revenues and externally from foreign direct investment (FDI) – will happen only if business confidence keeps on improving. Yemane says: 'Financial statements prepared with clear, high-quality standards will be transparent and will improve accountability and collectables from the tax system. Once we can show that high-quality financial information is being prepared, investor confidence will improve and will form a basis for attracting FDI.'
One route to generating high-quality, investor-friendly financial information would have been to develop national accounting and auditing standards from scratch, but the scarcity of professional accountants in Ethiopia would have made that a difficult task. Instead, the adoption of high-quality international standards already used by over 130 countries seemed a more logical option.
First steps
Yemane's initial task as director general was to develop a five-year strategic plan for 2016–21. The starting gun has been fired by AABE's adoption of IFRS Standards (issued by the International Accounting Standards Board) and International Standards on Auditing (issued by IFAC through the International Auditing and Assurance Standards Board).
To implement the standards, AABE has developed a roadmap. Based on international experience, Yemane reckoned that entities would need two to three years to prepare properly for reporting under them. He says: 'We considered that a phased approach would be appropriate given the few qualified accounting professionals in the country and the preparatory work required by the reporting entity.'
AABE is now monitoring IFRS Standards implementation by the country's significant public entities and the adoption issues faced by other public entities. Yemane says: 'The development of accounting and auditing is progressing very well. Every entity knows which reporting framework is applicable to them and they are making the necessary plans.'
Yemane knows that implementing international standards is no easy task, particularly given the skills constraints. 'In Ethiopia there are no professional accountancy bodies to fill the gap in education and training,' he explains. 'We have fewer than 500 professional accountants in the country.'
Ethiopia's universities do run accountancy courses, but teach US GAAP. 'There is now a huge gap between what is being taught and what is being practised,' says Yemane. Before AABE was set up, he says, corporate statements that accounts were prepared under GAAP, or audited under international standards, were not precisely defined. 'Which GAAP? Nobody knows. Not US, because they are enormous and extensive. And we don't have Ethiopian GAAP. You can see how it would be difficult for people to appreciate the implications of adopting IFRS before we deliver extensive training.'
Yemane also knows that not everyone welcomes the government decision to adopt international standards: 'Some think it is imposed just for the purpose of control.'
A further challenge is to shift the country's perception of the accountancy profession and of accounting standards. Yemane says: 'Some think of accountants as bean counters recording transactions; they do not consider they are valuable. One CEO told me that financial professionals are like dishwashers – they clean up once the transaction is done.'
While AABE's auditor surveys leave Yemane confident that progress is being made, he warns against thinking everything will go smoothly. 'There will be hiccups here and there,' he says. Larger financial institutions appear to be making good progress, but microfinance entities may struggle more due to lack of qualified staff. Ethiopia's Ministry of Public Enterprise, AABE and Addis Ababa University will be keeping tabs on the IFRS adoption process among public enterprises.
Capacity
Moving to international standards makes clear the huge capacity challenge facing the profession. Ethiopia has a paucity of professional accountants, according to Yemane, even compared with other African countries. 'Just 500 professionally qualified accountants for a population of 102 million is unacceptable,' he says. It is enormously expensive for Ethiopians to acquire a professional qualification, especially if studying abroad. Another hurdle is the quality of education in general, reflected in the low pass rates achieved by those who study for the ACCA Qualification. This capacity issue will continue to dog the country if its universities continue to restrict their courses to US GAAP.
To achieve compliance with international standards by 2021, Ethiopia needs more accountants capable of implementing them. Yemane says: 'In the long term a local professional qualification is a must. We need to increase the number of professionals by thousands each year, or else this will be a brake on development.' To bridge the gap in the short term, AABE is running a national training campaign to develop courses that will teach international standards.
Workshops have been developed in collaboration with the World Bank and training is being offered to every university accounting lecturer in the country so that they in turn can roll out training to their students. Yemane also has an ambition to develop an internationally recognised local qualification with two tiers (one professional, one technical), with the universities bringing their teaching into alignment, to address the cost and access issues.
Related to the low number of accountants is the absence from the country of the large accountancy firms, with their repository of knowledge of international standards and especially their capacity to deal with more complex issues. Yemane says the banking sector is engaged in transactions and lending, but not trading, which would bring more complex financial instrument accounting issues.
He is determined that AABE will work with and within the governmental structures of the country. 'If we are to have a strong professional accountancy organisation, we have to take this federal arrangement into account,' he says.
The key task, though, is to make AABE a credible organisation in Ethiopia and beyond. 'My vision for AABE is for it to be a very strong monitoring and oversight body, regulating the profession and helping the country sustain its current economic development,' says Yemane.
Peter Williams is a journalist
"We need to increase the number of professionals by thousands each year, or else this will be a brake on development"