Lang Hy FCCA, assurance services partner with PwC Cambodia, is focusing his energy and expertise on the country's growing financial services sector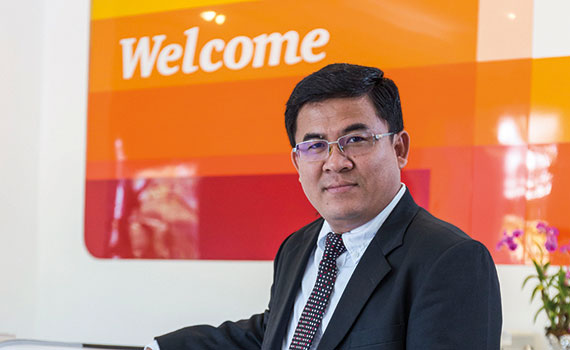 This article was first published in the November/December 2017 China edition of Accounting and Business magazine
As a young graduate in Cambodia's rapidly developing capital Phnom Penh, Lang Hy made a decision that would determine the direction of his career: to enter the field of accountancy. Today, 17 years later, Hy is a partner at PwC Cambodia, a Big Four firm that provides audit, tax and advisory services in a country that's experiencing around 7% economic growth annually.
'During my time at university, I didn't have access to a lot of information about the Big Four firms. But my brother convinced me that the Big Four was a good place to work, and I applied and luckily I got an offer,' explains Hy, sitting in his airy office in central Phnom Penh. 'It's been a long journey from then until now.'
He remarks that PwC Cambodia occupies a strong position among the Big Four in the country; it is a well-established firm with an understanding of the local market and has strong relationships with business and government. He also notes that PwC has three Cambodian partners – a high number compared with its competitors including other Big Four firms.
PwC Cambodia works with a variety of industries including financial services, telecommunications, manufacturing, hospitality, energy and non-governmental organisations. Hy focuses his energy and expertise primarily on the financial services sector. Although Cambodia's market is still small compared with those of neighbouring countries, Hy is kept very busy.
'The main focus is commercial banks and microfinance,' he explains. 'I have very good experience of doing these kinds of audits and also providing consultation work, accounting advice, market research, dealing with mergers and acquisitions, and helping buyers and sellers see how they can close deals. I've been involved in a number of deals for mergers and acquisitions, helping interested buyers acquire industries here, including microfinance.'
The financial services industry is booming in Cambodia, with the amount of outstanding loans hovering at around US$17bn last year. Still, Hy says that business management can be challenging for smaller, family-owned businesses, especially because their bookkeeping and financial reporting capacities are limited. However, entities are starting to recognise the value of having proper bookkeeping and financial reporting, with some now improving their standards up to the necessary level.
'If a multinational company comes to Cambodia, they bring their resources and their experienced people,' Hy explains. 'For those entities, there's no issue in terms of accounting and business management.
'But for a family-owned business, the key challenge I've observed is that their bookkeeping is limited. There isn't a full set of financial statements prepared in accordance with local accounting standards: Cambodia International Financial Reporting Standards (CIFRS) or CIFRS for SMEs. If they want to get a loan from the bank, the bank will always ask if they have audited financial statements. But their financial information might be just three or four pages long.'
International investment
Cambodia's high rate of economic growth and special economic zones are attracting large foreign investors. Recent recruits include Coca-Cola, Toyota and US jewellery and silverware company Tiffany & Co.
China is one of the biggest sources of direct foreign investment in Cambodia, and so has played a fundamental role in the country's economic growth, Hy says.
'The governments of the two countries work well together, and that's why there's a lot of Chinese investment coming into Cambodia,' he says. 'I think China will contribute a lot to the country, especially with the flow of Chinese investment, tourists and companies.'
This is due in large part, Hy says, to the One Belt, One Road initiative, which is having a major impact on companies in the region. 'Geographically, Cambodia is at the centre of ASEAN, so if this kind of project gets successfully up and running, Cambodia will get a lot of benefit from that,' he says.
Greater regional connectivity, from roads to telecommunications, would all benefit Cambodia, Hy argues. But all of these economic changes may require policy changes, too.
In July, at the conclusion of its annual Article IV consultation, the International Monetary Fund announced that, while Cambodia's economy continues to grow, the government will face increased spending pressures that need to be addressed by improving tax revenues through the government strengthening tax administration and introducing reforms.
'I think the government is working very hard. They're changing policy, by reviewing laws and regulations to attract business and bring in more tax revenue,' Hy says.
Within this atmosphere of constant growth and change, Hy says that his ACCA membership has played a fundamental role in his career advancement. There was no ACCA office in Cambodia when he joined PwC in 2000, so the young recruits travelled to neighbouring Vietnam to study. Hy spent three weeks a year studying there, eventually completing the Qualification in 2005.
'The company provided me with a lot of training, technical experience and sponsorship for ACCA,' Hy says. 'If I hadn't had ACCA training supported by PwC, I wouldn't have been able to stay until now.'
In order to give back, Hy is an active member of Kampuchea Institute of Certified Public Accountants and Auditors and ACCA Cambodia, and is a workplace mentor for young professionals. 'I see that ACCA contributes a lot to professionals so that they can grow to bigger roles and responsibilities,' he says. 'You differentiate yourself from others if you have the ACCA Qualification; it's very important for your career development. I strongly encourage people to maintain their membership.'
Hy, who became a partner in July 2017, has big plans for the future, including bringing in more business and revenue, and increasing the company's visibility. 'Partnership is challenging,' he admits. 'I believe the firm trusts me and I believe that I can help to grow the firm quickly.'
Despite his career success, Hy's life isn't all work and no play. In his free time he travels around Cambodia and enjoys the country's natural beauty.
'I go to the beach or the mountains, usually once a month,' Hy says. 'The beach is my favourite. Sihanoukville has the most beautiful beach in Cambodia.'
Cristina Maza, journalist