After two decades with PwC Malaysia, southern region assurance partner Manohar Benjamin Johnson is as engaged as ever - while also giving back to the profession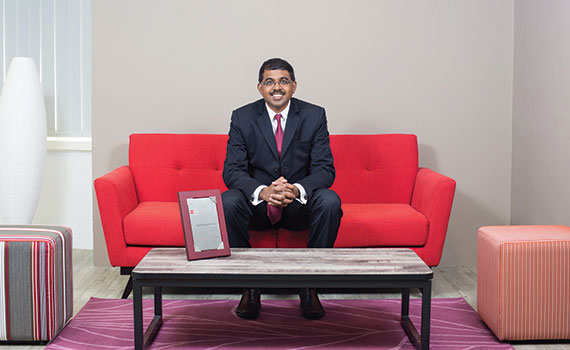 This article was first published in the November/December 2017 Malaysia edition of Accounting and Business magazine.
Despite having worked in the same company since he graduated 20 years ago, Manohar Benjamin Johnson, or Mano as he's better known, shows no signs of restlessness and still feels excited going to work each day. Mano first joined the Kuala Lumpur office of Coopers & Lybrand after completing his ACCA Qualification in 1997. A year later, Coopers & Lybrand merged with Pricewaterhouse to become PwC, where he has been ever since.
Despite being under the employ of the same firm for the past two decades, Mano says that its dynamic culture has ensured that he has enjoyed a wide range of exposures – an important factor that has kept him engaged.
'This is one of the great things about PwC; they never let you get comfortable in one spot, Mano says. 'After you do something for a couple of years, they'll say: "Okay, it's time for you to go and do this," then they'll send you somewhere else. Because of this, I've never really reached the stage where I feel jaded or bored.'
After four years in PwC's Kuala Lumpur office, Mano had his first taste of being seconded overseas when he was sent to Dallas, Texas, for three months to work on a project involving the development of a new audit software. This small taste of a different working culture whetted his appetite, and so when the opportunity came in 2003 for a longer secondment to PwC's Philadelphia office, he eagerly jumped at the opportunity.
During his two-and-a-half years in Philadelphia, Mano learnt valuable lessons that could not be found within the classroom, experiencing first-hand what it was like to adapt to different cultures and working practices. 'It's very interesting that even though PwC is a global name, every office and territory still has a different way of doing things,' he says. 'The clients you meet are also very different.'
Subsequently, Mano was able to use this experience to his advantage by applying a more global perspective towards his own dealings with clients. 'In a firm like PwC, being able to understand different cultures and people plays greatly to your advantage. We deal with so many MNCs, and so having this perspective helps us better relate to the client. It helps us to grow the firm and the firm's business.'
Valuable insight
In addition to his overseas attachments, Mano also had the opportunity to be seconded to Malaysia's Audit Oversight Board (AOB) from 2010 to 2011. This experience, he says, helped him to gain valuable insight into how regulators viewed the accounting profession.
'I've been in the business for so long and never really had a good view of how others look at us,' he admits. 'In the AOB, you get to meet with people from the Securities Commission Malaysia and understand how they view the various audit firms, the accountancy profession as a whole, and what they thought were the risks in the system. That was a very insightful experience.'
Mano's most recent move came in 2016, when he made partner and was sent to Johor Bahru to manage Malaysia's assurance southern region practice, which includes PwC's offices in Johor Bahru and Melaka. As assurance partner for the southern region, Mano has to balance the interests of the firm with the 60 or so audit professionals working across the two offices. 'On the one hand, I represent the firm's interests in client servicing, new acquisitions and recruitment and, on the other, I also manage the staff's interests by managing training, performance assessments and promotions.'
'I may have started out as an auditor, but over time I've had to pick up other skills in managing people and running an office. This is what makes my job interesting.'
Like many other accountants, Mano has a story of how as a child he was good with numbers and maths, and how it seemed like a natural progression to pursue accountancy. For him, however, the structure of the ACCA programme also played a major part in helping him make his decision, since his family's economic background meant that going overseas to pursue further studies was not a viable option.
'When I discovered that ACCA had localised the syllabus, and that I could complete the whole programme in Malaysia, the decision was easy,' he says. 'It is, after all, one of the most recognised qualifications in the world.'
Giving back
Looking back, Mano has no regrets about his decision. 'I feel very grateful for the opportunities that ACCA has provided me, and that's why today I keep myself actively involved. It's my way of giving back.'
Over the years, Mano maintained his relationship with ACCA on an ad hoc basis, speaking at seminars to share ACCA's perspectives on developments in the accountancy profession. In 2011, he decided to step up his involvement by joining ACCA's Public Practice Committee (PPC), which he's also chaired since 2016.
The PPC get involved on a regular basis with students from the various schools and universities to promote the accountancy profession. 'Several years ago, we started visiting colleges to tell students about the life of an auditor: the perks and advantages, and so on. As a committee, we're constantly thinking about ways in which we can keep the profession attractive to the younger generation,' he says.
'Unlike the past, where there were only four or five popular professions, students today have a lot more interesting options and career paths to choose from. This is why our profession needs to keep up with the times.'
Helping to keep the profession relevant is something that Mano observes ACCA has been particularly good at through its training syllabus and the students' educational pathway. 'ACCA has always been at the forefront and not remained static,' he says. 'Every few years, ACCA does a study on how to enhance the curriculum to make sure that it is fit for purpose. If I look at the curriculum now, it's amazing how different it is from what I studied 25 years ago. Today, you see more subjects on the use of technology, ethics and management.'
Mano's passion for the industry and support for ACCA is something that's easily recognisable. Hence, from an outsider's perspective, he seems like a natural, if not obvious, choice for ACCA Malaysia's Advocate of the Year Award 2017.
For Mano, however, it came as a surprise. 'It was certainly unexpected, and I said: "There must be others who are doing more for ACCA."'
Nevertheless, he recognises the value of the award in raising awareness that ACCA is more than just a professional qualification but also an organisation that is committed towards pushing the profession forward.
Today, Mano feels confident about the future of the accountancy profession. 'There was a study done a couple of years ago which said that Malaysia would eventually need to have 60,000 accountants, which is probably twice as many as what we have now,' he says. 'People have started to recognise that as Malaysia moves towards becoming a developed country, there will be more demand for professional services.'
'However, this demand is not for that accountant of the past who walks around clients' offices with a big file, but for the modern accountant that's fully integrated with the new economy and the digital age,' Mano says. 'Clients nowadays don't just want an audit. They want you to offer them business insights and share with them trends that are happening in the market.'
Accountant of the future
From PwC's perspective, this new accountant of the future is playing a big role in shaping the firm's HR policies. 'In the past, our focus might have been only on hiring top students. Today, we're also looking at whether this person is business savvy and at ease with technology,' Mano explains.
'For existing staff, PwC believes in continually retraining and reshaping their skill sets. We do this through a mixture of on-the-job coaching, classroom sessions, e-learning and soft-skills workshops. There's no end to this learning journey. That's why at PwC, even partners like myself spend easily between 60 and 80 hours a year – and sometimes even more – on training.'
While continuous personal development is key in any industry, Mano does have some encouraging words for accounting professionals. He believes that due to their training and the nature of their job, accountants naturally develop certain skill sets and dispositions that put them in good stead for tackling the new economy.
'Firstly, due to the long hours and tight deadlines that are part and parcel of the job, accountants tend to pick up resilience. Secondly, they tend to be adaptable, perhaps because we're dealing with so many different clients and different types of audits; and even when you are doing audits for the same client, things are always changing year in, year out,' Mano says. 'In the end, you just have to learn to manage the changes that happen so often.'
Most importantly, Mano is convinced that accountants have what it takes to deliver value in the area of data analytics, which is where he believes the future of accounting lies. 'I think that because of the way that we're trained, or the way that we are wired up, we are in the best position to provide that sort of problem-solving skillset to the business community. I strongly believe that the accountant of the future will definitely be someone who can provide that sort of insight to the CEO and the organisation.'
Rufus Tan, journalist
"Over time I've had to pick up other skills in managing people and running an office. This is what makes my job interesting"