Paul Lamphee FCCA, financial accountant at the Australian Turf Club, is combining his passion for racing with the business's drive to bring the sport to a wider audience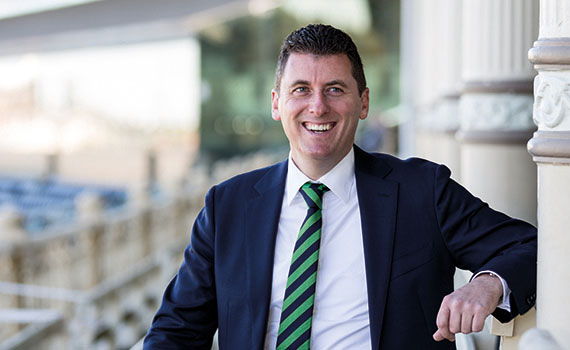 This article was first published in the November/December 2017 China edition of Accounting and Business magazine.
If he were a betting man, Paul Lamphee FCCA would probably have placed long odds on his chances of ending up on the 'wrong' side of the tracks.
With horseracing in his family's blood, he'd once fancied himself as a jockey – until a teenage growth spurt hobbled that idea. He then considered becoming a school teacher. But accountancy offered better career prospects, so off the Sydneyite went to London to earn his ACCA Qualification.
Upon his return to Australia, the Australian Turf Club (ATC) – home of four race courses in Sydney – was advertising for an accountant. 'That's my job,' thought Lamphee, who has held the post for five years.
From his 'office' – which apart from the usual four walls encompasses a glamorous amphitheatre of the prestigious Royal Randwick racecourse, where the sport of kings has been played out since 1833 – Lamphee forms part of a finance team that oversees a business with an annual revenue of AU$228.3m.
Royal Randwick, Lamphee explains, is one of only two racecourses in the world to bear the royal name, the other being Royal Ascot. The title was bestowed following a visit by Queen Elizabeth II and Prince Philip in 1992, and Lamphee describes his pride at working for such a prestigious organisation.
Yet for all its glamour and heritage, ATC is part of an industry facing unprecedented challenges. Around the world, wagers on horseracing are in decline. Punters don't need to be on the course to place their bets anymore and there are so many more entertainment options vying for fans' attention. There's also the question of image – a 2011 McKinsey report, commissioned by the US Jockey Club, found that the average fan was 51 – as well as concerns about animal welfare.
In that context, the fact that attendance at ATC's venues remains stable is something of an achievement. Membership stands at more than 14,000, and anywhere between 10,000 and 30,000 turn up to Royal Randwick's 25 race meetings held each year.
International pedigree
Nevertheless, the club looks beyond race-day patronage to shore up its financial viability. An AU$170m redevelopment, completed in 2014, created a multipurpose facility aimed at funnelling a range of revenue streams and reinstating Royal Randwick's international pedigree. The five-level grandstand, where 80% of the seating is now either undercover or inside, is used as a venue for all kinds of private social occasions, such as weddings, and corporate events. In addition, it serves as an examination facility for the nearby University of New South Wales, which overlooks the course. A 4,500-capacity Theatre of the Horse, a parade ring adapted from the UK's Royal Ascot, may also be hired for cocktail parties and product launches as well as allowing patrons on race days and after concerts an up-close viewing of the horses.
Lamphee is part of the team charged with working out which activities are the most lucrative. Exams, he says, are quite a good moneyspinner, as 'we're generally just providing the venue, not the meals, so overheads are low. We also do a lot of gala evenings for a variety of causes related to racing and other sports.'
Another big area is charging the trainers for stable rent and track fees so they can accommodate and train their horses throughout the week. This helps to finance maintenance and upgrades of the racecourse and its infrastructure.
But Lamphee is more involved with the racing aspect of the business, such as setting prize-money budgets, which fits with his love of the sport.
'Obviously, with my interest in racing, it's great to be involved from a finance point of view – to understand what might be in the pipeline in the racing calendar, and the plans for where ATC is heading as a club and as an industry,' he says.
Prize pools are worked out between the ATC and Racing New South Wales, the industry's regulatory body, which also funds some of the purse. In order to remain competitive, says Lamphee, the club considers how its prize money compares with other states in Australia as well as other feature races throughout the Asia-Pacific region. Its biggest race in terms of prize money is the AU$10m Everest, now the richest racing event in Australia. Held for the first time in October, it's based on the world's richest race, the Pegasus World Cup, held in Miami, Florida, a course Lamphee visited on a recent holiday to learn more about the business internationally. He also attends meets in Flemington, home of Australia's most famous race, the Melbourne Cup, several times a year.
'I'm always interested to hear what's going on in the wider arena of the sport,' Lamphee says. As an accountant, he believes that a well-rounded understanding of the industry aids his ability to provide a better service to the business.
Chinese market influence
The club also considers the growing influence of the Chinese market an important factor in its future and that of the industry in general. In 2016, ATC launched Australia's first racing festival dedicated to the Asian market, The Star Chinese Festival of Racing. Alongside this bespoke event, the club has launched a Chinese language website, accessible from China, providing regular content through the Chinese social media platform WeChat to educate both the domestic and international Chinese markets on its racing entertainment products. A dedicated owners' experience manager has also been appointed to make the race day experience more accessible to Chinese owners looking to invest in the Australian racing industry. Further, ATC members are eligible for reciprocal privileges with the Hong Kong Jockey Club, including attendance at its international races.
For Lamphee, Royal Randwick is more than his workplace; it has been a home from home throughout his life. 'My mother, just recently retired, worked for this club for almost 40 years, and we children would often go to the races with my father while she was working,' Lamphee says. 'It's a very sociable sport to come to with friends and sit on the lawn; the sun's out, you're very close to the action. It's a great day out.
In keeping with his passion, Lamphee owns shares in eight horses, which between them have won close to 30 races in the last six years. As a racecourse employee there is no restriction on ownership and he's also allowed to bet on races – as long as he doesn't back his own horse to lose – and he regularly submits ownership information.
'I don't actually think of work as being work, as I enjoy being part of this industry so much,' he confides.
But so, too, is ATC riding high in a business sense. In the 2016 annual report, ATC CEO Darren Pearce described the ATC as being in 'a position of great strength with a tremendous balance sheet', its revenue from operations growing from AU$171m in 2013, to AU$228.3m in 2016.
The club is currently planning another major upgrade of its racing and training assets, rebuilding all of its racetracks over the next decade. Pearce believes its scope of works will represent the biggest long-term infrastructure programme in the history of Sydney racing.
As a turf club, says Lamphee, one of the main challenges is trying to remain relevant in today's society – an issue not unfamiliar to the accountancy profession itself. A push to reconnect with the younger and future generations of racegoers, via investment in technology and social media channels, is part of that strategy.
'We are trying to move with the times and get our brand out there as an exciting live entertainment option,' Lamphee says.
Lamphee credits his ACCA Qualification with opening the doors to his dream job, its rigorous accounting examinations providing foundation career cred. He has also just received reciprocal membership with Chartered Accountants Australia & New Zealand (CA ANZ), 'which is another great advantage of being an ACCA member'.
As for this one-time aspiring jockey, Lamphee never did learn to ride. But he did go the 2km Royal Randwick racetrack once, 'to see what it felt like for the horses'.
Peta Tomlinson, journalist
"I don't actually think of work as being work, as I enjoy being part of this industry so much"