For Annie Sun FCCA, CFO of a pharmaceutical company in China, empathy, compromise, patience and thinking outside the box are highly prized attributes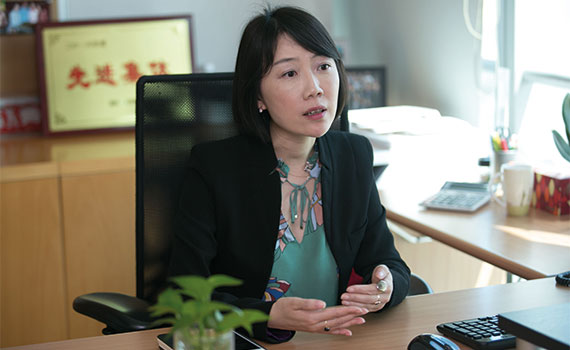 This article was first published in the January 2018 China edition of Accounting and Business magazine.
A financial veteran for more than two decades, Annie Sun spent two-thirds of her career in high-tech companies including Motorola, HP and EMC, before taking up the role of CFO of a pharmaceutical company in China in 2015.
'I like to accept challenges and try new things, even if it means diving into a challenging level of engagement at the beginning,' Sun says.
For the 46-year-old, the move was also the result of a friend being diagnosed with depression and a family member with prostate cancer. 'The pharmaceutical industry addresses some of the most devastating diseases of our time and excels in oncology and neuroscience research,' she explains. 'As my parents grow older, such empathy becomes natural.'
Crossroads of innovation
Sun says that, just as in the tech sector, innovation and agility are keywords within the pharma industry: 'Both high-tech and pharmaceuticals are driven by innovation, although in different forms.'
She adds that innovation isn't only to be found in her company's research and development teams. Innovation, she says, is a characteristic that applies equally well to accounting. 'For finance teams, it means thinking outside the box to improve efficiency,' she explains.
Agility is especially crucial in the CFO's eyes when navigating through day-to-day operations in China. 'With industrial policies fast-evolving, the finance team has to remain sharp so as to adjust forecasts and advise businesses accordingly.'
China is one of the best places for learning how to deal with uncertainty, ambiguity, volatility and complexity, she says. 'What we encounter on a daily basis would rarely happen among developed countries.'
Ever since China opened its pharmaceutical market to the world in the 1980s, there has never been a time for such tremendous opportunities and challenges, she says. 'China's State Food and Drug Administration is now mulling over whether to include a medicine we only launched recently in its public insurance coverage. It would be unimaginable in the old days, when the gap used to be as long as seven years.'
Pharmaceuticals is one of the seven sectors that the Chinese government designates as strategic emerging industries in its 13th five-year plan. Made in China 2025, another national-level initiative for industrial development, also lists bio-pharmaceuticals among 10 priority industries. The pharmaceutical market in China is expected to exceed US$600bn by 2020.
In this fast-changing environment, projecting the unpredictable is a major challenge for financial leaders of multinational corporations, Sun says. 'Pharmaceuticals are highly regulated globally. But with new policies coming up almost every week in China, we have to make immediate responses.'
She sees accounting as an indispensable extension to business analysis. 'Besides preparing statements, the finance team has duties to explore optional strategies and come up with more efficient ones.'
Despite the current boom for pharma, the job for China's multinational companies is getting tougher in general, as the market matures and competition from local rivals heats up, she admits. According to industry estimates, China's pharmaceutical sector is heavily dispersed: the top 100 players have less than 30% of local market share, while globally the top 10 snap up 40%.
'Multinational corporations nowadays have high expectations of China, with increasing requirements for both bottom-line and top-line growth,' Sun explains. 'It is the financial leader's role to bridge the expectation gap.'
Recipe for trust
When it comes to gaining trust from superiors and peers, Sun identifies honesty as her secret weapon. 'I don't think I am smarter than others. Whenever a workplace disagreement is involved, what you actually need in the end is modesty and an open heart.'
Resolving most disagreements requires compromise, and it is important to criticise ideas but not the person, she continues, adding that it takes time and patience to build trust among colleagues. 'For most of the time, team leaders should first move on from disputes and take initiatives to restore harmony,' she says, citing her experience at a previous employer as an example of how a colleague sought to prevent an argument from escalating. 'I was deeply touched at one time when my supervisor came to apologise to me for being uncool and hanging up during an argument over the phone.'
Sun says ACCA membership has helped her win long-time trust and friendship. 'My career mentor in the UK first encouraged me to take ACCA exams when I told him my plan to return to China or at least to Asia Pacific one day. His advice was that the qualification is well recognised globally.'
And the help was immediate, even right after preparing for the first subject, Sun recalls. 'ACCA enabled me to go through the knowledge in a systematic way and positioned me better for my first overseas job at Guinness in the UK.'
She says her ACCA Qualification is instrumental as an exchange platform with her peers. 'I have benefited enormously from interactions with other financial leaders in China.'
The role of a care-giver
Sun admits that spending time at the office can mean less energy at home for the family, but says she manages to achieve a reasonable work-life balance. A mother to a teenage son, Sun says she is sometimes anxious, especially when surrounded by 'tiger moms' prepared to sacrifice their career for their child's education.
'I am a lazy mom by Chinese standards,' she jokes. But my husband and I agree that life is a marathon, and what we care most about for our son is his happiness and healthy growth.'
This easy-going attitude is reflected in her own life. When asked of what she does for leisure, she says: 'Hanging out with friends.'
Sun values friendship. 'True friends are the best reward for honesty. Wives of my classmates would confide in me out of trust.'
As a born care-giver, the sense of being trusted and relied on seems to have given her tremendous fulfilment. When asked what her biggest achievement at work was, she says she is most proud of growing with each team she has led: 'I would personally convince team members to take up promotion or rotation if I believed that such a move, even if challenging in the short run, was good for them in the long run.'
She adds that diversity and inclusion are key features of the business she works in and contribute to the well-being of colleagues. 'No industry is an island. Here we cherish diversity. By leveraging past experiences, both individuals and the company can benefit a great deal.'
As for life, openness and optimism are important. 'A lot of my classmates and former colleagues at multinational corporations have relocated abroad. My heart sings whenever I know that I have friends all over the world. Helping and being there for one another makes life meaningful.'
Sarah Dai, journalist
"Multinationals have high expectations of China. It is the CFO's role to bridge the expectation gap"