The new lord mayor of London, Charles Bowman, is bringing his experience from a career at PwC to promote London's business interests and help smooth the path to Brexit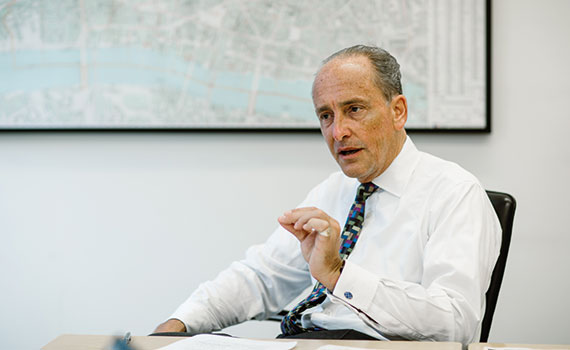 This article was first published in the January 2018 UK edition of Accounting and Business magazine.
It's sad to say that only 5% of the role of the lord mayor of London is that Dick Whittington stuff: wearing tricorn hats, frills and a gold chain and waving from a state coach.
The other 95% is serious stuff, heading up the City of London Corporation (COLC), with the day-job of promoting and defending the UK's financial sector. Given the intray that awaits Charles Bowman, the 690th lord mayor, he could be forgiven for viewing the ceremonial as welcome relief.
After the lord mayor's show in November, an 800-year-old pageant, comes the hard work, as his year's term of office coincides with an extremely unsettled period for the City.
In his first interview as lord mayor, Bowman, a longstanding PwC partner, laid out his priorities for the year ahead. He has three objectives: business and Brexit, his trust programme, and charities (see box), which he says all tie together.
So it is not all Brexit, although that inevitably will be a leitmotif. Bowman notes wryly: 'I hadn't realised this role would be interesting with a capital I.' But he goes onto to say the excitement matches the challenge. 'We're seeing movement in all directions, and we'll have to be agile.'
UK professional and financial services (PFS) account for 12.5% of GDP, so it is of national importance that they emerge intact post-Brexit. He sees part of his role as being an advocate for this 'phenomenal asset' if the country is to remain relevant. And that means 'securing the best possible outcome from these complex negotiations. We have to make a virtue of circumstance, maximising and leveraging opportunities and minimising risk. Opportunities for instance derived from London stealing a march in fintech development.'
Bowman says the City has clearly articulated to the government three asks of Brexit: the continuing ability to attract highly skilled workers; mutually beneficial access to the single market resembling passporting; and early clarity on transition. 'Government is listening and engaging,' says Bowman. Not just empty words, as the first day in the job in November saw the lord mayor's banquet, with lord mayor and prime minister at table for a couple of hours.
Also close to Bowman's heart is the government's apprenticeship initiative, which he describes as 'offering sustainable ways of building skills'. The lord mayor's office has a free Apprenticeships in the City programme of support for apprenticeships, which is targeted at small and medium-sized banking and asset management firms that are new to apprenticeships.
Trust agenda
Bowman says sometimes the profession and the role of audit is taken for granted. For the last few years he has led PwC's 'Building public trust' programme, which celebrates excellence in corporate reporting.
'I'm deeply proud of the profession and the way it developed auditing when this was needed. Putting that sense of trust and probity into the capital markets is critical, and audit has played that part well.' Although he says there are 'low points' where occasionally something will come out of the woodwork that doesn't do the profession good. 'The media concentrates on where we haven't performed well and not on the 99.9% of occasions when audit keeps capital markets secure. It is a shame we can't tell that story more widely.'
Bowman believes the reputation of professional services has been tarnished by the global financial crisis, part of a trend that has affected all sectors. 'Trust arrives on foot and leaves on a galloping horse. It is a misunderstood asset, and it is the lifeblood of any organisation, critical for survival and success.'
The lord mayor's 'Business of Trust Programme' is part of a long-term agenda. In advance of the official launch, Bowman describes how we need better business, trusted by society. The programme has included research carried out across the country with 'citizens juries' in Edinburgh, Nottingham and London (not the City) to listen to different communities talking of professional and financial services and trust. 'We had a rich insight, which has helped develop a defined agenda.'
Bowman will visit 27 countries during his term. 'In view of UK, Europe and geopolitics, we have invested in the international programme.' There are five priority trade markets: China/Hong Kong, India, Australasia, Japan, the US and Canada. He is already well versed in some respects – for instance, the Belt and Road initiative – 'the vision of which we've never seen in our lifetime' and which he sees as a great opportunity.
Another key moment in the mayoral year is the Commonwealth heads of government meeting in April in London, preceded by the Commonwealth Business Forum, with COLC chosen as a partner. 'Opportunities within the network can be leveraged and enhanced,' says Bowman. 'We are also working with ACCA and the Commonwealth Enterprise and Investment Council [CWEIC] to build the trade bridges vital for the future of UK business post-Brexit.'
Reflecting on his year ahead, Bowman says it is an opportunity to give back to the City, which has given him a 'wonderful and varied career'. Describing the role as 'broad and intense', he says he is conscious of the possibility of emerging unknown unknowns that will have to be dealt with. Such is his professional experience, it's hard to imagine anything Bowman couldn't cope with.
Peter Williams, journalist
"We are working with ACCA and the CWEIC to build the trade bridges vital for the future of UK business
post-Brexit"