As executive board member of Wilson Associates and executive vice president of Arcplus Group International, Vincent Liew FCCA is creating a landmark strategic alliance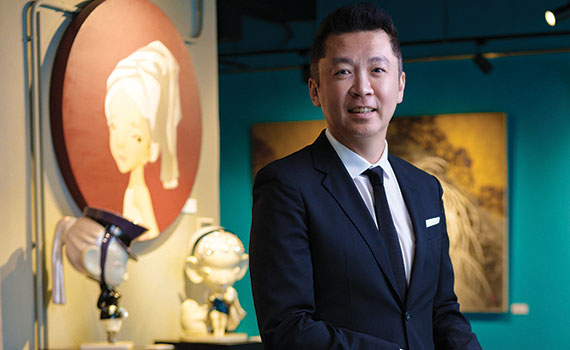 This article was first published in the January 2018 China edition of Accounting and Business magazine
As executive board member of Wilson Associates and executive vice president of Arcplus Group International, Vincent Liew FCCA is creating a landmark strategic alliance
Pigeon-holing Vincent Liew is impossible. Having worked at three of the Big Four accountancy firms as well as in the automotive industry, advertising, and most recently design and architecture, his varied career has earned him a reputation as a highly regarded finance professional and inspiring leader. As executive vice president of Arcplus Group International, the largest architecture, design and engineering firm in China with more than 7,000 architects and engineers, as well as executive board member of Wilson Associates, the world's third largest hospitality design giant, the skills he has developed are facing their biggest test so far.
Shanghai stock exchange-listed Arcplus was formed through mergers between a number of local design institutes. Four years ago, it bought Wilson Associates, a leading global interior architectural design firm with 10 offices across six continents. Liew's role is to further develop the firm, taking it to the next level. In less than a year he's already helped to forge a strategic alliance with the world-renowned international architecture and design firm Zaha Hadid Architects, which was announced last November. The landmark alliance brings together three of the world's most successful architecture practices to deliver high-value projects that use the latest architectural and engineering technology, digital design and energy efficiency.
'The design world and the architecture world are very fragmented; it's time to consolidate,' Liew says. 'This alliance brings three of the world's top firms together to create a total solution for the inhabited world; from master-planning to making you feel comfortable inside, it's a complete supply chain for building.'
Liew first moved into the world of international architecture and design when he became global CFO for Aedas, a leading architecture and design practice. There, he was tasked with helping the firm become the largest privately held architectural practice in the world.
'When I was with Aedas I restructured the whole business,' he explains. 'I came up with a good benchmarking and reporting system to manage the whole global group.'
Talking the same language
At Aedas, a major challenge was developing the same language for US, UK and Asian financials, leading Liew to come up with a concept he called the 'profit funnel'. Drawing on the concept of a sales or revenue funnel' – referring to the buying process that customers are led through – Liew was able to explain a complex accounting practice to designers and other creatives.
'Throughout the stages of a project revenue life cycle, the size of the pool diminishes before turning into final profit and actual cash in our fuel tank,' he explains. 'If you start telling non-financial people about percentage of completion, accounting revenue turnover, billings and account receivable cash collections, they don't have a clue what you are talking about. But by using a simple profit funnel diagram they can understand it in three seconds.'
During his time with Aedas, Liew helped the group expand beyond Asia, the US and the UK to become a mega-architectural practice. He was also involved in the group's restructuring, which involved its 13 offices in China (including the profitable Hong Kong business), South-East Asia, the Middle East, the US and a new London office parting from its eight UK and European arms, which relaunched as AHR.
That Liew wanted to become an accountant was no great surprise. The youngest of four children raised in Sabah, Malaysia, not only did he excel in maths at school but his father was an accountant, as were his elder brother and one of his sisters. After graduating from the University of Sheffield in the UK in 1994, he returned to Malaysia and joined EY in Kuala Lumpur. After five years there, where he studied for his ACCA Qualification, he moved to another Big Four firm, PwC. By this time he had developed strong auditing skills, which helped him take the first step towards a career that would focus on corporate finance.
Another major influence was the regional economic backdrop at the time. This was 1998, soon after the Asian financial crisis, and many currencies were in meltdown. PwC was engaged in a lot of restructuring work, and one of Liew's primary tasks was to help restructure the low-profit loans. 'This period transformed me, pulling me out of being a normal auditor doing finance and accounting to be able to apply the financial and accounting in a really pressurised world,' he says.
With tight deadlines and a pressure-cooker environment, Liew served as a middleman between the bankers and the businesses, quickly learning to become more commercially minded, consolidate information and find practical solutions. It was a lot to take on for someone in their 20s, but it boosted his management skills and Liew concedes that although it was a tough time for the market it was a good opportunity to grow professionally.
'In a crisis everything goes faster and accelerates your experience of the world,' he says. 'In the shortest time you gain from the maximum learning curve.'
Another key lesson that Liew learned by working in the Big Four firms was how to identify talent. 'They have a very good way of monitoring and picking out the right talent and nurturing them; you can learn a lot from that,' he says.
Driving force
From PwC Liew moved to Hong Kong and Beijing-based Mercedes-Benz China in 2003. This was the start of the country's boom time, a period of hypergrowth with the newly emerging middle class demanding luxury products.
'Mercedes-Benz saw a huge demand,' Liew recalls. 'Their annual growth was 30% or 40% from 2003 onwards.'
Such hypergrowth required a huge project management scheme at Mercedes-Benz, with five teams on hand to prepare feasibility studies of how to build dealerships and manage forecasts. Liew was also involved with finding ways to incentivise dealerships to meet the carmaker's standards, keeping showrooms aligned with Mercedes-Benz branding.
In 2007 Liew left Mercedes-Benz and got yet another Big Four posting under his belt – this time with Deloitte. While Mercedes-Benz was essentially focused on making and selling a product, 'Deloitte was about selling a service: improving financial performance. It was a different ball game,' he says, adding that he quickly learned that the way to keep clients happy was to deliver more in terms of value than what they paid for: 'This transformed me as a person to deliver high value.'
Still only in his mid-30s, it wasn't always easy addressing a room of senior managers, all with 30 to 40 years' experience in their field, and telling them what to do. Nor was it unusual to be challenged – 'You don't know my market' was a familiar cry – so Liew came up with an ice-breaker.
'I'd say to them, "Think of me as a football team manager." I may not be able to kick the ball like a professional footballer but I provide the management strategy, coaching and planning. You guys are the celebrities and the star scorers."'
That was enough to get the managers to lower their guard and create an opportunity in which to build up trust. It's a good example of Liew's impressive emotional quotient (EQ), which helped him move from the banking world to the creative and design industries.
In 2009 he became regional CFO of the advertising agency WPP. Surrounded by creative directors, Liew quickly realised that creative people have a different mindset to bankers and require an alternative approach. He discovered that they are often more concerned about the quality of the design than the balance sheet.
'If you have a board mainly of creative, award-winning directors and celebrity designers, their mindsets are sometimes not aligned,' he explains. 'To navigate through this you have to have a higher EQ than IQ.'
On board with EQ
Liew realised that in order to get a board of creative people all on the same page, he needed them to understand that by achieving financial rewards they would be able to realise their dreams. He employed a softly-softly approach, carefully managing egos and merging mindsets, achieved with the help of his strong EQ. 'I think of EQ as like a river flowing,' he says. 'When the river meets an obstacle it never stops; it deviates until it finds a way to the sea.'
He takes a similar approach to management: rather than getting stressed if his plans don't work out, he stays calm and keeps focused on the issue until it is resolved.
'If the river is blocked, you can find another channel,' he says. 'When you have this mindset you can smooth out your thinking rather than trying to do things too direct.'
Recognised by many for his holistic business philosophy, Liew is frequently invited to speak at global conferences and forums. In 2013 he was shortlisted for CFO Innovation magazine's CFO of the Year, and in 2016 he served on the award's board of judges.
Liew puts his professional success down to having a firm foundation on which to build his career. 'The ACCA Qualification is tremendous for anyone wanting to do business or financials; it provides the necessary toolkit,' he says. 'Together with the exposure to the Big Four, it was the solid foundation I needed. Without a solid foundation you face challenges later.'
On top of a solid foundation, he says, it's essential to have passion if you want to really succeed; that way, you put extra effort into everything you do.
'When you have passion your eyes sparkle when you talk to people,' he explains. 'They feel more engaged and that helps you do your job.'
Kate Whitehead, journalist
"In a crisis everything accelerates your experience. In the shortest time you gain from the maximum learning curve"