Members across the world are contributing their thoughts to our digital wall, which marks ACCA reaching its 200,000 member milestone, says ACCA president Leo Lee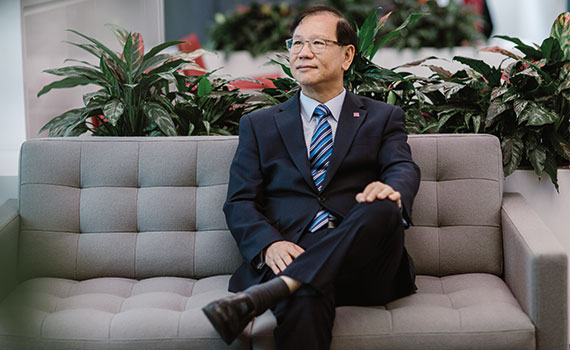 This article was first published in the February 2018 China edition of Accounting and Business magazine.
You will hopefully by now have heard about our celebrations to mark ACCA reaching its 200,000 member milestone, including our wall – the physical version is touring the world and a virtual version is available for members to sign their names. Access the wall.
We're delighted at what you've written on it so far. The statements below have appeared on the wall from members in Australia, Ghana, Malawi, the UK and Russia respectively.
'It's refreshing to be part of a global movement with a global presence, perspective and reach.'
'Being an ACCA member gives me the confidence and knowledge to brighten every corner I find myself in.'
'I am humbled to be part of this elite group of professional accountants.'
'I am most impressed by the recent changes to the ACCA syllabus.'
'Congratulations to ACCA for maintaining high standards all these years.'
'Keep up the pace!'
What remarkable sentiments from you, the 0.003% of the global population who are part of this diverse, professional and inspirational ACCA family!
The comments above were just a few examples from hundreds that have been left on our digital wall so far. It's fantastic to see your comments about your journey to ACCA membership. I'd like to remind you of the invitation to find your name and share your thoughts with the rest of the ACCA community.
It's thanks to our talented members that ACCA enjoys the success that we have today, and I do hope that you continue to share your stories throughout this year. And make sure you tag us - you can follow the journey of the wall on social media via @ACCANews and #ACCA200k, as well as finding out more on the website.
I have been inspired by all of your stories, and I would like to share mine too. I qualified with ACCA in 1979, and in the almost 40 years since, I have seen the world change immeasurably. ACCA has changed too: our history of boldness, of thinking ahead and acting on it, of being the first-movers, leaders and shapers of the profession – all this has helped us grow to become the global, leading body we are today.
I am so proud to be a part of this great organisation. I initially stood for Council and then for president, as I want to spend more of my time encouraging young people to see accountancy as a valuable career - and to see ACCA as the most valuable path for getting there. Keep telling us your stories.
Leo Lee FCCA is retired, but formerly held various roles at the Securities and Futures Commission of Hong Kong and is past president of ACCA Hong Kong