Business schools wanting to draw in the best students are reshaping their syllabuses and teaching methods to connect with a whole new student profile - Generation Z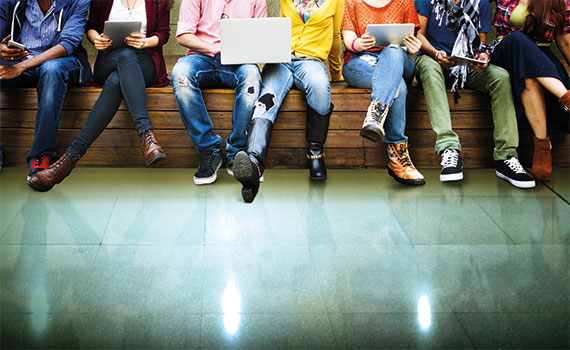 This article was first published in the February 2018 China edition of Accounting and Business magazine.
Business schools around the world have been overhauling their offerings to engage millennials, but the arrival of Generation Z – those currently aged between 13 and 21 – presents an entirely new set of challenges.
This new army of digital natives, which has not known a world without digital technology, brings with it a new set of expectations. If business schools want to attract the best students, they need to learn what these expectations are.
It's a widely recognised concern. A recent survey from the Association of MBAs and Parthenon-EY found that being innovative and creative in MBA delivery was a major challenge for business schools across all regions, but particularly in the Americas.
'Technology and new market trends are disrupting every single industry, and higher education is no exception,' says Ignacio Gafo, professor of marketing and vice dean of IE's Business School's global and executive MBA programmes. 'Actually, advances in technology combined with the new customer profile have fostered changes and the need to reinvent how we manage higher education. If we take these changes into consideration, it seems to be obvious that traditional approaches will not work. We are basically dealing with a whole new student profile.'
Case studies
Historically, most business schools have delivered a substantial part of their MBA learning via case studies, looking at concepts from finance to marketing. Traditionally, this may have taken the form of a complex business decision, with the aim of getting students to think through strategic moves in a corporate environment. However, with the arrival of a new kind of student, this is one area that forward-thinking business schools are overhauling. Generations Y and Z may still see the benefit in maximising profits, but they are also influenced by things like corporate social responsibility and sustainability.
'The case study is very much part of teaching, both in its traditional classroom form and in new virtual ways,' says Chengwei Liu, course director of the executive MBA at Warwick Business School. 'Today's MBA students are interested in business doing good, adding to society, rather than just the bottom line.' To address this, he says, the business school has created a number of new approaches. These include an annual healthcare case study challenge with GE Healthcare, which brings together MBA students from around the world and healthcare professionals to develop innovative solutions to healthcare's most pressing problems. Last year's challenge focused on sepsis and the previous year's on dementia.
Another example cited by Liu is a variation on the case-study challenge called Nudgeathon, developed by Warwick's behavioural science group, where teams try to develop a solution to a social problem – littering, for example – using the concept of 'nudging'. Nudging uses positive reinforcement and indirect suggestions to influence people's behaviour. Nudgeathon has proved so popular that the group is now teaming up with universities in Australia and Mexico to run similar events.
Liu says that Warwick Business School has also developed a case study of the Volkswagen 'dieselgate' scandal, where students examine the internal culture of the company and explore the events around it before producing a mini-documentary.
Savvy business schools have also realised that they must make their MBA programmes relevant to digital working practices.
Oxford University's Saïd Business School announced last summer that it would launch an online course in financial technology (fintech) designed to equip business executives with the knowledge needed in an increasingly digitised financial services industry.
Meanwhile, HBX, Harvard Business School's digital learning initiative, is announcing the launch of Entrepreneurship Essentials, an online course that introduces participants to the principles of entrepreneurship, tapping into Generation Z's hunger for more entrepreneurial roles following their graduation.
The evolution is likely to continue as competition between business schools to capture the next generation of top students ramps up.
Beth Holmes, journalist
"Today's MBA students are interested in business doing good and adding to society, rather than just the bottom line"