Box-ticking and documentation will do nothing to re-establish the reputation and value of audit, says Saad Maniar FCCA, senior partner at Crowe Global in the UAE and Oman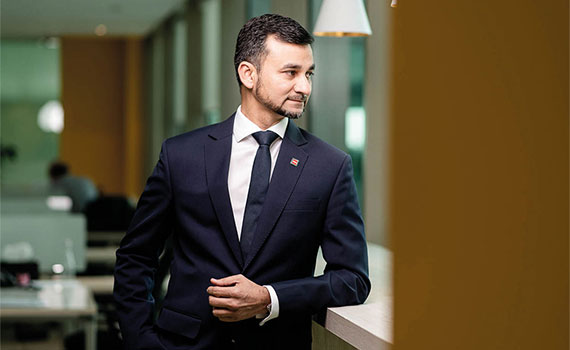 This article was first published in the July 2018 International edition of Accounting and Business magazine.
It was a chance encounter in 1996 with Helen Brand, the future chief executive of ACCA but then its head of corporate development, that set Saad Maniar FCCA, senior partner with Crowe Global in the United Arab Emirates, on course for the rest of his career.
The young chemistry and mathematics graduate from India was exploring options for further study when, with the encouragement of his uncle Khalid, an ACCA member, he attended a careers fair in Mumbai, where he met Brand. 'I talked to her and was very impressed with the way she presented ACCA,' he remembers. 'I was also very keen to go overseas and get experience in the great city of London.'
The experience, though, was not entirely positive. 'I didn't find it easy to settle in London, being from a small town in India,' he says. 'But I worked hard and my family guided and supported me.'
He did odd jobs while waiting for a training contract with an accountancy firm, mainly because he was eager to see how organisations operated. 'It taught me a lot about the controls in a business and how some people may exploit weak controls,' he says. Later, he worked for small accountancy firms in the City until, a year after qualifying, he moved to Dubai on a temporary contract.
'I really liked Dubai from the moment I arrived,' he says. 'It has so much energy and the people have so much motivation to constantly do more.' Soon, he was appointed an auditor with a Crowe legacy firm in UAE where he is now senior partner and a member of the board.
Set up in 1981 as a sole practice, the firm now has 16 partners and 250 staff in UAE. Part of Crowe Global since 2007, it is the sixth largest auditing firm in the UAE (as ranked by International Accounting Bulletin) and seventh largest in the Middle East. Maniar has led its practice within Dubai International Financial Centre (DIFC) since 2008.
He focuses mainly on financial services practice. Following the formation in 2004 of the DIFC independent free-zone (allowing companies 100% ownership of a UAE business without the need for a local partner), Crowe Global in the UAE set up a team to service its financial services clients and moved into the centre soon after. More than 1,800 companies are now registered at DIFC, which has a common-law framework distinct from the UAE legal system and an independent regulator.
Going global
Maniar's area of expertise is the interpretation and practical application of IFRS Standards. He also guides the governance, risk and compliance practice for Crowe Global in the Middle East.
'DIFC adopted IFRS, as it has never had any local standards,' he says. 'The biggest driver in the Middle East in terms of IFRS compliance has been the banks and other lenders, because they demand IFRS-compliant financial statements. There is concern, though, about the big nations that have not fully implemented IFRS – that damages the confidence that investors have in financial statements – and the fact that IFRS for SMEs has not yet been accepted within our region. If it were adopted, that would greatly reduce the burden of compliance for SMEs.'
Like other financial centres, Dubai felt the impact of the global financial crisis, and Maniar is concerned that this, along with failed businesses, has eroded auditors' relationship with stakeholders. 'Generally, the perception of the auditing profession is not good,' he says. 'The problem is that businesses have become so big and complex that no one person can fully understand the complete business. A lot is expected of auditors.'
The value of judgment
He fears that unless auditors have freedom to exercise their professional judgment beyond the boundaries of ISAs, the perceived value of audit will decline. 'Auditors must comply with a long list of requirements, but should also be able to practise with integrity and responsibility,' he says. 'Independence is very important to an audit, and there are strict standards around it. On the other hand, a degree of professional closeness can greatly enhance audit quality. Auditors should be able to exercise professional judgment, rather than ticking a box and supporting it with documentary evidence just to save themselves in the event of failure.
'Standard-setters and regulators should encourage the out-of-the-box thinking that allows auditors to add value to their work and enhances trust and confidence in the profession,' he adds. 'I believe the trust and confidence in audit will grow in the future.'
Throughout his career, Maniar has been eager to encourage and support young accountants. Soon after arriving in Dubai he began lecturing part-time at the first institution to provide accountancy training in the UAE, and encouraged Crowe to help shape its future. In 2014, he launched an ACCA training academy in Mumbai with the intention of introducing the ACCA Qualification to help young graduates fulfil their dream. Now known as Finplan HB International Education, it has expanded rapidly in India.
He often speaks at colleges and universities across India, and mentors and encourages students to study professional qualifications such as ACCA. He also sponsors needy students. 'My passion is to give something back,' he says.
Crowe Global in the UAE trains between 10 and 12 young accountants a year, and most of its professional staff are ACCA-qualified. 'We don't have any problems finding good-quality trainees,' Maniar says. 'Dubai is an attractive place to work.'
He is also very much involved with ACCA. He is vice-chair of the members' advisory committee in the UAE, and a past member of the International Assembly, which gives a voice to members across the world. The qualification has served him well, he says, and he is keen to show the benefits it can bring. 'The ACCA Qualification is so important because it is truly global but also well rounded,' he says. 'It encourages you to be an all-round business professional.'
Liz Fisher, journalist