Forget flexibility, when it comes to employment, the newest recruits to the workforce – post-millennial Generation Z – want security, structure and to come into the office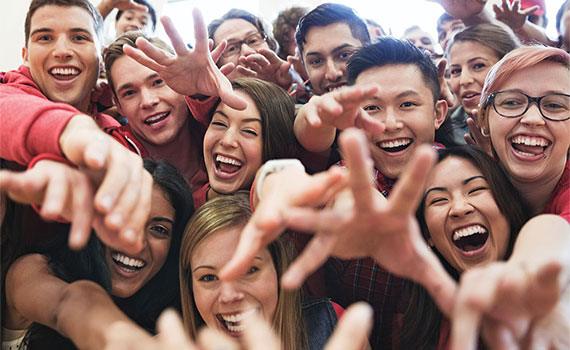 This article was first published in the July 2018 International edition of Accounting and Business magazine.
Born after 1995, post-millennial Generation Z will make up roughly 24% of the global workforce by 2020 and will bring a different set of demands from previous generations. 'Many believe Gen Z will disrupt the workplace more than millennials ever did,' says Dean Stallard, managing director at Hays Hong Kong & South China.
Millennials were raised in a time of prosperity and opportunity; Gen Z-ers grew up during the global recession and the slow recovery since. So while millennials may be prone to job-hopping, Gen Z is predicted to place greater value on job and financial security.
Mariam Riza, vice president intergenerational consulting at Wattleshire in Melbourne, Australia, explains that whereas Gen X-ers introduced the idea of workplace flexibility (seeking time off to look after their kids), and millennials wanted to work offsite entirely (even from a beach somewhere), Gen Z-ers are scared of losing their jobs. 'They prefer to come into the office and have a structured role with no distractions,' she says.
Stallard agrees. 'This group grew up during the 2008 financial crisis and amid threats from global terrorism and political uncertainty. It has made them more self-aware, self-reliant and driven,' he says.
While this suggests greater long-term loyalty to an employer, Riza says Gen Z-ers 'take it as given' that they can fuel their entrepreneurship ambition on the side. 'They're very open about this.'
Perhaps self-doubt is a factor in play. The Deloitte Millennial Survey 2018 reveals many Gen Z-ers feel unprepared for the future of work, with only three in 10 believing they have the skills to succeed in 'industry 4.0'.
Respondents to the global survey are looking for guidance that is far broader than technical knowledge. Michele Parmelee, Deloitte's global talent leader, says young professionals are especially seeking help to build softer skills such as confidence, interpersonal skills and – particularly for Gen Z – ethics/integrity aptitude. 'In their view, though, businesses are not being responsive to their developmental needs. Just 42% of Gen Z respondents reported that their employers were helping them to understand and prepare for the changes associated with industry 4.0.'
Money matters
Accenture's Gen Z Rising report shows that the ability to earn a decent living is a top concern among Gen Z graduates: 85% would like to earn more than £25,000 in their first job. They're also realistic, adds Grant Torrens, business director of Hays Singapore, knowing that they must find ways to finance their life choices if salary increases remain smaller than they once were.
But it's not all about the money. According to Accenture, 88% of Gen Z-ers expect their first employer to provide formal training too. Adam Johnston, managing director for Robert Half Hong Kong, explains that Gen Z is used to being taught and expects to be constantly learning, putting great emphasis on personal growth. 'If they're not developing their skills and deepening their knowledge, they won't hesitate to look for a job that offers more robust development opportunities.'
Indeed, a survey of EY Gen Z interns at the firm's 21st annual International Intern Leadership Conference revealed that when looking for an employer, 84% prioritise potential for career progression and growth. 'Generation Z professionals are ambitious, passionate and entrepreneurial – and they're ready to work hard for employers that understand them and their values,' says Johnston (see also the article on page 18 on continual learning).
While clear on what they want, Centennial graduates are willing to be flexible. Data from Accenture shows that most would relocate to another city or region for the right job and six in 10 consider it acceptable to work on evenings or weekends.
Research by Kelly Services in the Asia Pacific region revealed that Gen Z, while still valuing permanent, full-time roles, is the most receptive to the so-called 'gig economy' – a labour market trend towards temporary or contract roles, enabling companies to grow or shrink their workforce on an as-needed basis.
'The gig economy is becoming increasingly appealing to Gen Z workers because it affords them a sense of control over their careers, access to stimulating work and the ability to grow their networks,' says Jessica Ang, regional head of corporate brands management, APAC at Persolkelly.
Gen Z-ers are also the true digital natives. Millennials witnessed the introduction and rise of digital devices, instant connectivity and social media; Generation Z was born into it. According to the EY survey, two-thirds believe technology will make them more productive.
Owning an average of five devices each, and conditioned to work on multiple screens simultaneously, Gen Z-ers are naturally attracted to practices with access to the most up-to-date digital technology, says Riza.
Different priorities
Deloitte's research shows that, like millennials, Gen Z-ers are acutely attuned to business's wider role in society and overwhelmingly feel business success should be measured beyond financial performance. They believe business priorities should be job creation, innovation, enhancing employees' lives and careers, and making a positive impact on society and the environment.
Furthermore, eFinancialCareers in Asia finds that, along with a positive culture, having challenging and interesting work is vital. George McFerran, executive vice president, product & marketing, for DHI Group, parent company of eFinancialCareers, says: 'It's important for employers to communicate what their organisation is doing because it matters to potential employees.'
Another challenge will be managing the growing cultural differences in the workplace as the age and skills gap between various generations of employees increases. The good news is that Gen Z has the most 'inclusive mindset' of all the generations. According to the EY survey, their ability to work well with people from different backgrounds and cultures is a key skill that sets them apart from their older colleagues. Interesting times ahead.
Peta Tomlinson, journalist
"'Gen Z grew up during the financial crisis, amid threats from terrorism and political uncertainty. It has made them more driven'"