The growing demand for non-financial performance reporting makes a mechanism to guarantee its credibility and comparability an ever more pressing need for businesses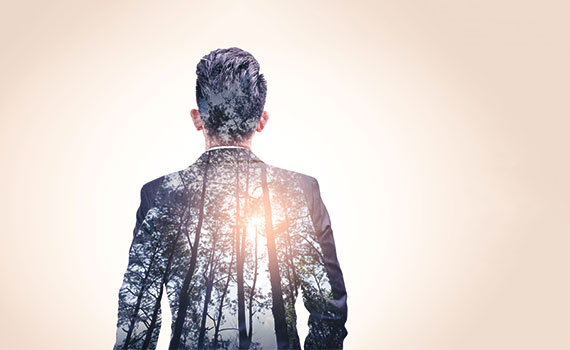 This article was first published in the February/March 2019 International edition of Accounting and Business magazine.
In the past two decades integrated reporting, sustainability reporting and disclosures on corporate social responsibility and environment, social and governance issues (ESG) have all begun to find their way into corporate reports as investors and others have come to realise that organisations' prospects are affected by non-financial factors as well as by financial performance. As these emerging forms of external reporting (EER) have multiplied, so too have calls for a system to assure users that the non-financial information supplied is credible and of reliable quality.
Andrew Gambier, ACCA's head of audit and assurance, says there is growing demand for EER among investors. 'Among other things, EER information enables them to assess the extent to which management is keeping on top of emerging risks and opportunities,' he explains.
Hilde Blomme FCCA, deputy CEO of Accountancy Europe, a federation of 51 professional organisations from across Europe, says: 'More companies are seeking to obtain assurance over non-financial disclosures, potentially as part of their annual reports.' Accountancy Europe has itself pioneered a 'core and more' corporate reporting approach that would organise financial and non-financial information on the basis of users' interests.
It's not just investors who rely on corporate information to make decisions, but also senior managers, and even consumers and workers relying on it to decide whether to buy products or sign employment contracts.
At a high-level meeting in Brussels late last year, organised by Accountancy Europe and the International Auditing and Assurance Standards Board (IAASB), experts agreed that while EER best practice has been established, the expertise to deliver it well, especially outside western Europe, is often lacking.
Initiatives aimed at promoting quality non-financial reporting include an EU directive of 2016, which requires companies with more than 500 employees to report on ESG matters. Other initiatives include the Corporate Reporting Dialogue, which seeks to align the existing reporting frameworks for non-financial information better.
Gambier points to three key developments contributing to best practice in EER assurance: enhanced reporting on the United Nations' Sustainable Development Goals (SDGs), climate-related financial disclosures (notably the 2017 call from the Financial Stability Board's Task Force on Climate-Related Financial Disclosures for companies to estimate the financial impact of climate risks on their business), and more transparency on tax strategies.
While environmental reporting has been a feature for decades for some organisations, particularly chemical companies, the preoccupation with paying a proportionate amount of tax is an emerging corporate responsibility issue.
Globally, though, non-financial reporting is in its early stages, so concrete assurance is hard to apply. 'There is a lack of robustness and comparability in non-financial disclosures,' says Blomme.
Even within Europe, the take-up and extent of EER is variable. In Italy, France and Spain, for example, adoption levels are high, even compulsory, but other countries lag some way behind. Birgitte Mogensen, chair of the CSR committee at FSR, the association of Danish auditors, says: 'Only 17% of businesses – the big companies – use EER in Denmark.'
Sparing with the detail
The IAASB believes any EER assurance guidance should not be overly detailed. It aims to develop 'non-authoritative' guidance (see box) using its existing revised ISAE 3000 assurance standard.
Blomme agrees it is too early to develop subject matter-specific standards for EER assurance. However, she expects the IAASB guidance to prove 'very helpful in increasing the quality and reliability of non-financial information and addressing challenges arising in assurance practice'.
Gambier believes an assurance standard would help those wary of EER indicators. 'It would help inspire greater confidence in EER, which might encourage more people to engage with the information and give management a greater incentive to do EER well,' he says.
The IAASB's EER project has identified several challenges for EER assurance. Gambier believes there are questions over how to apply materiality and the difference between reasonable assurance and limited assurance.
Delegates at the Brussels event agreed annual reports contain far too much superfluous or 'immaterial' information, which can turn users off. Gambier says: 'Users will ignore irrelevant information to an extent, but if there is too much they may be unable to find what is really important to them.'
He believes opposition to setting standards on the basis that defining criteria is too difficult is a delaying tactic, adding that everyone knows pollution impact, for example, should be among the criteria. 'For the most part company managers do know what users want to see,' he says. 'The challenge is finding a way to force them to disclose it.'
He agrees with Andrew Hobbs, EY's public policy leader for Europe, Middle East, India and Africa, that a five-star system on assurance features may help explain what's important in a company's annual performance report. 'People don't want to read detailed food hygiene reports when they go out to eat, but they're happy to look at a food hygiene rating sticker in the doorway,' he points out. 'Perhaps assurance could learn from greater accessibility.'
Marek Grabowski, chair of the IAASB's EER task force, stresses that EER accessibility and understanding is key, and that the clock is ticking. 'In 30 years' time, the world will look different,' he says. 'EER won't be "emerging" forever; we already also call it "extended" external reporting.'
Whether EER guidance, standards or laws emerge, it is clear that ultimately it will be down to companies to pick up the ball and run with it. Richard Martin, ACCA's head of corporate reporting, says: 'Regulators and standards-setters can set out objectives and principles, but good application must first and foremost come from companies being persuaded to do it.' He believes such practice will be driven by the market, peer pressure between companies, surveys and stakeholders asking questions.
Liz Newmark, journalist in Brussels
"Whether guidance, standards or laws emerge, it is clear that ultimately it will be down to companies to pick up the EER ball and run with it"