Despite 2018's 'crypto crash', cryptocurrencies appear here to stay, but when can we expect to see them traded on institutional, regulated exchanges on trusted platforms?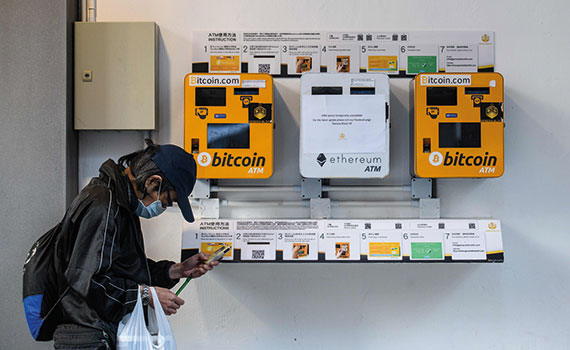 This article was first published in the June 2019 China edition of Accounting and Business magazine.
Rising prices and a higher degree of regulatory clarity are signalling wider acceptance of cryptocurrencies a little more than a year after prices crashed.
At the end of 2017, a single bitcoin was trading at highs of almost US$20,000 and seemed destined to go higher. A year later, a bitcoin was going for a little more than US$3,100. And with regulators now working on defining what cryptocurrencies are and where they fit in the finance universe, digital assets could find themselves on more solid footing for another bout of growth.
'We expect the industry will become more regulated globally in the next 48 months. Up until now, we have seen the most regulatory clarity coming from Japan, with Indonesia, Thailand, Singapore and Hong Kong also taking significant steps toward regulatory clarity,' says Dave Chapman, CEO of digital trading platform ANXONE.
Towards the end of April, bitcoin's prices entered a 'golden crossover', when the 50-day moving average price of an asset rises above its long-term moving average. Prices hit $5,500 for the first time in over five months in April, but memories of the 'crypto winter' of 2018 are still fresh.
Chapman thinks there is stronger-than-ever recognition of cryptocurrency as a unique asset class as opposed to a commodity and sees the industry heading towards institutional, regulated exchanges on trusted platforms.
'This is backed by the fact that more traditional players such as Goldman Sachs, Fidelity and Morgan Stanley are entering this space,' says Chapman.
'Crypto has many use cases, but in order to succeed, institutionalisation is a necessary next step to help drive growth for the tokenised economy,' said Kiran Nagaraj, managing director of KPMG's crypto asset services.
The volatility of cryptocurrencies has both attracted and scared investors and regulators, even as market actors take steps to reassure investors and to develop more stable products.
For instance, payments and cryptocurrency platform Crypto.com added Paxos Standard's PAX token to its wallet and card app. PAX is a stablecoin, a digital token pegged to a specific commodity or currency to make it more stable. 'Stablecoins play a critical role in the adoption of cryptocurrencies,' says Crypto.com co-founder and CEO Kris Marszalek.
PAX may be used to pay for items or traded instantly for US dollars. And because it is regulated by the New York Department of Financial Services, it may give businesses confidence.
'So far in 2019, we have seen the consolidation of key digital assets, a shift in focus to stablecoins and an expected up-swell in security token offerings,' says Chapman. 'Resurgent sentiment has also been supported by the increasing number of jurisdictions taking steps to regulate the sector, which we consider a pre-condition for the full professionalisation of the asset class.'
Currencies or assets?
The market itself remains uncertain as to whether to consider cryptocurrencies as currencies or assets. What is happening with cryptocurrencies is 'exciting yet tumultuous', says David Broadstock, an assistant professor of economics at Hong Kong Polytechnic University. He believes that a clearer regulatory definition may allow investors to allocate flows with more confidence.
What is certain is that cryptocurrencies cannot be overlooked, says Broadstock. There is growth in corporate initial coin offerings globally and even a physical market presence. According to Coin ATM Radar, there are now 39 such machines in Hong Kong alone.
Fluctuating values
Yet, the progress of cryptocurrency continues to be hindered by a reputation of volatility. 'There is concern that, even through e-payment platforms, the value of a bitcoin at the start of a transaction may differ considerably to its value at the end of the transaction,' observes Broadstock.
The initial coin offering (ICO) craze of 2017, not unlike the dotcom bubble, 'left a stale taste in the mouth of some', says Fran Strajnar, CEO and co-founder of blockchain and cryptocurrency research firm Brave New Coin. 'Half of them felt left out of a lucrative game, the other half confused it with scams.'
The market may have largely corrected itself but adequate security is paramount, particularly in the light of the bankruptcy of Japanese bitcoin exchange Mt. Gox. Launched in 2010, it was the largest crypto exchange in the world. Then hackers started siphoning off as many as 850,000 bitcoins. Mt. Gox filed for bankruptcy in 2014 and the aftermath of the bankruptcy is still being litigated in Tokyo.
How to determine what bitcoins are, how to track them and tax them, and how to protect investors from price volatility are all considerations for creating a robust regulatory framework. Strajnar observes that regulations on security guidelines and tax compliance have picked up worldwide and he expects most jurisdictions to have some kind of framework in place by the middle of next year.
But there are also post-transaction considerations. 'When most people think of markets and the trading of an asset, usually they are focused on what happens before or to the point of execution of a trade. But what occurs after a trade is executed is critically important and this issue has not been broadly discussed within the context of tokenised securities or crypto assets more generally,' says Mark Wetjen, managing director at Depository Trust & Clearing Corporation.
'The entire world wants the regulation around this asset class to be finalised so they can get on with business,' adds Strajnar. Regulation could also help further institutionalise cryptocurrencies.
'While bitcoin is still dwarfed by traditional asset markets, crypto is now much broader than just bitcoin, and the debate on the case for crypto is far from settled,' says Nagaraj.
Growing value
The market capitalisation of the cryptocurrency market was US$175bn as of 1 May 2019. The market capitalisation of the New York Stock Exchange, the largest stock exchange in the market, is upwards of US$20 trillion.
Strajnar says that as more and more larger companies get involved in the cryptocurrency space, then more people are likely to jump onboard. For instance, Japanese e-commerce giant Rakuten is now preparing to launch a cryptocurrency exchange and a wallet.
'Companies like Rakuten already have millions of members registered. That means they can immediately get them onboard without much work, as the know-your-customer process is already completed,' says Strajnar.
There are practical reasons driving the adoption of cryptocurrencies, according to Broadstock. 'First there is the need for a unit of currency and, second, there is the increased use of technology in the bartering and transaction process,' he says. 'The move away from paper-based money is to be expected in the long run, and virtual currencies are the most natural next evolution.' But Broadstock admits the transition will take some time.
Here for good
But the consensus is that cryptocurrencies are here to stay. 'Though we are still probably at the stage of crypto 1.0, the concept of a virtual currency is appropriate for our times given its prevalence and social acceptability,' says Broadstock.
Strajnar agrees. 'There have been too many billions of dollars spent on it for cryptocurrencies to be more than a passing fad,' he says.
Chapman makes the point that transaction volumes have not slowed down. 'And the pie is no longer concentrated on a couple of digital assets. There are now about 3,000 coins, all in private markets,' he says. CoinMarketCap, which tracks alternative coins on the market, puts the number of cryptocurrencies in circulation at 2,141.
As for KPMG's Nagaraj, he believes the staying power of cryptocurrencies will be defined by their ability to reduce friction and inefficiencies that currently exist within the global economy.
And Strajnar believes major cryptocurrencies like bitcoin will continue to experience cyclical performance even as they continue to rise. 'A rising tide lifts all boats. We are just on the cusp of a multi-decade wave of digitising value,' he says.
David Ho, journalist
"The entire world wants the regulation around this asset class to be finalised so they can get on with business"