We can learn much from New Zealand Prime Minister Jacinda Ardern's heartfelt and personal response to the Christchurch terrorist attack, says Harry Mills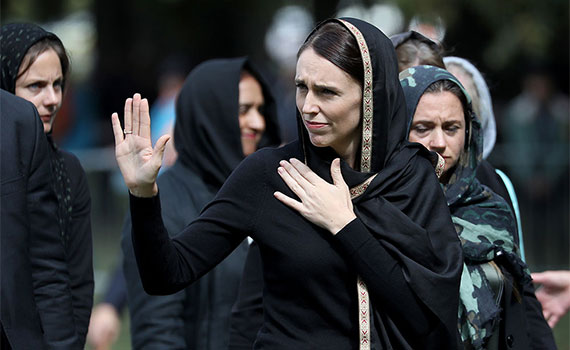 This article was first published in the June 2019 International edition of Accounting and Business magazine.
An Australian counter-terrorism expert described New Zealand Prime Minister Jacinda Ardern's handling of the Christchurch terror attack as a 'masterclass in leadership'. Television celebrity Oprah Winfrey said Ardern had 'set a global standard for leadership'. Here are some of the lessons we can learn from the young leader.
Before the attack, which saw 51 people lose their lives at the hands of an Australian terrorist, critics said Ardern's open style was a sign of weakness. Ardern told the BBC that she is proud to be a compassionate leader and asked why, if we teach empathy and compassion to our children, we shouldn't show it when it comes to politics. When the global media began praising her style of leadership, she responded: 'I don't think I'm displaying leadership. I just think that I'm displaying humanity.'
Good leaders extract value from every word they use by carefully framing their messages and telling a consistent story. According to communications expert George Marshall, 'Frames work like a viewfinder of a camera; when we decide what to focus on, we are also deciding what to exclude'. In Ardern's case it was to frame the terrorists' act as an attack on New Zealanders' core values.
'We are not a target because we are a safe harbour for those who hate,' she said in her address to the nation. 'We were not chosen for this act of violence because we condone racism, because we are an enclave for extremism. We were chosen for the very fact that we are none of these things – because we represent diversity, compassion, a home for those who share our values, a refuge for those who need it.'
The most evocative words were not crafted by a spin doctor; Ardern framed the message herself. 'I absolutely knew what I wanted to say,' she told journalist Toby Manhire. By refusing to name the terrorist, Ardern denied him the fame he desired and, as importantly, kept the focus on the victims.
Good leaders also recognise that before people will trust you, you need to show them you respect them and are providing an environment where they are safe to express their fears. On the day after the attack, Ardern met with members of the Muslim community, wearing a hijab. This simple act showed a deep respect and reassured mourners that New Zealand was a place where they could openly display their faith.
At her first press conference after the massacre Ardern declared: 'Our gun laws will change.' Within a week of the attack she announced that tighter gun laws banning semi-automatic and assault rifles would be introduced; within a month the new controls had come into effect. She also commissioned an inquiry to investigate whether New Zealand's intelligence agencies had ignored the threat of right-wing extremism.
The philosopher Isaiah Berlin said President Franklin D Roosevelt, who led the US through the Great Depression and the Second World War, made Americans 'prouder to be Americans that they had been before. He raised their status in their own eyes – [and] immensely in those of the rest of the world'. Ardern will be remembered in much the same way.
Harry Mills is the expert on persuasion for the Harvard ManageMentor programme.