Sim Chankiriroth FCCA, who has used his accounting background to launch one of the top fintech startups in Asia, describes the challenges of entrepreneurship in Cambodia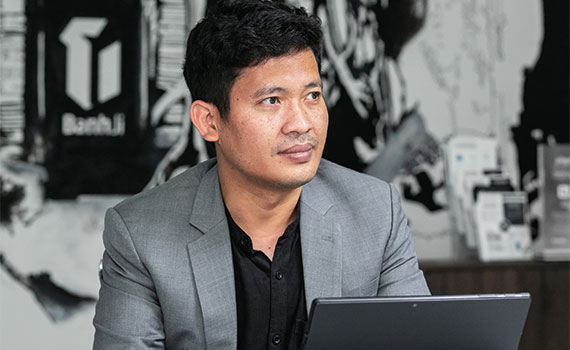 This article was first published in the November/December 2019 Singapore edition of Accounting and Business magazine.
In 2012, Sim Chankiriroth launched a financial consulting firm in Cambodia with five fellow ACCA graduates. It was a diverse team, with one partner working for a Big Four accounting firm and another in banking, while Kiriroth himself came from a consulting background, in addition to acting as finance director at a manufacturing company.
By 2013, he was discussing the possibility of launching a startup with his partners as they looked for ways to compete in the Cambodian market. 'We initiated our project that year, but it only became reality in 2016,' Kiriroth says in his office in an unremarkable building down an alley between Phnom Penh International Airport and the Olympic National Stadium.
That project was BanhJi, a fintech startup aimed at improving financial inclusion among micro, small and medium enterprises (MSMEs). The financial operating platform quickly gained acclaim: in 2016 it was named one of the top 10 fintech startups in Asia by Startupbootcamp FinTech Singapore, after being selected from over 350 applicants. The winners each received SG$25,000, free office space and access to an extensive global mentorship network.
Currently, 30% of BanhJi's clients are in the wholesale and retail trading sectors, the largest group by industry, while their 4,000-plus signups have combined assets worth over US$250m.
He admits that this wasn't a natural progression. 'I'm an accountant by profession, and when we ran our consulting firm, and later on set up our audit firm, we saw this as an opportunity to get into the space,' Kiriroth explains. 'I only learned the word "fintech" in 2015, and I saw this as a good opportunity to use our skills and leverage technology to have a better impact in the country. The market opportunity is also huge.'
According to a report by the International Finance Corporation, the unmet financing demand of Cambodia's MSMEs is estimated at US$3.7bn. 'That's the market we're addressing,' Kiriroth explains. According to a recent report by Mekong Strategic Partners, Cambodia's fintech sector is poised for major growth and is already the largest category in the tech startup landscape. It is also a key area of government development, with a national strategy currently in development.
'Fintech startups are seen as one of the very important players in contributing to the development of the digital economy,' Kiriroth says.
Major challenges
While most current investment is focused on the customer-facing payment side, business-facing platforms such as BanhJi are less common. A key challenge, Kiriroth says, is Cambodia's small population of 16 million and relatively undeveloped economy.
'Customer acquisition and growth is difficult. At this stage we have more than 4,000 MSME customers but it has been very challenging to grow very fast,' Kiriroth says. 'Human resources is one problem; it's very difficult to recruit staff who understand how to grow the company fast and develop the infrastructure. Fundraising is also a challenge. Vietnam, for example, has a huge market, and it's easy to raise money there – Cambodia, by contrast, doesn't have a population advantage.'
Digital adoption presents another speed bump that Kiriroth and his team are trying to overcome. While internet penetration in Cambodia has reached a healthy 76%, that doesn't mean all internet users are doing business and banking online. Many Cambodians still prefer to deal in cash, particularly the US dollar, meaning the country is home to a large unbanked population. This is reflected among the country's small businesses, with many showing reluctance to go digital, even if it means they would have access to better loans and services.
'This is still a Facebook internet,' the CEO laments. 'There are already 8.4 million social media users in Cambodia, but my solution is B2B, and digital adoption is very, very low.'
Nonetheless, Kiriroth is confident that the timing is right for BanhJi. Despite the challenges, the company has clients in 18 of Cambodia's 25 provinces, as well as in neighbouring Laos. Kiriroth is also investigating the viability of expanding into Myanmar.
The ACCA advantage
Kiriroth says that his journey to become a startup founder would have been impossible without his ACCA background; he began his career as a financial consultant for NGOs. 'I studied ACCA in 2009, and by 2010 I had already switched my career to corporate. So if I hadn't studied ACCA, I wouldn't have been able to switch, as that was a big jump from NGO to finance director of a seafood manufacturing company.'
ACCA has also enabled Kiriroth to network with key people while obtaining the necessary skills for the corporate world. 'In the fintech industry, the ACCA Qualification gives me more credibility because it covers financial technology,' he explains. 'With a world-class qualification, it's great when I present to investors or strategic partners like banks or government agencies. They can see I know what I'm talking about.'
Kiriroth is well aware of how his move from the lucrative corporate sector to the risky startup world may strike some as odd.
'With the ACCA Qualification I could earn a very good living as a CFO. Switching from being a CFO to running our own company is not rewarding – yet,' he laughs. 'In Cambodia we don't have the population advantage, so for significant growth you have to move beyond the border. But it's satisfying that I can use my knowledge and skills to explore potential businesses that have at least the chance to grow bigger.'
Driven by passion
When asked what drives him in the face of these difficulties, and the knowledge that he could easily make more money elsewhere, Kiriroth pauses.
'I'm driven by a passion to be the best, while at the same time contributing to Cambodia's development,' he says. 'If I work for others I can get a good salary, but if I can help Cambodia and make BanhJi successful, it will help the country to attract foreign talent, and at the same time allow other young people to see what can be done.'
Kiriroth is watching closely to see how fintech is developing in the wider region. He looks to Malaysia and Indonesia, both of which have home-grown unicorn startups with billion-dollar valuations, and neighbouring Vietnam and its rapid economic advances, for inspiration, though he is realistic about Cambodia's potential.
'I'm not dreaming of making BanhJi a unicorn,' he says. 'But if we can grow to a certain level, a career in a tech startup company will become a preferred choice for the new generation. At the moment, it's not really viewed as an option, making it difficult to attract top talent.'
Despite the challenges, Kiriroth retains a positive outlook. 'I'm very optimistic for the future of financial technology in Cambodia,' he says. 'According to a recent report by the Asian Development Bank, the adoption of digital financial services could increase GDP by around 6%. And Cambodian fintech is inclusive: it's joining the financial system, not disrupting it.'
Validate the market
As for BanhJi, the immediate future is one of growth. Kiriroth expects his team to double in size to 80 next year, and he is now working on the company's next four-year plan: 'I see a lot of opportunity for growth, using Cambodia as a sandbox – a place where we can validate our market and scale beyond the border,' he says. 'That's why the next market will be Myanmar.'
The founder is excited by the emergence of other new, innovative business models in Cambodia, as the government seeks to develop the digital economy.
'I talk to a lot of people and attend many meetings, and we see great potential for Cambodia to fully adopt the technology, especially in the three key sectors of e-commerce, logistics and finance,' Kiriroth explains. 'Those are the three key areas that will support our growth in the future.'
Phnom Penh, like many urban areas in the developing world, is a city of contrasts. Glittering luxury high rises stand near slums, and Lexus SUVs jostle for space in traffic with entire families packed onto cheap motorbikes. It is immediately apparent how many opportunities for success a place like this offers, along with how challenging it can be to achieve such success. Kiriroth, for all his optimism about BanhJi's future, is clear-eyed on what he needs in that future as well.
'My personal passion is to make a substantial contribution to Cambodian development through my knowledge and understanding of the market; that's one of my key drives,' he shares.
'But at the same time, it also presents an opportunity to have very comfortable life as well. It must be both. That's the passion, but it's been very difficult so far.'
Michael Tatarski, journalist
"If we can grow to a certain level, a career in a tech startup company will become a preferred choice for the new generation"