There are more female board members today than ever, but women are still under-represented at executive level. Steve Giles asks, is gender equality illusion or reality?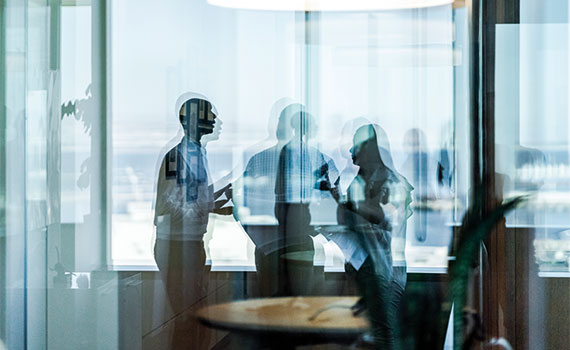 This article was first published in the February/March 2020 UK edition of Accounting and Business magazine.
The UK's corporate governance landscape has changed significantly over the past decade. And it continues to evolve at pace, with the new UK Corporate Governance Code stating that companies should contribute to wider society as well as generate value for shareholders.
The emphasis today is on sustainability and the alignment of strategy, values and culture. A central part of this transformation has been the drive for greater diversity in the boardroom – gender diversity in particular.
The board gender gap was obvious before the global financial crisis. For example, the Royal Bank of Scotland board in 2008 comprised 18 directors, only one of whom was female. Analysis of the causes of the crisis attributed much of the poor decision-making to 'groupthink' arising from the homogeneous views of directors and lack of challenge, scrutiny and debate. Improving gender diversity became an immediate priority post-crisis.
Much has been achieved. Put simply, there are more women on boards today than ever before. FTSE companies have met targets relating to board composition. However, this is driven by increases in female non-executive directors (NEDs) – change is less well established among executives. Many managers are disappointed and view gender diversity as illusory.
This frustration is picked up by leadership consultant Annabel Parsons. She views progress on gender diversity as mixed at best: 'Women remain vastly under-represented at executive level across the majority of employers and sectors, leading to numerous implications for business and society, and reducing the diversity of the talent pipeline for boards.'
So what is the real position? Let's consider some of the data:
Female representation on FTSE 100 boards was 12.5% in 2011. The Davies Review – Women on Boards set a voluntary target of doubling this to 25% by 2015. The target was exceeded (at 26%) and seen as a major milestone in the journey of improving gender balance at the top of British business.
There has been a dramatic reduction in all-male boards. In 2010, 21 companies in the FTSE 100 were in this category – there were none by 2015.
In 2016, the Hampton-Alexander Review: FTSE Women Leaders set a new target – for females to comprise 33% of FTSE 350 boards by December 2020. The 2019 report reveals that women now hold 32.4% of all FTSE 100 board positions. The FTSE 350 is on track to meet the target, provided the same rate of progress continues in 2020.
The number of FTSE 350 boards with one female director only (so-called 'One & Done' boards) was reduced from 74 to 39 in 2019.
These are substantial achievements, but not all the data is so positive.
The Hampton-Alexander Review set another key target – that women's representation on senior leadership teams (ie executive committees and direct reports) should reach 33% by December 2020 for FTSE 350 companies. This is viewed as a critical milestone in achieving long-term gender balance. Yet the target is in doubt. While progress has been made, the 2019 report states that a step-change in female executive appointments is needed in 2020 or the target will be missed.
The 2019 UK Spencer Stuart Board Index for FTSE 150 companies highlights two other issues. While women account for 42.7% of NEDs in the index, they only represent 8.3% of executive directors. Also, women continue to miss out on board leadership roles – only 3.3% of chairs and 4.7% of CEOs are female.
The effect is that gender diversity often appears more illusion than reality to managers and staff. They notice who leads the business as CEO and who sits on the executive committee. More female NEDs on the board, enabling relatively binary and simplistic targets to be hit, is not visible to them, so gets little traction.

Slow progress
For many, the pace of change remains depressingly slow. I have witnessed the frustration this causes. In two recent governance workshops I heard calls from women for the UK to introduce legislative quotas (like Norway), despite their concerns about tokenism.
This drive to legislate is linked to frustration that other issues of fairness, such as equal pay or the poor representation of ethnic minorities on boards, have not been adequately addressed either. It is compounded by the research, which increasingly shows that diversity has a positive impact on business performance.
Parsons has an important insight: 'Rather than thinking of diversity as a standalone issue, many organisations have now begun to consider inclusion as a key enabling factor. The evidence suggests that ensuring employees have equal access to opportunity and resources leads to greater diversity at the top – and that is something on which every leader should have a developed perspective.'
The UK Corporate Governance Code places gender diversity within a broader, holistic framework. Principle J states: 'Both appointments and succession plans should be based on merit and objective criteria and, within this context, should promote diversity of gender, social and ethnic backgrounds, cognitive and personal strengths'.
So, while the Hampton-Alexander Review remains important, the agenda has moved on. Organisations looking to keep talented staff and develop their boards and executive committees as high-performing teams need to respond (see the panel above) if they are to make further progress.

Steve Giles is a consultant and lecturer in governance, risk and compliance.
"I have heard calls from women for the UK to introduce legislative quotas, despite their concerns about tokenism"