The career limitations imposed by motherhood spurred auditor-turned-entrepreneur Oxana Shokanova FCCA to launch two successful e-businesses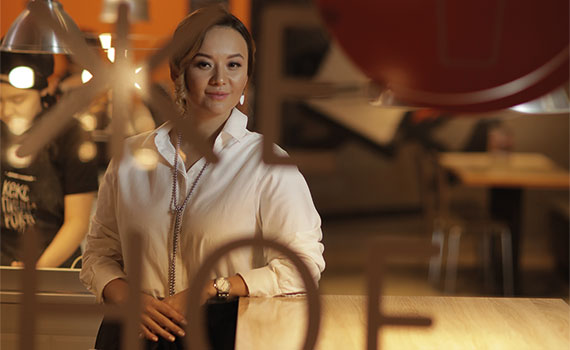 This article was first published in the February/March 2020 International edition of Accounting and Business magazine.
Kazakh entrepreneur Oxana Shokanova FCCA has never shied away from trying something new. In the 14 years since she completed her education at KIMEP University in Almaty, she has worked for a Big Four firm, set up two companies, become heavily involved in a fast-growing franchise, and juggled the demands of motherhood in a strongly male-oriented society.
Shokanova may not now be directly involved in accounting and audit, but her training in the field has been essential for her career. As with so many of her counterparts in finance, her career began with a liking for numbers and the prestige conferred by the accounting profession.
'At the time I got my bachelor's degree, working in one of the Big Four firms was considered a good way to start a career. It gave me a foundation for developing crucial business skills and understanding how business works,' she explains. 'It was considered prestigious to be an auditor, and a great basis for developing business skills.'

Child-unfriendly
After university in the Kazakh capital, she spent three and a half years at EY, her first job, before taking maternity leave. After the birth of her first child, Shokanova returned to the firm, but the working hours were not child-friendly. 'Sometimes, before reporting dates, we would spend long hours at work and I could be at the office until 5 in the morning,' she says. In search of a better work-life balance, she moved to a teaching role in the EY Academy of Business.
With some savings under her belt, she then decided to venture out on her own, although it was by no means an inevitable course of action. 'I would have also been happy pursuing an audit career if the working hours had been much more flexible and young mothers had been assigned to projects within a city commute,' she says.
She started up her first business, pandaland.kz – a Kazakh website offering advice and information to new mothers – in 2013, as a hobby, prompted by necessity. As a new mother herself, she was always on the lookout for useful tips and information – such as the best baby food products – but found frustratingly few resources. At the time, though, Kazakhs were beginning to embrace the possibilities of the internet. The pandaland.kz website provides content that answers the questions she herself had as a mother – and the project grew from there.
In just a year, pandaland.kz had become a fully fledged business, and Shokanova was working with businesses such as Nestlé, Johnson & Johnson, and Procter & Gamble on advertising mother and child-related product ranges. 'I needed to sell the website's services,' she says, adding that she did not start off with a business plan nor carry out initial market research. Yet gradually, the hobby turned into a commercial operation, and staff were increasingly needed. 'I had to pay salaries and fulfil demand for quality content,' Shokanova says.
The experience proved to be a steep learning curve. 'I learned a lot about digital marketing,' she says, a new area that had to be mastered. Hiring the right people was another. 'You need to fully understand "your" type of people – people you'd be comfortable working with who will also be capable of achieving the results you expect. I went through numerous training sessions and countless hiring processes before I started to excel in this. But there are no secrets – the basic values are the most important: integrity, hard work and striving to learn and develop.'

Snowball effect
Her pandaland.kz project gave rise to another, related business venture, freshu.kz, an online store selling natural and organic cosmetics. 'I thought through this move more,' Shokanova says. 'I already had some experience in online marketing and could offer the pandaland.kz readership something I was passionate about. As a mother, I wanted to share my experience of organic and safe products. We had half a million views a month on pandaland.kz, so we could understand the demand.'
Her marketing experience and pandaland.kz user base paid off. 'We knew our reader preferences about pandaland.kz products,' she explains, adding that freshu.kz customers were looking for suitable skincare products for children with allergies.
Later, she became an investor in a broad business development role in another, completely different business venture, Dodo Pizza, a Russian-owned online-based pizza delivery franchise. 'When the opportunity came up to be part of a business with a very high technological component, highest quality standards and a great team, I decided to give it a try,' she says. The technology allows very detailed tracking of ingredients, a feature that interests Shokanova as an auditor, and she has also gained exclusive franchise rights for Dodo Pizza in the Czech Republic – her first international venture.
Looking back, however, Shokanova has enjoyed the challenge of being her own boss, although she admits her business career got off to a tough start. 'I didn't expect things to be that difficult,' she says. 'Though an audit is very demanding, and you have to put a lot of hours into your job, at the end of the day you can leave it behind. In business, you can't do that, at least at the beginning. It's like your first child.'
Additionally, she faced a huge increase in responsibility for all areas of the companies she runs. Issues such as sales skills, for example, were not covered in her accounting training, she says. 'And in your own business, you have to take the responsibility for many more aspects and business processes.'
Despite such demands in different areas, Shokanova has thrived on the challenge of new projects. And her accounting background has proved vital to her success. 'When I Iook at the business from the standpoint of management accounting, the analysis and controls have really given me an edge. This helps me to rely on objective data in my decision-making rather than going by my emotions and feelings.
'The heart, though, is also very important in business,' she adds with a smile. 'And the common ground between my own projects and auditing is that you need to be fully committed and pay great attention to detail.'

Stress and burnout
The degree of commitment has afforded her plenty of challenges. 'By far the biggest in my career,' she says, 'has been work-life balance. I tend to get carried away by whatever I'm doing and take things very personally. Coping with stress and avoiding burnout was very difficult.
'The most emotionally demanding time was with the first project, pandaland.kz. Raising my first child and managing emotions coming from uncertainties at work turned out to be one of the biggest personal and management challenges.'
Yet it taught her valuable lessons. 'It comes with experience. You have to learn to manage your priorities and let go of things that are beyond your control,' she says.
Shokanova has received huge support from her husband, an important factor in the traditionally male-oriented society of Kazakhstan. 'He comes from a family in which education and the work ethic of both men and women had been at a very high level for generations,' she says. 'His parents and grandparents all worked extremely hard, so it was very easy for both of us to be working. But I know many women who cannot work because their husbands do not allow them to do so. It depends on the individual family.'
She believes change is afoot, however, citing her own situation. 'I think we're becoming more European in style: both of us are entrepreneurs, and partners in life and in business. The main thing is to negotiate with your partner.'
She is positive about the audit sector in Kazakhstan. 'There are still many opportunities for auditors – it is an international profession with the same standards across the globe.'
But she also thinks it needs to change. 'One of the current challenges is that audit in Kazakhstan isn't attracting enough talent. The sector doesn't promote its heroes enough – and there are lots of them,' she argues. 'You see the Facebook and Amazon CEOs, but you wouldn't see auditing partners on a front page. Auditing is a well-established industry, and everyone knows the Big Four. But it doesn't have to be so low-key in social and public media. If the industry in general is to fight for talent, auditing should consolidate its efforts to increase awareness of the bright side of the profession.'

David Creighton, journalist
"I would have been happy pursuing an audit career if the working hours had been much more flexible and a reasonable commute possible"