The biggest challenge facing businesses today is disruption, says EY's digital finance lead Neil MacLean FCCA, who is supporting companies in how they adapt and thrive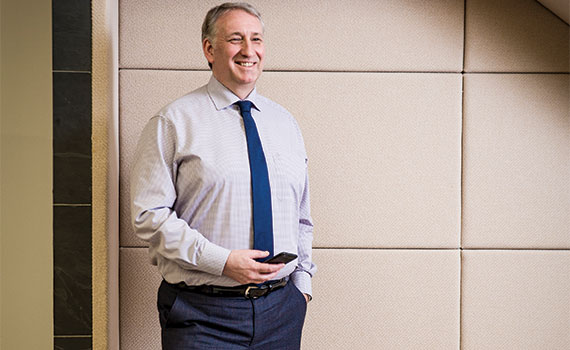 This article was first published in the April 2020 UK edition of Accounting and Business magazine.
EY's digital finance team is growing at pace in response to the transformative effect that artificial intelligence and other technology is having on the firm's clients. Currently made up of over 100 finance professionals, its head Neil MacLean FCCA expects the group to double in size over next few years.
'The digital space is a really exciting focus for us,' he says. 'We are helping finance functions transform their organisations by taking advantage of digital tools, optimising processes, reskilling their teams for the future, and using their data to provide more insight and become more of a strategic business partner.'
MacLean has been supporting clients transform their finance function since becoming a management consultant in 1998. Taking over as lead partner of EY's digital finance team in 2019, he and his team are supporting clients in a number of areas: improving their processes, rethinking their organisational structure, building their finance function's capabilities, getting maximum value from business partnering and using data to gain greater insight and improve performance.

The road to digital
MacLean, who is based in Edinburgh, with his team being co-located here and in London, started his career at 17 as a trainee accountant on an approved ACCA training programme at Fife Regional Council, where he became a senior accountant. He qualified with ACCA in 1991. 'It's been really important for me to have the ACCA Qualification,' MacLean says. 'First, it gives me a very strong financial grounding, which has been critical for managing any type of project or client. But the breadth of ACCA has also been really valuable. It prepares you to operate in business.'
He joined EY earlier in his career, as a senior consultant in 1998, before moving to technology consultancy Capgemini Consulting, where he spent six years as vice president, working with corporates and public sector organisations on transformation programmes. 'During my career I have had the opportunity to travel the world and work with some amazing, talented people, who I have learnt so much from,' he says.

Managing volatility
But today's challenges, MacLean points out, are all around disruption and volatility – 'the hallmarks of the current business and economic landscape'. He points out that organisations need to think and act differently across all areas of the business, including finance.
As the finance function's focus shifts from transaction processing and reporting to using data to provide insights to inform business strategy, MacLean emphasises that finance must become much more agile, supporting the business 'quickly, efficiently and with deep, relevant and timely insights. This call will require fresh thinking and more powerful technologies – in other words, a complete transformation of the finance function as we know it today.'
This in turn means a shift in the skills needed by the finance function. He points out that data scientists will be needed to capture and analyse real-time data, and that process understanding across core finance functions will be a commodity. 'What will empower finance professionals is the application of reporting technology and intelligent automation across these processes.'
'It's an incredibly exciting time, with a lot more change ahead,' MacLean says. 'We're ready to help businesses maximise all the opportunities that digital can bring.'

Victoria Masterson, journalist
"The digital space is a really exciting focus for us, helping finance functions transform their organisations"