The urgent need to minimise social contact in the face of the Covid-19 pandemic has seen accounting practices move rapidly to swap office life for remote working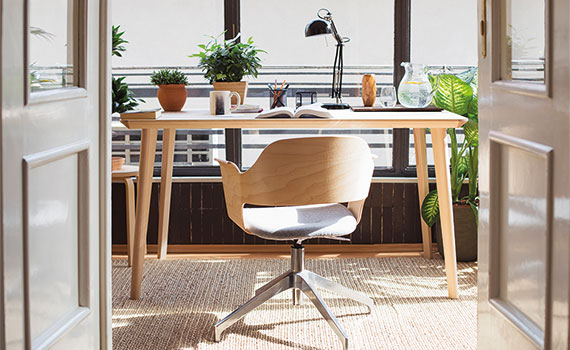 This article was first published in the May 2020 Ireland edition of Accounting and Business magazine.
What was once an occupational perk has become, overnight, daily reality for many thousands of Irish workers. Since the first announcement of social distancing measures to combat Covid-19, businesses and employees have scrambled to get ahead of the curve as they address the tech, cultural and personal challenges of entire workforces operating remotely.
Working from home has been around for as long as the technology that facilitates it, and there is plenty of advice on how to make the most of it, from 'switching on' to the working day to videoconferencing etiquette. In 2020, though, working from home is not a choice or occasional indulgence. For many, it involves sharing limited space with family, housemates and pets, all adapting to a constrained new reality. Add to that the deep anxiety that Covid-19 has created around health and financial security, and few will find a ready precedent for an experience that may continue for months to come.
In adapting, it can be easy to forget that normal employer and employee responsibilities still hold. Ireland's Health and Safety Authority has published guidance on some of these obligations while the country's larger consultancy and accounting firms are helping businesses meet this unprecedented challenge. Accenture, which offers an Elastic Digital Workplace solution for businesses, points out that 'the cornerstone of the work-from-home model is the right secure technology' and that 'getting people rapidly up to speed will require virtual training and change management programmes'.
Accounting firms of all sizes are likely to confront a number of challenges distinct to the profession if working from home becomes a long-term mass phenomenon. In audit, for example, social distancing and remote working may make it more difficult to access the data and personnel needed to support an audit opinion.
Dermot Neary FCCA is a sole practitioner based in Athlone, Co Westmeath. His firm began adapting to working from home in mid-March. Regular conversations with staff about the impact of Covid-19 have meant no issues with morale or concerns about the future to date, he says, although he adds that while maintaining the appropriate distance between colleagues is feasible in most situations, there are likely to be challenges 'when staff need to collaborate on specific audit issues'.
His conversations with clients have largely focused on impending filing deadlines. 'Revenue should come out with a clear and unambiguous statement that late filing surcharges will not be applied,' he says. 'This would remove one of the major issues for SME clients and their accountants.'
While no one can yet say how the crisis will ultimately impact the financial and accounting landscape in Ireland, Neary echoes the thoughts of most people in saying: 'Hopefully, the human and personal loss will not be too great. That is more important than the financial impact. Business will bounce back eventually, as it always does.'

Optimising work from home
While this is an unprecedented situation, the general principles of being productive while working from home remain valid. The following points may contribute to a more effective working day, while ensuring work/life balance and mental health are maintained:
Workspace. The value of a distinct workspace is hard to overstate. If a separate room or isolated space is not possible, designate a particular area for work to create a clear mental division between job and home life. Get agreement among those you share your home with on this. A good office chair is a must, along with regular breaks that involve time away from the desk.
Routine. It can be tempting to open out the working day to accommodate additional responsibilities. The simple advice is to avoid this. Fixed working hours prove far more conducive to both productivity and wellbeing in the long run. They also help in switching on and off to the working day. Dedicating the first hours of the day to individual work, before beginning meetings and other social interactions, can also be useful to productivity.
Looking the part. Whether jeans or suits are de rigueur in your company, it's useful to maintain some continuity in the new routine. If videoconferencing is a standard part of your routine, then looking the part, particularly when dealing with clients, can be key to communicating confidence in uncertain times.
Managing distractions. Headsets and earphones are a good way to signal you shouldn't be disturbed. Many people work happily with radio or music in the background while others find it distracting. The biggest distraction of all (of those under your control) is likely to be your browser, and setting boundaries for how much time you allow for internet browsing is key to getting the best from your day.
Daily life. Household chores present themselves with unerring frequency while working from home. Slotting some into break times can seem appealing but can easily take you from your desk longer than anticipated. Some obligations, though, simply can't be ignored. Prioritise, delegate and trade off. Try committing to 'one other thing' besides work during the working day, while others in the household take on different responsibilities.
Make friends with IT. The old Irish saying 'Tús math, leath na hoibre' – 'a good start is half the work' – was made for the IT age. Frustration with technology can spoil a working day before it has even begun. Identify who in your company can help you when there's an issue and open a dialogue where possible with them.
Stay in touch. In a time of huge personal and economic stress, it's all the more important to remind ourselves we are all human. Glitches and hiccups are inevitable, as is the yearning for contact with now distant friends and family. Using video to communicate with colleagues can help normalise the working days and reduce stress. The current new normal will not last forever, and it's important to prioritise the health and wellbeing of ourselves, our colleagues and our loved ones in these difficult times.

Donal Nugent, journalist

"The biggest distraction of all is likely to be your browser. Setting boundaries for internet time is key to getting the best from your day"