As we tentatively return to the workplace, what might tomorrow's office look like? We explore how health and wellbeing will become a priority for business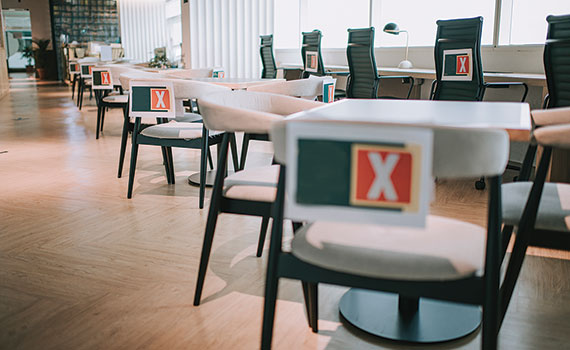 This article was first published in the July/August 2020 China edition of Accounting and Business magazine.
When Deloitte asked C-suite executives to project what the future workplace would look like, their views revolved around digital disruption, company culture, employee engagement and so on. Back then – in 2018 – their views probably reflected a general consensus. Who knew that within two years, work as we'd known it would be turned upside down?
In March, Gartner surveyed CFOs and finance leaders globally on the post-Covid-19 business landscape and found that most displayed an interest in permanently moving some of the workforce to their homes, with almost three-quarters (74%) planning to move at least 5% of their previously on-site workforce to permanently remote positions. 'This data is an example of the lasting impact the coronavirus crisis will have on the way companies do business,' says Alexander Bant, vice president of research at Gartner Finance Practice. 'CFOs, already under pressure to tightly manage costs, clearly sense an opportunity to realise the cost benefits of a remote workforce.'
While some would happily keep working from home, Peter Andrew, executive director, Asia Pacific Workplace Strategy at CBRE, believes this era of forced remote work will complement, not replace, the need for the physical workplace. 'The outcome will likely be a rationalised physical footprint, made up of a different composition of space that is higher quality and better equipped to support employee needs,' he says. 'Enhanced technology, a focus on health and wellness, and workplace design that supports productivity are just a few hallmarks of the enhanced workplace.'

Loosen the reins
However, any bosses still holding on to the idea that staff must stay within their gaze need to loosen the reins, Andrew says. He envisages a more fluid workplace, anchored by a high-quality headquarter space and supported by a network of smaller locations, which he describes as a 'hub-and-spoke' model where companies have their head office in the central business district with satellite work hubs in outer residential locations, which staff could either walk or cycle to. Apart from reducing their footprint in high-cost locations, he says, companies may gain a competitive edge in the talent wars.
'Reducing the daily commute creates a better value proposition,' Andrew says, adding that 'the big shift you are likely to see is a pull back on how closely we pack people into workplaces' – a trend that engineering company Arcadis calls 'decongesting the office'. Rather than rows of side-by-side work stations, a minimum 100sq ft per person guideline may become a reality. Office design, Arcadis suggests, could incorporate disinfection infrastructure and prevention of microbiological transmission, and even quarantine rooms, oxygen supplies and mask stations.

Maintain momentum
Despite the benefits, remote working can make it tough to recreate the buzz and energy of a tight-knit office. MSI Global Alliance encountered this when its annual conference, which Asia-Pacific area representative Alec Blacklaw describes as 'the backbone of ours and many other professional alliances', had to be cancelled due the pandemic.
'It's a challenge maintaining momentum within a network when members can't travel,' says Blacklaw, who is CEO at Blacklaw Advisory in Melbourne. To keep members connected so that they don't feel cut adrift, MSI has ramped up video calls with thought leaders, held regional meetings virtually and organised online special interest group get-togethers, as well as a 'social hour' where members can share insights on a more personal basis. Blacklaw believes some of these initiatives will stick post-pandemic, as the experience has shown that the bonds of professional camaraderie can be maintained, regardless of location.
Koh Su Yi, a consultant at BDO Singapore, agrees that initiatives like virtual coffee chats where work is not discussed are a way for companies to reach out and communicate emotionally with staff, showing genuine concern for their wellbeing. 'A more engaged workforce can discuss effectively creative solutions and adaptability towards changes in the work environment,' she says.
Ewan Clarkson, human capital partner at PwC Mainland China and Hong Kong, says PwC was already enabling new ways of working for its people and the pandemic has brought these efforts into focus. 'We have effectively implemented a safe working environment during the return-to-work period from Covid-19,' he says. 'Beyond the recovery period, we think it's pivotal to ensure our people are engaged and stay connected to colleagues, teams, the firm and our clients. In that spirit, we're focused on investing in our people's digital skills, workspace, and physical and mental fitness for wellbeing.'
As with many organisations, the crisis has accelerated PwC's digital transformation. 'We are experiencing an increased use of technology and collaboration tools,' Clarkson says. 'We continue to reimagine our workspace and enhancement of digital tools and systems to maximise productivity, engagement and impact for our people.'
In terms of office dynamics, Robert Hah, managing director and leader of Accenture Strategy in China, sees a shift in both employer and employee behaviour. 'Many organisations, including my own, are considering how we put employee health and safety as a top priority,' he says. 'Every business needs to be a health business in one way or another, and that includes mental health.'
In China, he says, many businesses will continue to be office-centric but with strict hygiene measures in place because 'the trust factor is something that will be very challenging for companies to regain'.
But, we'll get there, Andrew says. Since Covid-19 has delivered a clearer understanding of what needs to be done at the office and at home, the outcome, he believes, should be 'a better workplace and better work life balance for us all'.

Peta Tomlinson, journalist
"Every business needs to be a health business in one way or another, and that includes mental health"