A recent survey reveals that technology helps businesses withstand shocks and that successful companies are mapping employees' tech skills to identify workforce gaps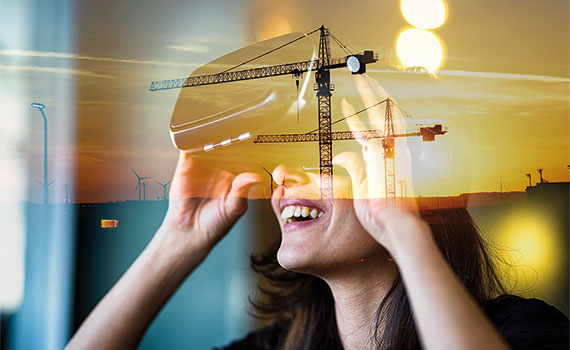 This article was first published in the July/August 2020 China edition of Accounting and Business magazine.
Meaningful and rewarding work experiences are what most of us aspire to – we want to know that what we do for a living goes beyond just getting a job done. 2020 has been an extraordinary year, one where the Covid-19 pandemic has brought profound changes to the working lives of many finance professionals, yet the underlying challenges and opportunities of forging a fulfilling career have not gone away.
A new report jointly published by ACCA and EY, Meaningful work for the digital professional, considers whether the quest for meaningful work is influenced by the wider context, most notably the role of digital technologies in the accountancy and finance professional sector. Long before the pandemic hit, the question of what rewarding work means in a digital context was being raised. While Covid-19 has accelerated some existing trends such as the move to remote working, the underlying discussion is still valid. A deeper, more resilient connection to work is always important, and at times of severe economic uncertainty matters more than ever.

Digital reward
Narayanan Vaidyanathan, head of business insights at ACCA, says: 'The impact of digital technology is a long-term trend, while the coronavirus pandemic has been a severe but short to medium-term disruption. The long-term trends remain valid despite the pandemic.' While the report discusses the impact of Covid-19 on meaningful work, it also examines the wider considerations as the world begins to emerge from the crisis, by suggesting ways in which the profession can embrace digital to achieve work experiences that are truly meaningful.
The report draws on a worldwide survey of more than 4,000 respondents along with 50 interviews (including with over 25 senior leaders at EY). Around 20% of respondents scored highly on how their organisation is currently performing across a set of control questions – how they use technology to create new products and services for clients, their support for flexible working, and approach to employee wellbeing. The 20% group was benchmarked against the rest of the sample to help understand how workers at leading organisations (in these terms) think about meaningful work in the digital age.
The study's focus is on how professionals engage with technology and how this contributes to meaningful work, rather than on what technology can do. In terms of the immediate impact of the pandemic, most respondents said their organisation was well prepared for using technology to support work during the crisis, but the proportion was notably larger among the group of highest-scoring respondents. In other words, those organisations already thinking about innovative ways to use technology, and for whom employee wellbeing was an important consideration, were better prepared for the sudden change than others.
The structural changes may outlast the immediate response to the pandemic, with some organisations considering a permanent move to full or substantially remote working. But it is also clear that the sudden changes made to ways of working have been more difficult for those in the earlier stages of their career. 'The data suggests that younger workers are finding it harder,' says Vaidyanathan. 'One of the factors may be that typically, the more senior you are in an organisation, the more autonomy you have and the less guidance you need, which may lend itself more easily to home-working.'
Among the 20% group of high scorers, the biggest area of digital outperformance relative to the overall sample was in data management technologies (analytics, big data, visualisation). Across the sample, digital adoption is most advanced in community technologies (eg social media, messaging and mobile), followed by cloud and data management-related technologies. The trend is expected to affect all technologies in the coming decade, suggesting a sharp rise in demand for finance professionals who can lead this digital engagement. This has implications for skills too, with the study finding that the high-scoring respondents were more likely to work at organisations that had carried out an employee skills mapping exercise to identify expertise gaps.
'As new ways of working are changing the skills landscape, digital is one of the areas that's significantly increasing in importance,' says Caroline Henderson, global assurance talent director at EY. 'It's important that today's workforce are developing the skills to be ready for the needs of the future.'
The report offers a practical roadmap for accountancy and finance professionals who hope to pivot their work towards digital tools, and supplements this with practical examples of job roles, using practitioner input to give a realistic sense of the key responsibilities and skills requirements.
Deriving meaning in work matters for resilience and engagement, and it is important to reassess what this means in the digital age so that finance and accountancy professionals can plan their future career and navigate unexpected shocks and uncertainties from an informed position.

Liz Fisher, journalist
"The more senior you are, the more autonomy you have and the less guidance you need, which may lend itself more easily to home-working"