Haiwen Luo FCCA, principal and regional operating officer at global design and architecture firm Gensler, says the post-pandemic workplace will look very different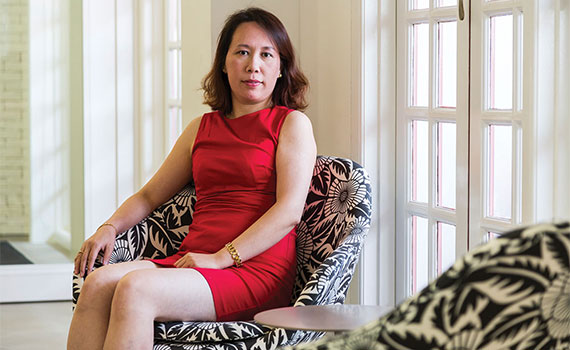 This article was first published in the July/August 2020 China edition of Accounting and Business magazine.
Haiwen Luo likes to start her days early. She spends an hour practising hatha yoga before she segues into the myriad duties of her role as the principal and regional operating officer, Asia Pacific and Middle East, at global design and architecture firm Gensler.
While the Covid-19 pandemic has temporarily halted the normal working week in the office, Luo says that Gensler's investment in data and digital assets has made the transition to working from home (WHF) a seamless experience.
'Over the years prior to Covid-19, Gensler continuously invested in our IT infrastructure and we have a business continuity plan in place,' she says. 'Being a global firm, which is highly integrated in its mission, design and operations, our business is set up for global connectivity, communication and collaboration.'
Indeed, Gensler was well prepared, shifting to a WFH strategy before most governments had started to initiate lockdowns. 'Our shift to a complete remote working situation was seamless as many enablers had been in place,' says Luo. 'The firm has 6,000 designers working from home with uninterrupted operations in real-time design, modelling and collaboration with our clients and key consultants. We continued to reach out to our clients proactively, worked with them and provided relevant and high-level services. Internally, our strategic visioning and reviews sessions, team meetings and construction administration are being held virtually, and we are continuing to find new and innovative ways of delivering design to our clients.'
In week three of its remote working strategy, Gensler launched a survey to assess staff wellbeing, challenges and experiences. 'Within a week, 78% of our region's workforce responded, and several key takeaways emerged that are now helping inform how we plan to return to work in the region and how we can partner with clients to do the same,' Luo says. According to the survey, 68% of respondents were highly satisfied with their WFH experience, with reports of greater levels of trust, productivity and empowerment compared with working in an office environment.

Tomorrow's workplace
These findings prompted Gensler to start exploring how tomorrow's workplace might look. 'Having the flexibility to arrange work schedules and save on commute time has significantly impacted personal and family relationships in a positive manner,' notes Luo, although she counters that there is still a place for a central working hub. 'Feedback from the survey and clients shows that most people still prefer to be in the office as they miss socialising with colleagues and the impromptu face-to-face meetings that create a community,' she says. 'We are using these insights to create a hybrid of working, social and community experience by merging the top benefits of working from home and from the office.'
As businesses around the world start to emerge from movement restrictions, architecture and design firms are uniquely positioned to rethink workspaces, in order that they can be adapted swiftly at times of crisis, and Gensler is offering expertise in how to plan, prepare and execute new ways of working, Luo explains.
For example, the firm has created a set of six toolkits to enable an easy and smooth transition back into the workplace for both the company and employees. 'These revolve around workplace re-entry, an immediate response which allows Gensler to work with its clients to look at occupancy scenarios and support spaces,' Luo explains.
One popular tool is an employee 'pulse' survey, gauging how workers envision their return to the office based on their experiences of WFH. 'Some of our most impactful tools allow portfolio modelling and work strategy modelling, allowing us to help our clients look at future work scenarios, footprint optimisation and the impact of a stretched workday on their current assets,' Luo says. 'Overall, this is about helping businesses through an optimised process of returning back to the workplace.'
As regional operating officer, Luo leads a team of business services professional teams in finance, HR, IT, technology, marketing and PR, and facilities to collaborate with its design studios. 'It is always refreshing to work with the most creative and collaborative people in the world.' she says.
Working with creatives has its challenges, though, and Luo concedes that she has had to rethink how she and her teams convey ideas in accounting, HR or technology in a way that designers understand.
'Over the past five years, we have integrated all our business data into one single core database, and built dashboards in a colourful and graphic way,' she explains. 'We use the dashboards as the start of our conversation with designers, explaining what has happened in the past and how we can act together to change for the better in the future.'

Accidental accountant
Hailing from Guangzhou in southern China, Luo did not set out to become an accountant; rather, it was by chance that she embarked on that path. 'When I applied for university, I filled in banking as my first choice, insurance as my second and international accountancy to fill in the gap on the application form. I got in the international accountancy major in the end,' she recalls. 'After I learned more about accountancy, I became passionate about it.'
In 1994, Luo graduated from the Central University of Finance and Economics in Beijing and began her career as an auditor at Arthur Andersen. 'The five years there was very helpful,' she recalls. 'As an auditor, what you see is often the effects of strategies. I wanted to understand how I could influence business performance upfront.'
Luo went on to pursue an 18-month MBA programme at Alliance Manchester Business School in the UK, followed by an eight-year stint as a senior financial accountant, and later a SAP process expert, at multinational company Hilti, based in the same city.
'The MBA gave me an opportunity to build networks in other parts of the world,' Luo says. 'My time at Hilti, working with British and Irish companies, helped me see just how accounting can add value to business performance.'
Luo decided to pursue the ACCA Qualification while working in the UK, after gaining her MBA, and values its role in shaping her as a finance professional.
'ACCA is a prestigious accountancy professional body widely recognised by accountancy professionals across the globe,' she says. 'It is forward-looking and drives changes in accountancy and business. Together with ACCA, I look forward to shaping our future.'
Most recently, Luo was a panellist in ACCA Singapore's Virtual Conference 2020 in May, where she spoke about the importance of data valuation and governance in building resilience and creating value in Industry 4.0.
For Luo, the trust businesses place in accountants is integral to the role. 'As an accountant, you become a trusted adviser. And building and maintaining trust is always the hardest in business,' she says.
Maintaining a global outlook is, says Luo, essential to Gensler's success and growth. 'At the same time, though, we can't be global if we are not local,' she adds. 'We must understand the local rules, regulations in accounting, HR, licensure and legal, culture and customs, and deliver our design to our local clients.'
Luo recognises that, in the future, urban planning and building construction will look different as architecture is reimagined to deal with the impact of population growth and climate change.
'With more than two billion people poised to move to cities by 2050, the demand for new buildings will rise, and the way we design, build and operate them will be one of the determining factors in our global efforts to address climate change,' Luo says, adding that Gensler has been quick to respond to this. Last year, the Gensler Cities Climate Challenge (GC3) was launched in a bid to spur change across the globe.
'Our plan is to eliminate all carbon emissions associated with our work within a decade,' Luo explains. 'As the world's largest design firm, we have a unique obligation and opportunity to improve the impact of the built environment – but also to lead the industry. We challenge all our colleagues and clients to join us in the path toward carbon neutrality. The built environment can help achieve a new era of global wellness. Even with the current pandemic, we can see the interconnectedness of decisions we need to make for global health and safety.'

Sustainable solutions
Luo cites the Gensler-designed 128-storey, 632m Shanghai Tower, which is one of the many examples that demonstrates the firm's innovative design. Currently ranking as the tallest building in Asia and the second tallest on the planet, Shanghai Tower is a premiere global financial centre containing Class-A (the highest quality) office space, entertainment venues, retail, an exhibition centre, boutique hotel and cultural venues. Gensler's design incorporates cutting-edge sustainable ideas, including wind turbines and a spiralling parapet at the building's apex that serves as a rain collection system.
One of the most advanced sustainable tall buildings in the world, the tower features an innovative transparent 'second skin' that wraps around the entire building, creating atriums that insulate the building, thus reducing energy use. Gensler's design leverages state-of-the-art water conservation practices and high-efficiency building systems.
Luo points out that even as the architectural space has been evolving the way we see and experience design-led construction, the Covid-19 pandemic will bring about major shifts. 'When this crisis ends, we may well discover that there have been fundamental changes in the way we work,' she says. 'What we do know is that the workplace still matters.'
Key to the new workplace will be a 'touchless' environment, Luo believes. 'We will see the implementation of various technologies that are readily available to us. Virtual assistants may soon be integrated into the workplace environments to help us control lighting, climate and appliances, just like in our homes. Motion-sensor gestures will become the new touch-initiated actions, like waving your hand to slide open a door.' Luo anticipates that many of the advanced technologies currently used in other settings will expand into the corporate world: for example, UV lighting disinfection and data-rich work environments.
'With the help of data-collecting technologies, we will be able to track patterns and identify risks in the workplace. Whether it is through monitoring oxygen levels or supplying fresh air to detect employees' temperatures through thermal imaging. Post-Covid-19, it's about ensuring employees feel safe and taken care of in the workplace. And, our design solutions will help shape the future of our cities and the human experience.'

David Ho, journalist

"As an accountant, you become a trusted adviser. And building and maintaining trust is always the hardest in business"