Accountants supporting businesses to reposition themselves for a post-Covid future are using data analytics to drive decision-making, as Jamie Renehan FCCA explains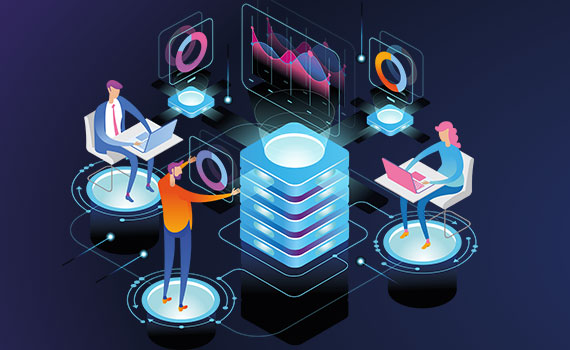 This article was first published in the July/August 2020 Ireland edition of Accounting and Business magazine.
The Covid-19 pandemic has caused massive disruption across many industries. The crisis is likely to have a lasting impact on the global economy, consumer behaviour and technology adoption, not to mention its seismic human and social implications. Businesses are being forced to make tough decisions within short timeframes in order to adapt and prepare to face what many are referring to as the 'new normal'.
Restrictions implemented by governments to prevent the spread of the virus have precipitated a frantic adoption of new applications and tools that enable companies to operate and serve customers remotely. Data analytics is one of the technologies that has risen to prominence as a way to help companies ensure that crucial decisions are properly informed.
Digital transformation involves the use of emerging and rapidly changing technologies such as cloud computing and data analytics to improve performance, solve problems and change the way in which organisations deliver value to their customers. Prior to the onset of the current pandemic, digital transformation was a top priority for many companies across the globe, as companies sought to make innovations in their products and services tailored to users' needs and to enter new markets. Recent events have made it a business imperative to embrace technology simply to survive and adapt to the pressures and changes the pandemic has generated.
In recent years, large accountancy firms have built impressive data analytics and cloud computing capabilities to help them deliver value-added services to their clients. Many smaller practices have not had the resources to develop the offerings needed to service their clients in these key areas. However, now more than ever, businesses need expert advice and guidance to help them navigate the challenges awaiting them in the new normal. There is an opportunity here for smaller accountancy firms to provide that leadership and guidance by supporting clients to embrace digital technologies.
Many accountants are already helping their clients adopt cloud-based accounting software such as Xero, FreshBooks and QuickBooks, which offer seamless integration with Microsoft Power BI, Tableau, Alteryx and other powerful data analytics tools. These tools empower clients to analyse and visualise data using an easy drag-and-drop interface. Insightful reports and dashboards can be built to track the key financial metrics that allow clients to understand what is happening with their business and act accordingly.
Data analytics is an expanding field. More advanced methods include robotic process automation (RPA), people analytics, risk management, cashflow management, anomaly detection and demand forecasting.

Insight over instinct
Many leaders are unsure what decisions they must take to steer their companies through the pandemic, juggling concerns for the wellbeing of their workforce with the need to meet new government guidance and regulations. While many will have a gut feel for the actions they should take, data-driven decision-making can help companies respond to challenging circumstances in a more holistic way.
Informed decisions based on insights from data analytics methods can help senior managers navigate the uncertainty of rapidly changing environments. The abrupt onset of Covid-19 has changed both the priorities and the behaviour of consumers, many of whom are no longer working, shopping or spending their leisure time in the same way as before. Data analytics can help track behaviour change, identifying patterns in consumers and markets.
As in any crisis, key decisions need to be made with limited information and under time pressure. Governments and companies are using publicly available open datasets such as the Covid-19 case data from Johns Hopkins University's Coronavirus Resource Center to plan the reopening and recovery of their nations and businesses.
Financial institutions are using data analytics to understand the impact of the crisis on their customers' financial health and help them make decisions about the support they require while undergoing financial hardship. Companies can use data analytics to generate business and recovery scenarios based on forecasts and predictions of the impact of the crisis on operations, resources, products, services, supply and demand. Businesses are using data analytics to support workforce planning and make decisions about how quickly they can rehire workers. Companies can use text analytics and survey insights to understand the issues facing staff and customers, along with identifying proactive ways to address them.
Accountants who do not have the necessary resources or skills in data analytics in-house can still play an important role here, acting as enablers or translators and connecting their clients with domain experts, consultancy partners and technology vendors. They can provide further direction by facilitating in-house or online training, by recommending agencies that can support the hiring of analytics talent, and by encouraging clients to network and attend virtual industry events.
Adding data analytics expertise to the practice's services gives accountants the opportunity to deepen their relationships with clients. By helping clients utilise data to extract insights that will drive actions leading to positive business outcomes, they will be able to demonstrate convincingly why they are trusted business advisers.

Jamie Renehan FCCA leads Bank of Ireland's advanced analytics team.
"Accountants without in-house data analytics resources can still play an important role as enablers or translators for their business clients"