Maggie McGhee, Director, Professional Insights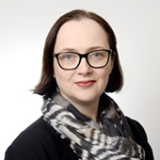 The Director of ACCA's Professional Insights, Maggie brings a wealth of experience to her role at the head of a team of technical and policy experts.
Professional Insights comments on key issues relating to a range of policy and technical areas. It strives to influence technical and policy experts in governments, regulators, professional bodies and employers across the globe.
The Professional Insights team use their combined skills and expertise to demonstrate the value that professional accountants bring to society by creating successful businesses and sustainable economies. The work of the team supports ACCA's global thought leadership agenda.
A chartered accountant with a degree in law, Maggie trained with National Audit Office UK, rising to become Director General of Audit.
With more than 18 years' experience of auditing central government bodies, she has both UK and international experience of engaging extensively across the audit and accounting profession.
She has been a member of various influential working groups and committees, including the FEE Public Sector Working Group, the EU European Public Sector Accounting Standards (EPSAS) Working Group, HM Treasury's Financial Reporting Advisory Board in the UK and the Financial Reporting Council (FRC) Audit and Assurance Council.
Prior to joining ACCA, Maggie worked for PwC in Advanced Regulatory and Compliance Analytics, applying specialist analytics tools to clients in the banking and capital markets sector.