About the conference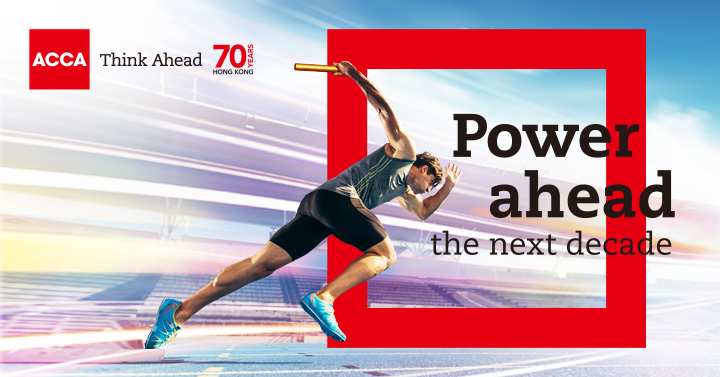 ACCA Hong Kong 70th Anniversary Virtual Conference
Theme: Power ahead the next decade
Date: Friday, 18 September 2020
Time: 09.00 - 13.00
Webcast platform: ON24
Language: Cantonese
CPD: 4 units
About the conference
The 2020s will be a decade of transformation. New technologies are transforming the ways in which we live and work. The changes in business and society will be rapid, dramatic and profound. The challenges are significant, but so are the opportunities. It will be an incredibly exciting time, harnessing the power of new capabilities and platforms to address the wrongs in our world, and create new rights. The emerging themes are about changing societies, driven and accelerated by new technology. It is how we unlock their potential that matters.
In the era where changes will happen to every business, every community and every life, ACCA Hong Kong's 70th Anniversary Conference will gather thought-leaders and subject-matter experts to explore how businesses can see the world differently, how they go beyond innovating their products and services, their customer experiences and business models.
Expected delegates
Distinguished guests comprising government officials, senior finance leaders, C-suite executives, high-profile leaders from commercial sector, entrepreneurs, academics and accounting professionals of ACCA will gather for high-level discussions looking into the future.
Remarks
Each enrolee will be notified via email about the conference access link and password by two working days before the conference.
Recorded version of the conference will be available one day after the live conference. Enrolee can access the recorded conference within one month of the live conference, i.e. on or before 17 October 2020.
Online registration
(for members only)
ACCA Member (online enrolment): HK$300
Enrol before Tuesday, 15 September 2020
Registration via enrolment form
ACCA Member / Affiliate / Student: HK$320
Staff of Conference Sponsor / Staff of Approved Employer / Member of Supporting Organisation: HK$420
Non-member: HK$530
Enrol before Tuesday, 15 September 2020