Since 1997, ACCA has been organising this flagship event annually to help the needy in our community. Over the past 25 years, over HK$22 million had been raised, which helped many meaningful projects of charitable organisations realised and implemented.
ACCA Community Day 2023 concludes successfully
Under the theme of '25 Years of Love and Care. Run Ahead to a Better Future', ACCA is honoured to have Financial Secretary Paul Chan as the guest of honour, gathering over 300 elites from accountancy firms, multinational companies, local organisations and institutions to contribute to the charities and has successfully raised around HK$1.1 million.
Watch this video highlight of the 25th ACCA Community Day, where Winnie Ki, Chairman of ACCA Hong Kong welcomed 300+ participants of our charitable rickshaw races and kicked off this year's event with our Guest of Honour: Paul Chan, Financial Secretary of HKSAR who's also an ACCA Hong Kong's past chairman who initiated this charitable event back in 1997. As we celebrate this 25 year milestone with the local community, we look forward to carrying on this tradition for another 25 years - bringing positive energy to society and creating a better future for all.
Let's recap all the fun moments of our costume parade at the 25th ACCA Community Day on Chater Road Sunday Pedestrian Precinct in Central!
The 25th ACCA Community Day 2023 has brought back our well-loved rickshaw races in physical format - spreading positive energy while running for good causes. Watch the video highlight now!
About the event
The 25th ACCA Community Day to be held on 26 February 2023 will be a day of great fun with profound meaning for all age groups. The theme of this year's event is: 25 YEARS OF LOVE AND CARE. RUN AHEAD TO A BETTER FUTURE. 全心關愛25載 邁向更美好未來. Highlights of the event will be our traditional rickshaw races well-loved by the general public and business community alike. There will also be a wonderful Fun Land with bouncing playground for kids to enjoy for free.

Programme Rundown
13.00 – 13.25 Opening Ceremony
13:25 – 14:10 Rickshaw Teams Costume Parade
14:10 – 15:25 Rickshaw Race
15:25 – 15:35 Stage Performance
15:35 – 16:00 Prize Presentation Ceremony
16:00 End of Event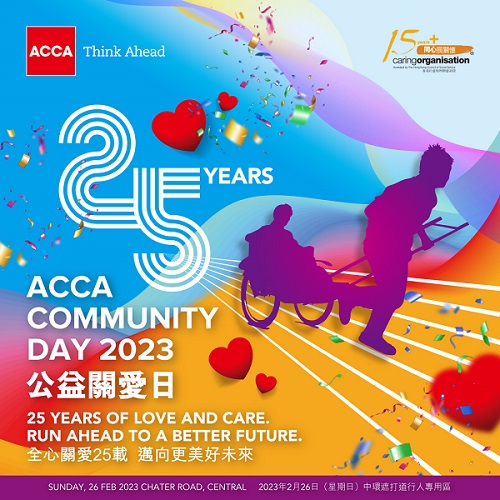 Types of sponsorship
Corporate Sponsor (HK$100,000)


Co-sponsor (HK$50,000)


Advertising Sponsor
HK$10,000 Placement of one full-page 4-colour advertisement in the souvenir programme (artwork to be supplied by the sponsor)


HK$5,000 Placement of one half-page 4-colour advertisement in the souvenir programme (artwork to be supplied by the sponsor)


Rickshaw Team Sponsor
Form a Rickshaw Team of your company / organisation and participate in the exciting and entertaining Rickshaw Race. Minimum entry donation is only HK$10,000.


Prize Donor
Prestige prizes for rickshaw races winning teams.


Pure Donation
A donation receipt will be issued for pure donations of HK$100 or above.
For sponsorship opportunities, please contact Jasmine Choi at jasmine.choi@accaglobal.com
Access the 25th ACCA Community Day Sponsorship Programme and the forms for: Sponsorship | Rickshaw Race Team Entry | Chairman Tertiary Cup Sponsorship