Message by Chairman of ACCA Hong Kong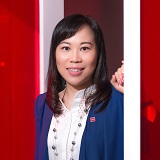 On Behalf of ACCA (the Association of Chartered Certified Accountants) Hong Kong, I would like to extend my warmest welcome to all participants at the ACCA Community Day 2023.
The ACCA Community Day, founded by the ACCA Charitable Foundation Limited, marks its 25th anniversary this year under the theme of 25 YEARS OF LOVE AND CARE. RUN AHEAD TO A BETTER FUTURE' Since its establishment in 1997, the ACCA Charitable Foundation Limited has successfully raised over HK$22 million through the Community Day and encouraged great public participation with wide exposure for the event. As a result, the ACCA Community Day has become one of the most recognised charitable events in Hong Kong. By offering much-needed financial assistance to charitable organisations, it's our aim to bring positivity to society and run ahead to a better future together!
With the relaxation of anti-pandemic policies, the ACCA Community Day's well-loved rickshaw races are able to return in physical format after three years. Once again, participants from accountancy firms, multinational companies, local organisations and institutions will be connected via this ACCA flagship event and contribute to charitable causes. In particular, I would like to extend my special thanks to the accounting professionals for spending their precious time to join our event during the peak season of auditing in February. As the organiser, we are deeply impressed by the engagement of the accounting professionals in social care and the accountancy industry. Also, I would like to take this opportunity to express my sincere gratitude to those who have supported the Community Day for the past three years. Despite the fact that the Community Day has been held virtually due to the pandemic, ACCA's aspiration and commitment to promoting an inclusive and caring society has remained unchanged.
As a global accountancy professional body, ACCA has been playing a leading role in the finance and accounting industry, offering global perspective and opportunities to accounting and finance professionals. Since its establishment in 1950, ACCA Hong Kong has been committed to members' global ambitions as well as helping them to eliminate the challenges in their careers. Over the past few years, the pandemic has dealt a heavy blow to all walks of life, making the spirit of care and mutual help more important. All of us have to be united as one in order to overcome the obstacles. During this period, ACCA Hong Kong and its members have been weathering the ups and downs, overcoming unprecedented challenges together. With its extensive network, ACCA is also able to provide continued support for charitable work and bear social responsibilities by gathering stakeholders to give back to the community and supporting the needy during hard times.
It is also heart-warming to know that the proceeds raised this year will benefit several programmes targeting specific underprivileged segments in our community. These programmes are operated by three beneficiary organisations: (1) Act Plus Education Foundation; (2) Healthy Hong Kong Limited; and (3) Joyful (Mental Health) Foundation.
I would like to extend my warmest gratitude to Mr Paul Chan Mo-po, GBM, GBS, MH, JP, Financial Secretary, for taking the time to attend the Community Day as our Guest of Honour. Back in 1997, Paul was the Chairman of ACCA Hong Kong, who initiated the ACCA Community Day. ACCA is honoured to invite him to witness this year's 25 year milestone. Thank you for his continuous dedication to serving the community and helping the underprivileged.
I would also like to thank our Corporate Sponsors including: FANCL, Four Seas Group, FWD Group Management Holdings Limited, Tencent Foundation and Ultra Active Technology Limited; as well as our Co-sponsors including: Chinney Investments Limited, The Hong Kong Polytechnic University - School of Accounting and Finance, Nine Dragons Paper (Holdings) Limited and SML Group. Thanks also to all contestants, volunteers, supporting organisations, donors, and fellow ACCA members for making the ACCA Community Day 2023 a success!
More about our Corporate Sponsors, Co-sponsors and Participating Corporates / Institutes
Let's spread this positive energy from the contestants, their supporters, families and friends and think about the meaning behind the event in this special occasion. Together, we shall try our very best to help shape a better future and ensure the ACCA Community Day will continue to bring not only fun for all of us here, but also love and care for those in need for the many years to come. Twenty-five years is an important milestone for the ACCA Community Day and also a time for reflection, considering what we can do more for the industry and even society. Thank you!
Winnie Ki
Chairman of ACCA Hong Kong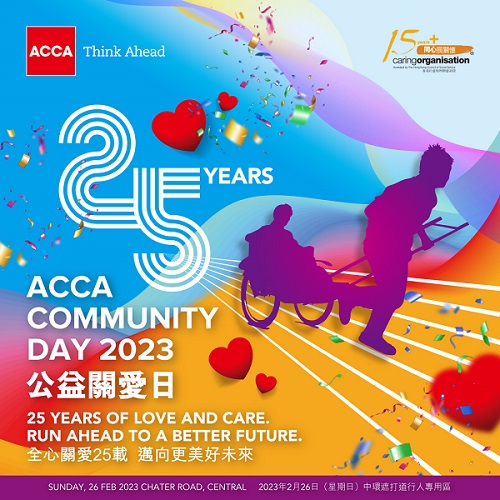 Your donation is much appreciated!
Simply scan the Alipay QR code below to make the donation - it's that easy!
Alternatively, you can make your donation by transferring funds directly to the bank account:
ACCA Charitable Foundation Limited
HSBC A/C: 500-120415-001
---
Donations of HK$100 or above are tax deductible. Please send the deposit slip / screencap of the donation payment to hkinfo@accaglobal.com with your contact details if you need a receipt.