Beneficiaries and their projects
Thanks to all our sponsors and donors, we have raised a total of over HK$22 million through the annual ACCA Hong Kong Community Day since 1997, which helped realise many meaningful projects of charitable organisations.
This year's proceeds will benefit the following programmes targeting specific underprivileged segments in our community.
Act Plus Education Foundation 樂⾔社教育基⾦

Act Plus Education Foundation Ltd (Act+) is a non-profit making organization founded by a team of professionals in 2012. Act+ aims to provide holistic innovative tech art programmes for Hong Kong teenagers especially those with disadvantaged background. To inspire them with creativities, computer digital art skills, communication skills, positive thinking and attitude to pursue vocation and lifelong development.

"The Stop-Motion Journey of Star-Child": Act+ has come across students with learning difficulties (SEN) and autism, they observe that with proper teaching structure and pacing, those students could express their thoughts and feelings through stop-motion animation effectively and aesthetically. The project aims to assist children with Autism and their families to share with the public their inner stories in a beautiful, interesting, and reflective way through learning and producing "stop-motion animation" short films (image + digital art + media). We hope this project would foster understanding, appreciation, and inclusion in the society, and create space for public and autistic group to communicate in a new perspective and a new way.

Healthy Hong Kong Limited 快樂港仁

Healthy Hong Kong is a licensed charity organisation in Hong Kong and was established in January 2015. Their mission is to provide free Chinese medicine services to low income group or elderly in Hong Kong in order to release their burden and to fill the service gap between welfare system and social needs. They also provide clinical practice and training for junior Chinese Medicine Practitioner.

The programme, Healing with love - FREE Chinese Medicine Services Scheme, provide free-of-charge Chinese Medicine services (including but not limited to Chinese Medicine consultations, Chinese Medicine Pharmaceutics and Acupuncture, etc.) to low income groups and the needy elders in Hong Kong. They partner with over 60 NGOs in Hong Kong to identify the targeted beneficiaries. All targeted beneficiaries referred by NGOs and professional social workers will enjoy free-of charge Chinese medical treatment plus 3 days FREE Chinese medicine.

Joyful (Mental Health) Foundation 心晴行動慈善基金

Joyful (Mental Health) Foundation (JMHF), a non-profit making charitable organisation established in 2004, is dedicated to promoting the awareness of mental health in the community, avoiding misconceptions and discrimination, and providing services and information to people who suffer from emotional disorders as well as their families.

'Wellbeing Online Project' is a one-year online project, which aims to enhance the public's physical and mental wellbeing via online experiences such as mindfulness and art workshops on a regular basis. Through a series easy-to-learn techniques, participants will gradually master the skills to express themselves and self-care, and eventually develop a well-being routine in daily life.
ACCA Community Day 2023 is back!
The ACCA Community Day and its rickshaw race are now back in physical form! Our theme is: 25 YEARS OF LOVE AND CARE. RUN AHEAD TO A BETTER FUTURE. 全心關愛25載. 邁向更美好未來. It's truly a proud achievement for ACCA to have carried on the passion and mission of spreading love and care for 25 years. Please join us in this charitable initiative, and let's run ahead to a better future for all.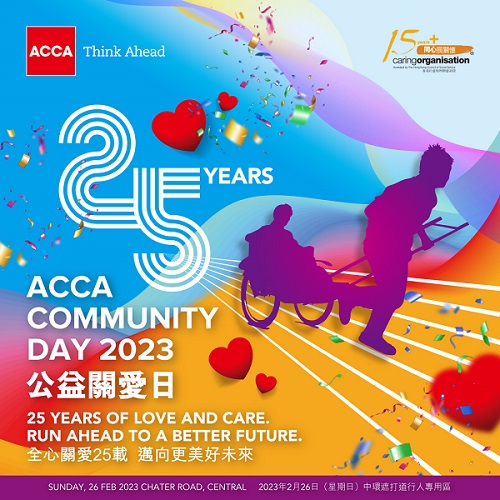 Your donation is much appreciated!
Simply scan the Alipay QR code below to make the donation - it's that easy!
Alternatively, you can make your donation by transferring funds directly to the bank account:
ACCA Charitable Foundation Limited
HSBC A/C: 500-120415-001
---
Donations of HK$100 or above are tax deductible. Please send the deposit slip / screencap of the donation payment to hkinfo@accaglobal.com with your contact details if you need a receipt.