By encouraging mental health awareness in the workplace, finance professionals are better placed to help their SME clients, who may be particularly vulnerable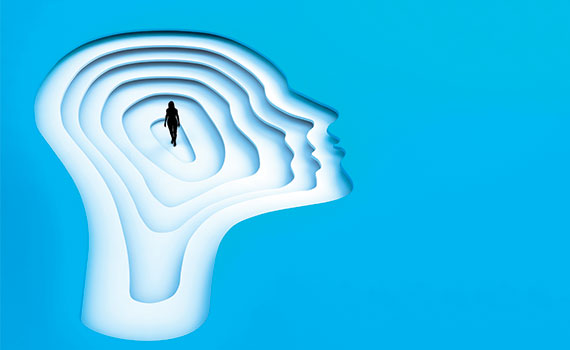 This article was first published in the February/March 2019 China edition of Accounting and Business magazine.
During a packed session at the World Congress of Accountants in Sydney, Australia in November, Institute of Public Accountants (IPA) CEO Professor Andrew Conway addressed an elephant in the room.
How many among those present had experience with clients showing signs of mental illness, he asked? The majority raised their hands.
Professor Conway's keynote speech specifically addressed the issue of mental health in the changing role of the professional accountant. 'Literally hundreds' overflowed the room, and in a follow-up session the next day delegates from around the world turned up for further discussion.
'I was astounded,' Professor Conway says. 'This was the first time that the accounting profession's role in mental health, and our right to start talking about it, was raised on a global scale.' It shows that this is a universal phenomenon that requires a global approach.'
Professor Conway's presentation, titled The Changing Role of the Trusted Adviser – Influencing Small Business, was based on the results from 12 months of research by the IPA-Deakin (University) SME Research Centre. It included harrowing personal stories of accountants whose small business clients were stretched to the limit of their mental endurance. But Professor Conway knew that his Australian counterparts were far from alone.
Badge of honour
Various studies constantly remind us how demanding corporate life can be in Asia, where long working hours are worn as a badge of honour. For instance, a 2015 UBS study found that Hong Kong had the longest working hours among 71 cities studied (an average of 50.1 hours each week per employee); 60% suffered from high levels of stress; and 49.5% said they didn't have enough time to exercise. In a 2017 survey by Robert Half, 56% of Singaporean CFOs cited increased workloads as the main cause of their workplace stress, followed by increased business expectations (54%). In Japan, there's even a word – 'karoshi' – to describe death attributed to overwork.
Of course, long days are not the preserve of finance professions. However, as acknowledged by Chartered Accountants Australia and New Zealand (CA ANZ), the nature of their work as trusted advisers means that accountants are more privy than other service providers to the pressures clients face.
'We know that accountants often work through times of stress with their clients – whether it is a time of downturn or a period of growth,' says Jane Stanton, president, CA ANZ. 'One of our members has described her role as sometimes being a counsellor for people in business, which is so true because accountants are walking alongside their clients.'
In response, the professional organisation launched a dedicated mental health programme, CA Wellbeing, in 2017, and has developed guides to help members engage with people experiencing mental health problems and financial difficulties.
'Our profession can demand a lot from us, and if members experience a mental health issue, we want to be part of the solution by providing resources and support, and also, in some respects, normalising it as well,' Stanton says.
Professor Conway agrees that industry professionals should be equipped as 'mental health first aiders'.
'In many cases the accountant may be the first port of call for clients under pressure,' he says. 'Every day professional accountants see the very real pressures faced by small business owners – manifesting, all too often, in anxiety, stress and depression. Our task is to look for signs of stress and encourage clients to seek assistance.'
One way to do that is through mental health training, which IPA offers though an external consultancy, Mental Health First Aid Australia. IPA has also restructured its educational curriculum to embed the notion of emotional intelligence, building in some psychological competencies.
Firms big and small are taking the initiative, too, with practices embedding mental health support in their wellbeing programmes to ensure that staff have a sustainable work-life balance and in turn are able to better support their clients.
As Edith Lam, director and staff partner at PKF Hong Kong, points out, in the past, workplace stress has not been widely discussed in Asia. 'Given the Chinese work values and culture, there's always been a top-down approach from management which causes staff to put in longer hours, ultimately leading to a stressful work environment,' she says.
'Nowadays work life balance is a really hot topic, especially in CPA firms like ours,' Lam adds. Contrary to the traditional Asian office hierarchy, at PKF Hong Kong, change is being instigated from the bottom up. 'Most of our new recruits are millennials, and they are very concerned about achieving a balance between work and life.'
Measures include an open-door policy where directors and managers remain easily approachable for staff. 'We act as the mentor for our junior accountants, where they can come and ask for guidance,' Lam explains. 'We ensure that staff have the chance to express their concerns, and feel comfortable explaining what they are thinking.'
Millennials themselves, 3E Accounting founders Lawrence Chai and Stephanie Chua established their firm to avoid the stress of the long working hours that their jobs as auditors had demanded of them.
With a young family, work-life balance was important to the couple, both ACCA-qualified accountants, so they instilled that ethos into their business model. Their 50 employees across offices in Singapore and Malaysia enjoy a range of wellness benefits, including flexible working hours. Chai says his staff are less stressed and more productive as a result, and that employee retention has been an unexpected bonus.
Range of support
At PwC in Hong Kong, an employee assistance programme established in 2011 offers a range of support, either through the 24-hour hotline or one-on-one counselling, to proactively manage staff wellness. The issues may range from career-related stresses or achieving a work-life balance to personal issues outside the workplace.
Deloitte Hong Kong, meanwhile, works with a range of different professional providers as part of its framework covering 'staff wellbeing of physical, mental and purpose'. The firm's mental health care also includes a professional psychological and counselling service hotline under its employee assistance programme, as well as seminars and monthly mental health tips. 'Our professional vendors bring their expertise in dealing with different needs, from work stress to family issues, personal crisis and relationship issues,' a spokesperson says. 'They will provide crisis management and intervention when there is a need.'
BDO Hong Kong also has a multifaceted staff wellness programme. Topics covered in its health talk series have included stress management, depression, sleep quality, weight control, and stress management from the Chinese medical perspective.
'On top of providing useful health-related advice, speakers might lead participants to do exercises during the events,' says Angela Wong, BDO Hong Kong's human resources director. 'For instance, during a talk on Chinese medicine acupoints, staff were taught some simple but practical meridian massage techniques to cope with daily health issues and to release stress.'
Counselling services are also provided to staff through external providers on an as-needed basis. In addition, the firm runs a mentoring programme and a buddy system to help new graduates adapt to the working environment 'and to alleviate any stress as a result of the change in role from a student to a working professional'.
As a result of such measures, BDO's latest internal survey shows the level of staff engagement has increased by 40%, while the health workplace index was also substantially enhanced by 21%.
Recruitment specialist Adam Johnston, managing director of Robert Half Hong Kong, China and Japan, says these firms are taking the right approach.
'Business leaders in both Singapore and Hong Kong are actively investing in initiatives to have a mentally fit workforce as they understand the positive impact it has on not just employee wellbeing but also the organisation's bottom line,' he says.
Effective initiatives to improve mental health among finance staff include flexible working arrangements, employee assistance programmes or counselling services, as well as hiring temporary finance and accounting employees to alleviate high workloads for the finance team.
'Companies that are proactive and dynamic in their approach to mental health initiatives will undoubtedly see tangible results over time as employee wellbeing is crucial to business success,' Johnston says. 'With a mentally fit workforce, these organisations not only have more productive and engaged teams; they gain an edge in attracting the best financial talent and keeping their staff on board.'
Peta Tomlinson, journalist
"In many cases the accountant may be the first port of call for clients under pressure"