A self-styled Mary Poppins for accountancy, Heather Smith FCCA, Anise Consulting's accounting apps hype girl, explains how she runs her business from her handbag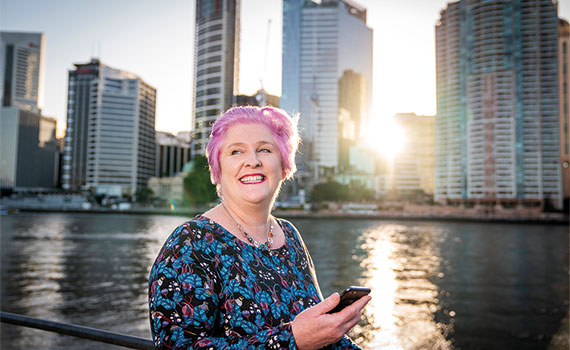 This article was first published in the October 2019 China edition of Accounting and Business magazine.
Heather Smith, 'accounting apps hype girl' and 100% digital practice owner/nomad, makes building a global professional network and being a modern accountant look easy.
Based in Brisbane, Australia, but embracing the digital nomad lifestyle – 'my accounting practice fits in my handbag; I can be anywhere and so can my clients' – Smith recently visited New York on a 'workation' and ended up doing a speaking gig organised 'on the fly' off the back of a tweet.
'Once I knew I was going to New York, I wondered what opportunities I could cultivate,' explains Smith. 'I searched for business events happening in the city, on sites like Meetup.com, and I asked around various digital nomad and local business groups on social media.'
One social media shout out later and she ended up attending the New York Accounting Technology Meetup group in a futuristic co-working space, sharing the largest pepperoni pizzas imaginable while discussing the difference between the Australian and US accounting landscapes and the technology that accountants can use in their advisory services. 'It's similar to the Meetup group I've facilitated in Brisbane for the last six years, so it felt like being at home,' she says.
'Feeling at home' crystallises Smith's attitude to modern accountancy, with its constant tech innovation, professional reinvention and global interconnectivity. She has had more than 1.2 million views on her eponymous YouTube channel and more than 10,000 followers on Twitter; she's written nine books; she has her own podcast.
All this is not merely good marketing; it's how Smith channels her enthusiasm for exploring, talking about and enlightening others on the ever-expanding ecosystem of online accounting platforms and applications.
Indeed, even her job title as the principal of her business Anise Consulting – accounting apps hype girl – sounds more like the MC at a tech conference than the boss of an accounting firm.
'The traditional role of a "hype man" is to get the audience "hyped" or excited before the headliners or rap artist taking the stage' explains Smith. 'For the last decade, I've been encouraging the accounting industry to get excited about accounting apps. I believe they can have a massive impact on small businesses, and through entertaining education I hope to bring other accountants along on this journey.'

England calling
Smith's journey began in the not-too-distant but very different past, before mobile phones, Facebook and cloud accounting. The day after graduating from Griffith University in Brisbane she flew to the UK. 'Many Australians spend a year overseas once they graduate,' she says. 'I started my career as an asset auditor for an aerospace company in Cheltenham, England. I met my husband there; I counted his computer. There were 400 staff and back in 1990 he had one of only three computers.'
Attracted to the accounting profession by the promise of being able to use her brain, earn a good living and travel the world, she moved to Singapore where she worked in internal audit, then to Canada, working part-time as an assistant accountant in a government office while bringing up her young children, before returning home to Australia in 2000.
As she puts it, Smith took the ACCA Qualification she'd gained during this period and created the dream life. This was not without the obligatory bouts of self-doubt along the way, which are often followed by a welcome light bulb moment. Upon returning to Australia, she taught business planning, financial planning, accounting and human resources training for a number of years at Griffith University, as well as at various other institutions and training organisations. She was teaching people how to run successful businesses, which led her to ask: 'Why aren't I running my own one?'
Without a good reason not to, Smith kicked off her business by deploying a rudimentary but nonetheless effective marketing technique to win clients. 'I drew up a calendar of my schedule for the month ahead. I emailed it to organisations that wanted accounting, accounting software training or assistance. They could see my free days and book me in.'
From her home office, she worked with small business clients from all over the world, building a client base by partnering with and getting certified by accounting platforms, initially MYOB (an Australian solution), then Xero, which generated an endless flow of clients: Anise Consulting has been a Xero Platinum 100% cloud accounting firm for over a decade. She also embraced social media, creating her own content and developing a visible online presence.

Embracing solutions
Smith calls herself the Mary Poppins of accountancy. 'I jump in, I help people, I empower them, train them, set them up, provide them with processes and help them understand the story in their numbers,' she explains. 'Then I jump out and they're responsible for running the business, but I sit in the background and if they need me I'll jump back in again. 'I love being able to embrace solutions that automate processes and make business workflow more efficient. I'm fascinated by the ecosystem that integrates into online accounting platforms.'
This enthusiasm has made Smith something of an online guru. 'Initially, as a marketing activity, I published educational content on social media,' she says. 'I've been surprised by the attention this has received. I'm now in the top 5% of YouTubers in Australia with over a million views on my channel, while my podcast, Cloud Stories, is frequently listed in the top five accounting podcasts, and in November 2018 I was ranked the most influential accountant on social media.'
In 2012, Rod Drury, the founder and former CEO of Xero, asked her to write a book on the cloud-based accounting software platform. In February, she published her ninth book, Xero for Dummies (fourth edition).
'As I write, I post snippets and ask questions on social media,' she says. 'I engage people to learn how they're using solutions and to enhance my understanding so I can, in turn, explain it to my readers,' she explains. 'I now spend a lot of my time creating interesting educational content on cloud accounting and the ecosystem. Using social media platforms to amplify content has enabled me to connect with thousands of cloud-savvy accountants across the world. That's what I enjoy most about my role.'
As Smith explains, there are hundreds of solutions available in the accounting ecosystem and accountants are struggling in two areas: keeping abreast of the options and deciding if they should offer 'apps advisory' as part of their service offering. 'I've created a forum for advanced cloud accountants and developers to discuss workflow issues and brainstorm suitable solutions, to try and address this issue,' she says.
This web of experts also has a very practical value for Smith: she purposefully decided not to provide tax advice as part of her offering, which makes sense since her client base is global and spans multiple jurisdictions. 'It's quite a bold decision not to go into tax,' she admits.

Global opportunities
But then again, that's her raison d'être: 'With these online accounting solutions we now have global opportunities in that I can be sitting anywhere and helping clients anywhere, but I also have accountants in my professional network located in the US who can take on US or Canadian compliance, for example.'
Smith's standing within the accountancy world has inspired her to lend her voice to issues that need addressing to improve people's experience of the profession, moving her, perhaps as part of a natural digital evolution, into an 'activator' role. 'I hope to encourage businesses within the accounting industry to adopt resources to minimise bullying and have educated support mechanisms in place for those who are bullied,' she says.
As is unfortunately all too common for people who engage in social media, Smith has experienced bullying and trolls, which 'took me to a dark place', she says. 'I don't understand why someone talking about accounting technology would attract this sort of behaviour, but unfortunately it does. I'm now wiser and stronger. I'd like to see businesses within the accounting industry embrace resources that could have helped the younger me, who was going through this.'
She also hopes to encourage conference organisers to include balanced gender representation on their agenda. 'In nearly all cases this means increased female participation on the speaker line-up,' she says.
'I believe embracing the full scope of diversity delivers an optimal and innovative outcome. I actively push for this with everything I'm involved with,' she says. 'With respect to gender diversity, if something in the industry is lacking diversity, I privately contact organisers, to encourage equal female representation, and I frequently suggest females for opportunities that cross my path. Modern men do this, too – and I know some great men in our accounting industry who've turned down opportunities due to lack of female representation.'
Smith's a fan of ACCA's chief executive Helen Brand for pushing the body in the right direction, making it even more global in its outlook. 'She's made a massive change to the organisation and I'm really enjoying having her around,' she says.
Does this vocal, proactive and rather unique approach to business and a career ever leave her feeling exposed or out on a limb? After all, there are not too many people doing what she does in the way she does it. 'People have started to recognise me and tell me I'm an outlier, a rainbow unicorn or an accounting activator,' she says. 'I don't consider myself unique, but I don't know many people who do what I do – so technically I guess I am.'

Neil Johnson, journalist
"I love being able to embrace solutions that automate processes and make business workflow more efficient"