From teenage kicks to a global stage
Wherever in the world she roams, Orla Collins carries Dublin in her heart…
"It's a wonderful career. But wherever it takes you it's important to remember where you come from"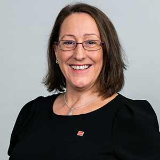 When Orla Collins left school as an ambitious teenager she scanned the careers horizon and didn't like what she saw.
The Irish economy was stagnant, one-in-five people were out of work, and there seemed no prospect of an upturn any time soon. The Celtic Tiger wasn't even a cub.
'I didn't know what I wanted to do,' said Orla. 'I only knew what I didn't want to do, and that was the kind of jobs girls usually did.
'I'd had a taste of accountancy at school, I genuinely loved maths. I was good at it and liked it, so that made my mind up and I looked at jobs in finance.
'I decided to start with the accountancy technician exam which led to the ACCA qualification, because at least it bought me two years to choose what to do next. And I'm so glad I did.'
The deciding was the easy part. The hard part was earning a living while getting her Qualification, which led to her formative years as a finance professional – working as a cashier for the Bank of Ireland at branches across Dublin – weighing bags of pennies and banking cheques - while studying for ACCA exams at night.
Wonderful start
'It was tough,' Orla recalls. 'I pretty much plotted my way through the exams myself, but there was a group of us in Dublin doing the same thing, we'd find out the best lectures and move colleges en masse.'
Just a bunch of street-smart teenagers, roaming the city in search of adventure and SBR seminars.
'I'd be in classes with people from practice who had a couple of months of block release a year to get their Qualification done. I had two days a year paid study leave for each subject,' she said.
It was demanding, but it means that when Orla is talking to students about the rigours of the Qualification, she can look them in the eye and know what she is talking about.
Like every other successful person in any walk of life Orla needed help along the way, and she credits three people in particular for making her career possible. They were her parents, and an ACCA member and early mentor, Ann.
'Mum and Dad were amazing, and sacrificed so much for me,' said Orla.
'They are working class people, and there was no tradition of the professions in the family. They supported me all they could and gave up so much so I could start out with one year as a full-time student. It gave me a wonderful start and I was and am so grateful.
Wise advice
'I met Ann at the Bank of Ireland after I'd moved from branch banking into internal audit. We got on, she appreciated my work, and when a job opportunity came up, she encouraged me to apply. I got the job, and that set me on the way to a career in compliance.'
Orla said that Ann's wise advice was an early example of how the ACCA can help members advance, sometimes in ways they never expected, in opening up opportunities they might not even know existed.
She said: 'I'd sit on ACCA committees with people who were five or six grades above me in work, and that gave me exposure to expertise and to people I would never have seen in my day job.'
A big part of Orla's role with ACCA now is talking to students and young members about their future.
'I relate it to my own experience,' she said. 'I say that one of the biggest assets of ACCA is flexibility. Sure, you can go the academic route and take a degree in accountancy. But the beauty of ACCA is it's practical and theoretical and gives you options to taste different disciplines and roles.'
"My pride in Ireland is why I wore my favourite pair of green shoes when I was named ACCA vice president"
It is how Orla was able to build a portfolio of skills, experience and knowledge that has led to fascinating roles across audit, compliance, asset management and executive leadership, spanning the world.
'It's a wonderful career,' Orla said. 'But wherever it takes you it's important to remember where you come from.
'When I travel around the world I feel so pleased that I am representing Ireland – my country as well as ACCA Ireland.
'I am proud of all we have done with ACCA in Ireland. We are the fourth largest members market in ACCA – amazing for a country with a population of five million.
'My pride in Ireland is why I wore my favourite pair of green shoes when I was named ACCA vice president. It was a little nod to Ireland – to where I am from, and who I am – and I'll never forget that.'