The historic deal struck at the Paris COP21 meeting in December is good news for global climate change, but there is still much work to be done in slaying the fossil fuel dragon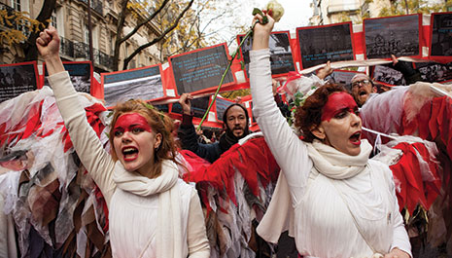 This article was first published in the February 2016 international edition of Accounting and Business magazine.
It looks as if the river is changing course. Following the climate change agreement at the United Nations (UN) talks in Paris in December, many activists believe that the world economy is unhooking itself from a century of fossil fuel addiction. Some suggest a 2014 agreement between China and the US was the critical lever, others that it was the decision to let each country set bottom-up climate measures. Either way, there is some confidence as 2016 begins that the world is now in with a chance of halting global warming.
'Our analysis shows we are now in a low-carbon technology transition,' argues Anthony Hobley, chief executive of think-tank Carbon Tracker and investment activist. 'Another big change is the fact that the technology in solar, wind, energy efficiency and so on has matured dramatically and dropped in price significantly, so world leaders see how they can do this technologically.'
A 2015 study by carbon industry expert Bloomberg New Energy Finance drew attention to the scale of the opportunity. It found wind and solar fully cost-competitive with gas and coal for generating power in the UK and Germany once carbon costs are taken into account. In the UK, onshore wind cost an average of US$85/MWh in the second half of 2015 compared with US$115 for both combined-cycle gas and coal-fired power. In Germany, onshore wind was US$80 compared with US$118 for gas and US$106 for coal. In Europe overall, more fossil fuel plants are being decommissioned than installed.
As renewable energy generation industries start achieving economies of scale, they attract partners. The US, the EU and 14 other countries in the World Trade Organisation are negotiating a new Environmental Goods Agreement that aims to liberalise and therefore expand trade in environmental goods and services such as wind turbines and solar water heaters. The goal is to cut the tariffs on environmental goods, whose trade is estimated at nearly US$1 trillion annually.
At the same time, India's prime minister Narendra Modi and French president François Hollande launched a solar alliance of more than 120 countries at the 21st session of the Conference of the Parties to the UN Framework Convention on Climate Change (COP21). At the Paris summit India committed itself to extracting 40% of its electricity from renewables by 2030. It plans to establish 1,000 GW peak of solar generation capacity by 2022, and put forward the concept of a global public-private partnership to promote solar energy.
The ambitious targets of the global deal struck in Paris are likely to have a dual effect on the financial community. First, it will re-channel a swathe of capital. After the agreement was signed, the Institutional Investors Group on Climate Change, a group that manages €13 trillion in assets, stated: 'There is now unprecedented and irreversible momentum within the global investor community for action to curb stranded-asset risk and to tackle climate change.' It cites investors divesting or committing to divest from fossil fuels – among them are French insurance group Axa, Norway's state pension fund, the University of California and the British Medical Association.
The clout of finance
Second, it will engage financial organisations more closely with climate change mitigation. Sometimes the finance sector can take action more quickly than governments suffering from political conflict. Hobley says: 'I think that until recently the financial markets have been ignored in this debate. A lot of pressure has been put on companies, but everyone forgot that companies are owned by shareholders. Once the shareholders and financial markets are engaged, the directors take it seriously.'
Celine Herweijer, PwC sustainability and climate change partner, says: 'An explicit reference to the role of business and the private sector in the agreement gives the licence for companies, boards and decision-makers to design and implement low-carbon economy solutions as part of their business strategically with a good understanding of the risks and opportunities for their specific business.
'Governments cannot do this alone, and it's vital that at a national level policy frameworks are developed with business to deliver rational, affordable and progressive action on climate change.'
Paris is thought to be the first of the 21 climate summits that have been held to attract the governor of a central bank – the Bank of England's Mark Carney.
Whereas previous summits were populated by non-governmental organisations (NGOs), civil servants and diplomats, Paris attracted more asset managers, financial institutions, accountants and CEOs than before.
Yet, Chinese and US agreement notwithstanding, the scrape of dragging feet is within earshot. Negotiated by national environment ministers, the agreements struck at COP21 have to be taken back to ministries and national governments, many of which still dish out big fossil fuel subsidies. This causes conflict. Hobley explains: 'A number of studies show that fossil fuel subsidies are significantly higher than clean energy subsidies. In the Powder River Basin in Montana/Wyoming, US, the mines are operating on government land designated as coal mining land, thus obtaining licences and royalties at a fraction of what they should be – this makes coal much cheaper.'
The organisation's research on the Galilee basin in Queensland, Australia, also found that coal would not be viable but for subsidies. Since subsidies are allowed in international trade rules, it is unlikely they will be abolished any time soon.
Many countries have also held back on carbon pricing. This gaping hole in policy was demonstrated by the Organisation for Cooperation and Development (OECD) in a December 2015 study of global carbon pricing. It estimated the effective carbon rate (ECR) for all OECD countries along with Argentina, Brazil, China, India, Indonesia, Russia and South Africa. The ECR was composed of carbon tax, carbon pricing resulting from an emissions trading system, and excise taxes such as those paid at the petrol pump.
The research found that 60% of the CO2 emissions coming from energy use in the 41 countries studied was not subject to any ECR measure. 'To me, 60% is a shocking rate,' says Kurt Van Dender, head of tax and environment at the OECD.
What's more, 10% of those emissions pay a very low rate of up to €5 per tonne of CO2, and 90% are priced below the low end of the climate cost of CO2 emissions, which is put at €30 per tonne.
Although a strong carbon price is probably the fastest way to decarbonise economic activity, many governments have shied away from levying carbon taxes and opted for carbon markets instead. More palatable to industry, these markets can also be manipulated. However, the OECD research also reveals the beginnings of a carbon tax trend: 'Sweden and Norway were the first, and the Canadian state of British Columbia also introduced a carbon tax in 2011. Definitely more places are introducing carbon taxes – they are slowly developing as a trend, but it is still a very small share of the price signal.' Typically, more revenue is generated from traditional fuel excise tax. Overall, many very large OECD countries set very low energy taxes.
Mexico introduced a carbon tax in 2014. 'It's not very high,' says Van Dender.
'They debated between cap and trade and carbon tax, and went for taxes on the grounds of it being easier to handle and because it's not so easy to get the carbon trade going. They taxed upstream all sources except natural gas.' Other governments have been equally bold. 'One of the very nice features of the British Columbia tax is that it is levied across all industries – very broad-based. Probably the British Columbia carbon tax is closest to the theoretical ideal of the carbon tax.'
According to OECD research, a price on carbon is the cornerstone of cost-effective climate policy. 'Ideally, all carbon should be priced at the social cost of carbon – our low-end reference figure of €30. This ideal is not within immediate reach, and our ECR work shows a lot of progress can be made by… moving away from zero or very low prices for very large shares of energy use,' says Van Dender.
Some of these more recent moves show that the door is at least open to economic decarbonisation. However, some financial experts are not expecting global carbon markets to come into full operation for a couple of decades. Taxation is therefore a realistic choice if the Paris climate goals are to be met. The other option is the business angle grasped by Carbon Tracker – steering investors away from poorly performing oil and coal commodities.
Coal in terminal decline
Hobley says: 'The financial analysis is that it does not make any financial sense whatsoever to open a new coal mine now. The only way coal mines will get built now is if government subsidies underpin them because of the price. And there is mounting evidence that coal is not in a cyclical downturn but structural decline.'
Pollution in China, which is by far the world's largest coal producer, is another major driver affecting this outcome.
As global trade increases, environmental businesses are likely to become more powerful, and technology and project developers better able to flex their muscles and demand proper treatment. Meanwhile, the incompatibility of conflicting industrial policies will become more conspicuous now that the Paris agreement has been sealed. 'There's a large degree of transparency here. Everybody will be able to see what everyone else is doing, so it will be difficult to hide,' says Hobley.
Yes, the international agreement is good news, but the fossil fuel dragon has yet to be slain.
Elisabeth Jeffries, journalist