Caterham Cars CFO Trevor Steel FCCA has pulled off the corporate equivalent of the handbrake turn, steering the business back to what it does best – making sports cars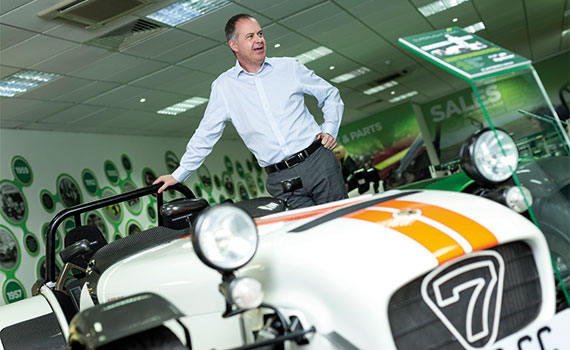 This article was first published in the September 2017 UK edition of Accounting and Business magazine.
'We're not the biggest business in the world, but we're probably more interesting than most.' You don't have to be the biggest petrol head in the world to agree with that assessment of Caterham Cars by its CFO, Trevor Steel.
Behind the joy of the driving experience there is a serious business engine that wants to perform as well as the cars. The company assembles, markets and sells its Caterham 7s all across the world. And they travel far – the car's third largest market is Japan. While every car produced is branded Caterham 7, there are a host of variants.
The 7 is 60 years old this year, with Caterham Cars' involvement starting after it purchased the rights to the name and the design of what was then the Lotus 7 in 1973. 'We leverage anniversaries or special editions whenever we can,' says Steel.
There are three typical owner profiles for the 7. First, there are those who have aspired to own one for years and, when that ambition is realised, enjoy a drive on sunny weekends. Second is the track-day driver – track-day use is a significant scene, with Brands Hatch (the nearest track to the company's Gatwick showroom), for example, hosting track days two or three times a week, and Caterham 7s make up 40-50% of the cars being put through their paces. The final profile is the racing car owner: Caterham has over 200 registered users for its 7 series, which makes it the largest racing marque in the UK.
Fancy trying your hand at motor racing? Then your route in is the Caterham Academy, a motor-racing championship open to novices only. Steel says: 'From getting the doctor's certificate and the racing licence to understanding how a race weekend works, with testing and scrutinising, we will help all the way.'
The company sells 56 academy packages each year – a fully built car plus seven rounds of racing will set you back £27,495. Now in its 20th season, the academy has seen nearly 1,000 drivers go through its doors. If you're lucky, there may be a slot free for the 2018 season, which starts late spring/early summer. Most continue with the academy after the first season, with their car tuned to become more competitive as the driver's experience grows.
In 2016 the business received orders for 600 cars – the largest number for over 20 years, according to company records. Steel characterises the business as relatively stable, selling usually 400-500 cars a year over the past four decades. While it is recognisably related to the 1950s Lotus 7 design – the iconic shape, the headlights perched above the bonnet – the car is no museum piece, evolving over the years as technology and engineering advance.
'Everything on the car is modern, but we have kept the original concept of the "space-frame chassis",' Steel says. 'On the dashboard you want a rev counter and a speedo.'
Fast track
Steel joined the company a year after the present owners, Tony Fernandes (also an ACCA member) and Kamarudin Meranun, bought Caterham (see box, next page), replacing Graham Macdonald who was promoted to CEO. By this time the company was in the select and pricey world of Formula One, a venture that lasted for four seasons. Steel explains: 'You need a justification for being in F1 – which is a crazy world – and selling 600 7s a year isn't it.'
The company was expanding rapidly. As well as F1, which employed 300 in Oxfordshire, there was a joint venture with Renault to develop a road car.
'When I was offered the role, Graham told me that this could be a rollercoaster and asked was I up for the challenge.'
The CEO's words were prescient. Steel's first two and half years were spent looking at how to build the business in order to cope with the joint venture, where planned volume of the new road car was set for 5,500-6,000 cars a year. 'We were talking of gearing up tenfold from the volumes of the 7.'
Steel had responsibility for the joint venture investment, which employed 100 engineers in Norfolk, and the 7 business. But then financial reality intervened. At one point, shareholder loans topped £200m. When the opportunity to sign up an external investor disappeared in early 2014, Caterham scaled back, ending the joint venture and quitting F1.
'F1 has a significant monthly cash requirement,' says Steel, 'and the owners were completely within their rights to decide it wasn't part of their ongoing strategy.'
Two dreams were over. The F1 venture went into administration, owing, according to press reports, £10.7m to Caterham. 'We had to wind down parts of the business that had grown, such as shutting down the Norfolk engineering arm, and pare back our own investment plans,' Steel says.
The work fell to Steel and his CEO, as other senior executives in the group had left. He does not hide the difficulty of tasks such as laying off staff. 'It needed to be done, and we did it with the support of our shareholders.'
Expansion plans had involved setting up myriad companies within the group – bikes, jets, hotels were all envisioned. They had either never traded or had just had pre-revenue expenditure. Dismantling and tidying up took Steel and his colleagues 18 months. Now it's just Caterham Cars and the holding company. 'Slowly, over time, we could devote more time back to this car business, with its solid product, order book, brand and strong team. We were always confident we could come out of the losses – due to the infrastructure costs laid on us – and improve the product and our margins, rebuilding profits and shareholder value.' And that is what Steel and his colleagues have been doing for the past 18 months.
The 7's long lead times impose special constraints. Order a 7 today and it will get onto the production line in nine months' time and you can expect to get behind the wheel five weeks or so after that. 'That is too long', Steel says.
Not only does it require patience from customers, but the lead time limits Steel's room to manoeuvre on pricing. 'We don't believe in retrospective price increases,' he says. 'For a start it would be a PR nightmare.'
With turnover around the £22m mark, the executive team is looking to increase sales revenues by 10% in 2017. But for Steel, the big barometers are margin and order book rather than turnover. 'There is a balance to be struck between "pressing price points" and damaging demand, and that is about building value in the brand and the product,' he says. 'Niche manufacturers fail because they can't build value and can't sustain margins on low volumes.'
'We focus on ensuring the product has fantastic engineering and product values, which keeps demand strong,' Steel says. A Caterham 7 160 can be on the road for just over £20,000, while the top-end 620 has a list price of £50,000. Most cars sell around the £30,000 mark.
Demand for the 7 is not affected by Brexit or slowdown or wage restraint. 'The 7 is a lifestyle product; we're not in competition with deciding to buy a sofa or a holiday. Instead, you're either affluent or you've saved for years, but either way, always wanted one of our cars.'
Peter Williams, journalist
"You need a justification for being in F1, which is a crazy world, and selling 600 Caterham 7s a year isn't it"