Integrated reporting is attracting interest in Turkey, but a new report co-authored by ACCA reveals that companies seek more support as they embark on the IR journey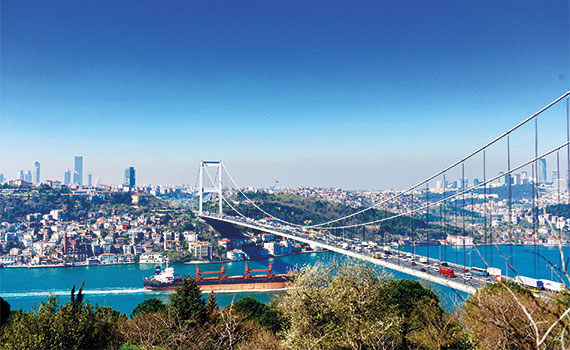 This article was first published in the May 2019 International edition of Accounting and Business magazine.
Integrated reporting (IR) has been gaining momentum around the world, with many major corporations now presenting information to explain how they create value over the short, medium and long term. The framework developed by the International Integrated Reporting Council (IIRC) identifies six types of capital that organisations potentially use and create: financial, manufactured, intellectual, human, social and relationship, and natural. IR encourages organisations to report on non-financial as well as financial performance, and in the process, enables managers and investors to better understand the links between non-financial and financial performance. It also encourages integrated thinking across organisations in their decision-making processes.
Recent research has found that IR is still in its early stages in Turkey. However, as highlighted in a report published earlier this year, Integrated Reporting in Turkey: Current Situation, Stakeholders' Perceptions and Expectations, strong appetite exists for increased knowledge and support.
The research was carried out by the Centre for Finance, Corporate Governance and Sustainability at Yildiz Technical University, in cooperation with ACCA and KPMG Turkey, with the support of the Integrated Reporting Turkey Network (ERTA). Face-to-face interviews were held with a range of participants, including senior executives within companies, institutional investors, consultants advising on IR, non-governmental organisations, regulatory and implementing agencies, and academics.
'Through interviews with the people who will shape the future of IR in Turkey, the report lays the groundwork, for the first time, for a roadmap to widespread integrated reporting adoption in the country,' says Helen Brand, ACCA chief executive.
Current status
Around half (49%) of the company executives interviewed had no knowledge of IR. Another 22% were informed but had no intention of preparing an integrated report. However, 15% thought IR would be beneficial to their company and planned to prepare an integrated report, 6% had started preparatory work for IR and 7% had already prepared a report.
Demand for more information about IR is high among all executives – even those currently with no intention of preparing an integrated report. However, the majority said that financial performance metrics were the key criteria for decision-making in their companies. Most also thought that the disclosure of non-financial information linked to company strategy was a delicate issue (including 56% of companies that had already issued an integrated report and 80% of those who had started preparatory work).
The framework that underpins IR is principles based and designed to enable companies to apply its concepts to their particular circumstances. Companies see some advantages in this approach. For example, 60% of executives in companies that had prepared an integrated report said the framework provided flexibility and all of them thought it enabled 'originality'. However, many participants also thought that the framework limited the ability to compare companies (including 50% of those who had prepared an integrated report and all of those in the preparatory stages). Other stakeholders, including regulatory and implementing agencies, NGOs, academics and consultants, tended to appreciate the flexibility and originality enabled by the framework.
Companies in Turkey that have embraced integrated reporting do identify benefits. The approach helps them to determine corporate strategies in a more holistic manner, link performance in different areas, and develop a more forward-looking perspective. Additional benefits of the preparation process include improved stakeholder and investor relations, as well as a better understanding of how different parts of the business can work together to create value in the most effective way.
However, research participants also saw some challenges in preparing integrated reports, particularly in relation to measuring non-financial capital inputs and determining the probability of the occurrence of risks. Companies in the preparatory stages of IR were particularly concerned about the challenge of determining the scope and contents of their report. Other challenges for all companies concerned how to measure opportunities and how to determine important matters for inclusion.
Other groups of respondents identified further challenges. For example, according to the academics interviewed, the main challenges in the preparation process include measuring the outputs of non-financial capital elements, and structural difficulties (and costs) in establishing information systems in companies to support reporting.
Next steps
The majority (73%) of research participants thought that integrated reports should be prepared on a voluntary basis in Turkey. So how could IR be best encouraged? The vast majority of executives emphasised the need for professional consultancy support and for training in the process. All the companies that had already prepared a report cited the need for qualified staff to take part in preparation. Consultancy firms placed most emphasis on the need for belief in, and support for, IR among senior management.
The report authors make a number of recommendations for supporting the take-up of IR in Turkey. First, they suggest that regulatory authorities should take responsibility for encouraging companies to adopt IR in a way that provides useful information for investment decisions. They also recommend that ERTA – the main source of initial information about IR for many participants – should run projects, hold informative meetings and organise training for companies to increase awareness and understanding of IR.
Recognising the need for IR knowledge, the researchers also recommend that integrated thinking and value-creation topics be included in relevant undergraduate and graduate university courses. They also call for regulatory and implementing agencies to support training in integrated thinking and reporting and the raising of public awareness.
Sarah Perrin, journalist
What are Turkey's IR challenges?
|   | Have prepared an integrated report | Started preparatory works | Plan to prepare an integrated report |
| --- | --- | --- | --- |
| Deciding which key matters to include | 52% | 65% | 65% |
| Deciding the report's scope and contents | 44% | 85% | 67% |
| Calculating risk probability | 72% | 80% | 64% |
| Measuring opportunities | 68% | 65% | 71% |
| Measuring non-financial capital inputs | 60% | 80% | 71% |
"Many participants thought that the framework limited the ability to compare companies"