The near universal possession of mobile phones across West Africa offers a technology-enabled opportunity to bring financial inclusion to the masses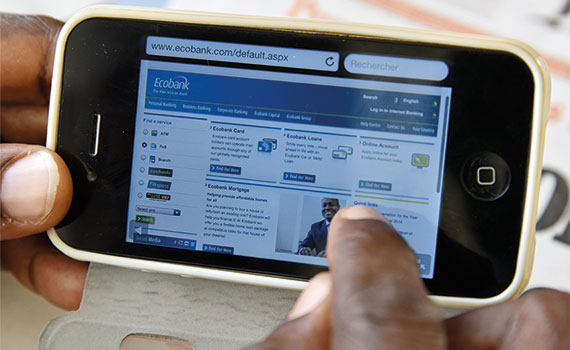 Mobile magic: by allowing accounts to be operated through mobile phones, banks can offer financial services without heavy investment in a physical branch network.

This article was first published in the July/August 2019 Africa edition of Accounting and Business magazine.
Better cooperation between accountants, financial institutions and financial technology firms could take the impressive recent growth in mobile banking across West Africa even further.
With an overwhelming majority of the 350 million people living in West Africa lacking access to formal banking services, mobile telephony, which is far more widespread, offers a portal to financial inclusion. Nigeria – the region's most populous country, with 200 million people – is a good example of the potential. According to Enhancing Financial Innovation and Access (EFInA), a Nigerian financial inclusion promoter, 37% of the country's adult population lacked access to financial services in 2018. However, 84% of the entire population had access to a mobile phone, according to a 2018 report from Nigerian e-shopping platform Jumia Nigeria.
As a result, last October's decision by the Central Bank of Nigeria to authorise lower-capitalised payment service banks to run banking services could be highly significant, as it will let mobile phone network operators (as well as retailers, fintech firms, courier companies and other businesses) to act as banks. The Nigerian government could even reduce its costs by up to 1.7% of national GDP by shifting its payments to digital systems, according to the International Monetary Fund.
Banked boom
If mobile banking booms in Nigeria as a result, many more people and small businesses will move out of the informal cash economy and into the banked economy, where accounting and book-keeping play a more important role.
Professional accountants in Nigeria should respond to this challenge, says Stanley Jacob, head of consumer distribution at Ecobank Nigeria and chairman of the country's national committee of e-banking industry heads (CeBIH). He says: 'Accountants need to drive financial literacy at the bottom of the pyramid. We must empower [the poor] with basic tools that will make them embrace it, so that they don't wake up one day and say "my money is missing". I think accountants are already doing enough for banks. Accountants now need to do more for poorer people.'
The potential for an expansion in banking in Nigeria has been pumped by the growth in basic mobile money services, such as that operated by payments company Paga. Paga offers a multichannel network for transferring money, paying bills and making internet purchases and, as of April, had more than 12 million individual and 6,000 business customers in Nigeria. The company, which was set up in 2009, says it has processed 72 million transactions, worth more than US$4.6bn, since it opened its doors to commercial operations in 2012. The company is one of more than 200 fintech firms operating in Nigeria, according to EFInA.
PwC Nigeria director Adedoyin Amosun is optimistic that Nigeria's newly liberalised banking regulation could improve banking of all kinds, with 'financial institutions collaborating with fintechs to simplify and optimise their core processes and consequently reduce operational inefficiency'. She adds that collaboration between financial services, fintechs and accountants 'could deliver differentiated service offerings, improve customer retention and provide additional sources of revenue'.
Mobile money
These conditions apply equally well to the rest of West Africa – mobile banking is growing fast in the region. According to the World Bank, in 2017 the share of adults owning a mobile money account rose to 33% in Burkina Faso, Côte d'Ivoire and Senegal, and to 39% in Ghana, up 9% on average compared with 2014. According to mobile phone association GSMA, there were 133.6 million registered mobile money accounts in all of West Africa in December 2018, which is just over a third of the 395 million total for all sub-Saharan Africa, itself up from 348 million in 2017.
Cybersecurity is clearly a major issue for such services, with the risks to businesses – which include disruption to operations, compromise of sensitive corporate data and damage to brands – growing as e-banking expands. Finance professionals need to be sure that their corporate clients will not open themselves up to hackers when they expand their electronic banking, says Tope Aladenusi, chief strategy officer at Deloitte West Africa. 'Imagine if in your organisation, you prepare your books and before you publish them, somebody gets access to them and knows what you're going to end up with before it is officially made public. Then, that can affect your share price. The person can trade on that share price based on that insider information they were able to get in a very unauthorised way. That's an issue for accountants.'
Cybercrime threat
Insider threats and consumer ignorance of basic IT hygiene are responsible for 85%–90% of cybercrime problems linked to using digital financial services in Nigeria, Aladenusi says. Fixing these weaknesses, he adds, will require a comprehensive and holistic cybersecurity programme, which should be planned from the top of the business, with the right strategy established by boards of directors.
'Strategy should determine the frameworks, the processes, security, and the kind of vigilance and response when something wrong happens,' he says.
Samuel Okocha, journalist in Lagos
"Accountants need to drive financial literacy at the bottom of the pyramid"