As CFO of the Industrial Development Corporation in Zambia, Chearyp Sokoni FCCA is aiming to fuel the nation's economy by transforming key businesses in multiple sectors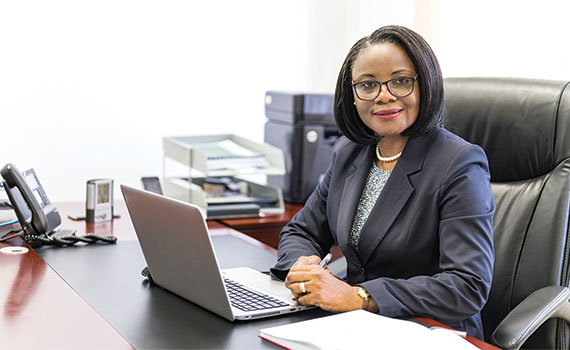 This article was first published in the January 2020 Africa edition of Accounting and Business magazine.
Incorporated in January 2014, the Industrial Development Corporation (IDC) is wholly owned by the Zambian government to create and maximise long-term shareholder value as an active investor and shareholder of successful state-owned enterprises.
The dual mandate of IDC is the transformation of previously state-owned enterprises (SOEs), and strengthening Zambia's industrial base and job creation. It came fully to life in August 2015, when 29 SOEs were transferred to IDC from the various government ministries that had previously been overseeing them.
'Most of these businesses were loss-making or not making the level of return expected from the size of investment,' says IDC's CFO, Chearyp Sokoni FCCA. 'The initial thinking in setting up IDC was that it would manage successful dividend declaring companies, which would contribute to the sovereign wealth fund. So, the need to transform this group can't be overemphasised. We must get these companies out of their loss-making positions to profitability, so they can make an impact on the economy of the nation.'
The 29 businesses that are part of the IDC portfolio range across 14 different economic sectors, including mining, energy, agriculture, real estate, financial services, communication and transportation, Sokoni says.
When Sokoni joined IDC in 2017, one of her first tasks was to oversee the first equity valuation of the entire portfolio of IDC investments. This undertaking was necessary to ensure that government interest in SOEs that was transferred to IDC at book value was appropriately carried at fair value in accordance with International Financial Reporting Standards. 'We engaged consultants to conduct equity valuation of the 29 subsidiaries, most of which did not have updated financial statement and cashflow projections. I spent long hours with the consultants who put together financial models for all investments. Then came numerous challenge sessions with the group auditors, who needed to satisfy themselves with the methodologies adopted and assumptions used in the valuations before they could sign off on the financial statements. It was exciting in the end to see a significant jump in our investments by ZK15bn (US$1.1bn) in the financial statements,' Sokoni says.
Active intervention
Since taking over the former SOEs, IDC has positioned itself as an active investor and shareholder, with its primary focus being improving the performance of subsidiaries and rationalising costs in the companies where key cost ratios were above target. 'Some subsidiaries have rationalised headcount and frozen recruitment where the headcount was excessive. These initiatives are having a positive impact on performance, with profit-posting entities in the group having increased by 42% between 2015 and 2018,' Sokoni reports.
A backlog of unaudited financial statements inherited at takeover in 2015 has since been addressed, and the governance frameworks across the group have also been strengthened. 'All the subsidiaries now have fully functioning boards in place,' Sokoni says. 'To strengthen board oversight, IDC enters into performance management contracts with the boards, and these contracts are reviewed quarterly. There is a realisation across the group that all have to embrace a culture of performance.'
IDC is restructuring its portfolio by divesting some companies where prospects appear limited, while injecting equity in priority sectors. 'We have injected working capital to strengthen the balance sheets of some of our subsidiaries,' Sokoni says. As of the middle of last November, IDC controlled 26 subsidiaries, with minority shareholdings in another nine. Sokoni now oversees an asset base valued at around ZK79.6bn (US$5.4bn). 'What occupies me is how we can sweat this large asset base to maximise shareholder value and ensure that all our subsidiaries are profitable, or at least breaking even,' she says. 'So, I focus on four things: people, processes, ICT [information and communications technology] and financing.'
In terms of people, Sokoni says: 'I am looking at how we can build and maintain a pool of finance professionals across the group with the right skillsets and competencies, and the right work culture, by which I mean a culture of performance.' Initiatives to build this culture include training events such as the IDC Group CFO Academy and Forum. 'Our training doesn't just focus on technical accounting issues, we also bring in experts in change management and leadership. There's a lot of emphasis now on the emotional quotient – how you deal with your people and other stakeholders.'
As for processes, these are vital, says Sokoni. 'I'd like to see across the group an enhanced control environment with streamlined governance systems, supported by clear policies and procedures with a strict code of adherence.'
Sokoni sees ICT as a 'backbone' to efficient production of separate financial reports and consolidation of the financial statements. 'The sheer size of the IDC group renders consolidation of group financial statements without use of appropriate technology inefficient,' she says. 'We use CaseWare for this and have rolled the package out to some of our subsidiaries. My goal is to migrate onto a group-wide ICT platform by Q4 of 2020 so we can pull up the financial statements of any subsidiary at the click of a button.'
Financing is the fourth key item on Sokoni's agenda. She sees her biggest challenge as raising the level of capital to support strategic imperatives. 'To transform the group, we need to inject capital in most of our restructuring initiatives,' she says. 'IDC is exploring various options, including cash injections from strategic partners, listing on the capital market, and debt financing. We need to restructure, change some business models and provide working capital to support production at optimum levels. I am excited that we have just concluded a financing arrangement for a major restructuring of two of our subsidiaries which is due to commence before the end of 2019.' IDC recently introduced group management fees to improve support services to subsidiaries.
Route to success
In supporting the transformation of IDC's subsidiaries, Sokoni is applying her expertise from previous roles, as well as insights gained from her MBA (see CV box). Her choice of accountancy as a career was in a way unintended. It followed a decision to take 'principles of accounting' as a subject at school where the only other options were technical drawing and home economics. Sokoni worked hard to compete for top marks and in the process developed a real interest in the subject. When she decided to gain her ACCA Qualification, she studied at a college that had a relationship with KPMG, where each year three good students where taken for secondment. 'I happened to be one of the three chosen students in my year,' Sokoni says. 'So, I started working with KPMG in Blantyre and later moved to KPMG Zambia.'
She rose from audit trainee to audit manager, before leaving the firm after 10 years to study for her MBA. While doing this in the UK she completed two six-month contracts with the Audit Commission. Here she was assigned public sector clients such as local government authorities and the National Health Service. 'That was a brilliant experience for me,' Sokoni says. 'The work culture was progressive and I learnt a lot.'
Her MBA completed, Sokoni returned to Zambia in 2008 to become chief internal auditor at Copperbelt University. She joined IDC in 2017.
IDC recognises the importance of having appropriately skilled CFOs in its subsidiaries and not just at group level. 'We are looking at retraining the CFOs and at ensuring the right levels of competencies exist,' Sokoni says. 'We want our CFOs to be not just looking at the numbers but acting as strategic champions and critical sounding boards to their CEOs.'
Sokoni is therefore 'excited' by the memorandum of understanding signed with ACCA in Zambia, involving support for IDC's training programmes. 'The fact that we have partnered with a credible organisation like ACCA is raising the profile of the IDC group training initiatives,' Sokoni says. 'We are looking at training as a key part of our group transformation agenda. When we speak of transformation, ordinarily what comes to mind is the balance sheet or restructuring, inviting equity partners into businesses, business remodelling etc. But these initiatives must be executed by people, so people are key in the IDC group transformation process.'
As a key person herself, Sokoni understands the need to put in long hours, but also the importance of achieving a work-life balance. 'I do aerobics and that keeps me fit,' she says.
Sarah Perrin, journalist
"What concerns me is ensuring that we have the right skillsets and competencies, and the right culture of performance"