For Vincent Lim FCCA, Datalogic's Asia Pacific CFO, the ability to set his ambitions beyond the next role, coupled with a healthy work-life balance, are key to his success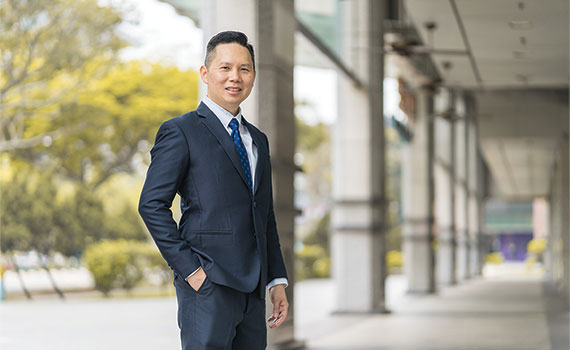 This article was first published in the January 2020 Singapore edition of Accounting and Business magazine.
As the Asia Pacific CFO for Datalogic, a global technology leader in automatic data capture and process automation, one would expect that work takes up the bulk of Vincent Lim's time. However, Lim enjoys a varied and exciting life outside of the office as well: he is a taekwondo coach, a musician, a volunteer storyteller with Singapore's National Library Board, a PhD candidate and a father of four.
It's no surprise, therefore, that he is frequently asked how he manages to discharge his professional duties while juggling all these additional roles. Lim reveals that these activities, instead of dividing up his time, contribute directly towards making him a more effective leader.
He shares, for example, how his role as a fourth dan black belt taekwondo coach instils in him values that are complementary to his work. 'Not only does taekwondo make me stronger physically, it also helps me to develop strong discipline, which then helps me reduce the time needed to do things at work,' he says.
As for playing music, Lim says that this gives him a sense of calmness, which in turn helps him to make better and less emotional decisions, especially during difficult situations. 'I used to play in a resident band as a keyboardist, every Friday for two years,' he recalls. 'Some people may consider it a distraction, but for me it provided an important balance in my life.'
With such an array of talents, one wonders if there was ever a time when Lim considered pursuing a career in another field. Lim admits that in his younger years, he did briefly consider a career in music, while computer science was another possibility.
'As a teenager, one of the things I really enjoyed doing was hacking the program source code of games in order to win, so I thought computer science was something I would be good at.'
Eventually, however, Lim's father, an accountant, managed to convince him to pursue a career in accountancy. More than just nudging him in that direction, though, his father also provided him with an inspirational example.

Ethical role model
Lim explains that, in his father, he saw an accountant for whom ethics was of the utmost importance. Between wealth and ethics, his father would always choose the latter. This influence became even more apparent later on in Lim's career at Sony Ericsson where, as an audit chief auditing its regional service partners, he found himself responsible for chasing down people and departments that didn't want to be audited.
Lim's commitment to ethics was further moulded during the pursuit of his ACCA Qualification and reinforced as a council member of the Institute of Singapore Chartered Accountants and the ACCA Singapore Network Panel. 'Through my involvement with the two organisations, I witnessed first hand the consequences of accountants being disciplined for fraudulent practices,' he says. 'They were removed of their title, and some even ended up in jail. Part of our job as the council was to sign the papers that rid them of their titles.'
By looking at the consequences of not being ethical, and comparing those to the experience of his father, whose ethical approach gave him much happiness and satisfaction, Lim says that he chose to follow his example.
As well as behaving with strong ethical principles, good accountants, Lim believes, have the potential to provide added value to their organisation. He says that beyond their technical accounting skillsets, the training that they receive in creating systems and processes is also invaluable across a wide range of fields. This was clearly illustrated during Lim's time at Sony Ericsson, where, due to the highly technical nature of the job, audit chiefs within the technology space typically consisted of engineers. Hence, when he started, he did not understand much about Sony Ericsson's production process.
However, because of his accounting training, he was able to quickly develop a process to get the job done. 'This is what excites me as an accountant,' he says. 'We are able to add value, not just in accounting and finance, but also in other processes that are specific to the industries that we work with.'
Besides being indispensable across multiple industries, Lim also finds that accountants are uniquely suited to reach key positions within the organisation, even beyond finance. He highlights in particular the boardroom, where he says accountants' management ability and their strong integrity make them valuable assets.
Indeed, Lim is leading by example, serving as a board member on many of Datalogic's subsidiaries, as well as being the chairman of Datalogic in China, Japan and Korea. 'As a finance person, we are not just limited to finance functions. We can reach further,' he says.
Nevertheless, Lim does concede that not all finance people are naturally able to reach this level, and that often they need to work on certain areas to improve themselves – particularly in people skills. This value was ingrained in him early on in his career at Singapore Technologies, when he was posted to Batam, Indonesia. It was a tumultuous period; strikes were rife and at times even deadly. Lim was not exempt and, in 1996, his own factory went on strike over wages.
'When the strike erupted, it was very violent,' Lim recalls. 'Workers stopped working, started chanting and were banging the table.' Fortunately, he and the plant manager were able to negotiate with headquarters to approve a new package for the workers, and managed to resolve the strike within 24 hours.
Through this incident, Lim and his team learnt a valuable lesson. 'Before the strike, the way we worked was to follow the employment contract strictly. After, we made it a point to better understand the workers' needs and their living conditions,' he says. 'I spoke to them in Malay, lived close to them and acknowledged that they were not a homogenous group but one that consisted of people with different religious and cultural backgrounds.'
Subsequently, Lim took this mindset with him into his other jobs, recognising that even with relatively simple audits, it was often the relationship building and human touch that mattered most. 'It's what enables us to get to the real history and background behind the companies.'

Getting the message across
In addition to having good people skills, Lim is also a keen advocate for improved communication, especially in the area of public speaking. In 2002, he was part of the pioneer group of ACCA members who started the ACCA Singapore Toastmasters Club. Lim says that the skills taught at the club are beneficial for all levels of accountants, as they also learn how to receive and deliver criticism, as well as how to communicate better.
Furthermore, Lim says that with the ability to do public speaking, people are also able to communicate effectively to large groups of customers and employees. 'As the CFO for Asia at Motorola Solutions, my audience was sometimes in the hundreds. Good communication helped me to be more effective in getting my message across by addressing all of them in one session.'
Lim adds that even if one's job does not currently involve addressing large audience members, it is important to start developing these skills. In fact, one of the pieces of advice he has for junior accountants looking to move up the career ladder is to aspire to be in a higher role and work hard towards that aim.
Sharing from his own experience, Lim says that during his earlier years as an accountant at HP, he was determined to gain the title of finance manager. However, he found the process difficult and couldn't understand why he was unable to progress. He therefore decided to try a different approach and started working on being able to do the task of someone two levels above him.
The strategy worked, and within a few months of taking on a job as a finance manager at Sony Ericsson, he was promoted to regional controller. This happened again at Motorola, when Lim was promoted to CFO after less than a year serving as finance director. 'It's about the ability to think two steps ahead,' says Lim.
Nevertheless, Lim adds a caveat, saying that this piece of advice might not be for everyone. 'It will be stressful trying to do the work of your boss's boss, on top of your own; you need to have passion and dedication.'
A final piece of advice is to embrace a spirit of volunteerism without being overly calculative about the immediate returns. Sharing from his experience as a volunteer with ACCA, the Singapore Taekwondo Gymnasium and the National Library Board, Lim says: 'It will come in due time. It may not be mutual, but you will definitely gain exposure, network and experience.'
As a frequent speaker at events and guest lecturer at universities, Lim often tells his audience that the current digital age is one that is characterised by volatility and uncertainty. As such, he continually stresses the importance of upgrading and staying relevant. At Datalogic, this means diversifying away from the retail market. 'It was our traditional stronghold, but now we need to establish ourselves in future markets such as transport, logistics, manufacturing and healthcare,' he says.
On a more personal note, Lim is also looking forward to the upcoming launch of ACCA Singapore's Mandarin Toastmasters Club and completing his PhD in business (general management). 'The PhD enables me to think more critically,' he says, adding that it offers other, future benefits. 'I hope to become a professor and give back to society after I retire.'
As is typical of the man, Lim is indeed living up to his reputation and thinking ahead.

Rufus Tan, journalist
"We are able to add value, not just in accounting and finance, but also in other processes that are specific to the industries that we work with"