Experts are upbeat about the outlook for the relationship between China and Africa, refuting some of the more common complaints about exploitation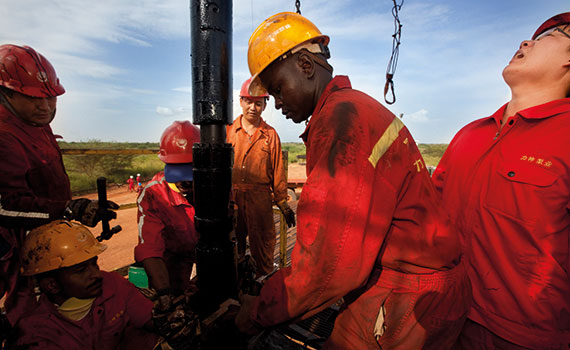 This article was first published in the November/December 2017 Africa edition of Accounting and Business magazine.
The gut reaction of many rich-world companies to investing in Africa is to worry about political risk. Chinese companies, by contrast, are far more positive, says Jing Gu, director of the Centre for Rising Powers and Global Development. She says: 'Africa is regarded as the last golden land by many Chinese business people. Chinese entrepreneurs are also willing to accept low profit margins because they see the potential for future growth.'
In 2016 there was a 106% increase in the number of Chinese projects in Africa, according to EY's Connectivity redefined report, part of its Africa Attractiveness programme. And since 2005 Chinese companies have invested in 293 projects with a total outlay of US$66.4bn.
In general, the Chinese enthusiasm for Africa seems to be reciprocated. A survey of 36 African countries by Afrobarometer found that 63% of those surveyed believed that China had a 'somewhat' or 'very' positive impact on their countries. And 24% of respondents considered China the best model for economic development – second only to the top-rated US (30%).
Despite this mutual appreciation, Chinese investment in Africa has given rise to plenty of controversy and misunderstanding. Critics have accused Chinese businesses of being too narrowly focused on extracting the continent's natural resources, while bringing in workers from China as projects' labour forces and so creating few jobs for Africans. 'There are many misconceptions about China's role in Africa,' says David Dollar, a scholar at the Brookings Institution and a former US Treasury emissary to China. 'While there have been some abuses, Chinese investment in Africa is on a positive trend and is becoming more beneficial for the continent.'
Range of misconceptions
Misconception number one, says Dollar, is that the scale of Chinese investment is overwhelming Africa. In fact, despite the rapid increase in Chinese investment in recent years, the US continues to be the leading investor country in Africa, accounting for 13.5% of all the continent's inward investment projects, followed by France. Even in the area of infrastructure, where Africa receives about US$30bn a year from outside sources, China accounts for only about one-sixth of financing. 'While, this makes a meaningful contribution to African growth and development, the idea that China is buying up the continent is inaccurate,' Dollar says.
The second common complaint about Chinese involvement in Africa is that it is all about extracting natural resources and as a result does little to promote economic diversification. This charge contains some truth for the period around 2000 as Chinese investment in Africa started to ramp up, says Dollar, adding: 'China is a resource-poor nation, while Africa is a resource-rich continent.' Back then, China saw Africa as a valuable source of the copper, oil, iron ore and cobalt it needed to fuel its own development. In recent years, though, it has started to broaden out. For example, only around 28% of Chinese investment went into mining in 2015, compared with 66% of US investment. EY research found Chinese businesses taking an active role in a wide range of sectors, from car manufacture and business services to media and telecoms.
The location of Chinese involvement is revealing. Admittedly, oil-rich Angola has been the largest recipient of Chinese loans since 2000, taking around 20% of the total. But in second place is resource-poor Ethiopia with 14%, according to data from the China Africa Research Initiative at Johns Hopkins University in Washington, with around US$12bn funnelled into infrastructure and manufacturing projects.
For example, Humanwell Healthcare, a Chinese pharmaceutical company, recently broke ground on the construction of a US$20m factory on the outskirts of Addis Ababa and the total investment is expected to reach US$100m. This is a trend that is likely to gather pace, says lrene Yuan Sun, an engagement manager at McKinsey & Co and author of The Next Factory of the World. That trend is driven by hourly wages for factory hands in China having increased by around 12% since 2001, with productivity-adjusted manufacturing pay almost trebling between 2004 and 2014. John Ashbourne, Africa analyst at Capital Economics, adds: 'Chinese businesses are starting to look at Africa as a market for goods rather than just a golden goose for natural resources.'
The third most commonly levelled accusation against Chinese investment in Africa is that it fails to create local jobs. Again, this charge contained an element of truth at the early stages of Chinese involvement in Africa. 'It was not uncommon for Chinese businesses to bring in entire teams for projects they were working on,' says Richard Putley, managing director of executive search company Executives for Africa. 'This has been changing.' An Executives for Africa survey of 400 Chinese companies operating in 40 countries in Africa revealed that although management and senior technical positions still tended to be Chinese nationals, more than 80% of workers overall were local. Some companies had localised as much as 99% of their workforce. Executives for Africa also found that China was generating some high-end jobs, with one shoe factory sending workers for management training.
Jobs generator
This picture is backed up by research from EY, which calculates that Chinese investment generated 38,417 jobs in Africa in 2016, by far the highest job creation rate of any single nation. The US came a distant second, creating 11,430 jobs with its projects, while the UK generated just 2,383 positions. Dollar says: 'Over the long term, Chinese investment can help create a more diverse range of positions for higher-end roles – including accountants and other financial professionals – as projects foster growth and economic diversification.' Putley also believes that governments in Africa are becoming more savvy negotiators, ensuring that investors – from China or elsewhere – are willing to cultivate local skills and talent.
Finally, there are promising signs that China is becoming more sensitive on issues such as employee protection and the environment. Over the past year the Chinese Ministry of Commerce has put out guidelines on how companies can interact more positively with local communities. 'This is an evolution rather than a revolution,' Dollar says. 'But Chinese investors are becoming more alert to the business dangers that can stem from abuses. They are increasingly willing to engage with civil society and non- governmental organisations as well as governments.' In other words, Chinese investors are taking a long-term view on Africa, rather than merely seeking short-term profit.
As a result, many experts are upbeat about the outlook for the relationship between China and Africa over coming years. 'China is perhaps one of the best things that has happened to Africa in the past two decades,' says Gu. 'It gives Africa an alternative and an opportunity to develop. China's engagements in Africa have created knock-on effects.'
A key metric to watch over coming years, according to Dollar, is the share of Chinese investment that goes into manufacturing and higher valued added sectors rather than resource extraction. 'Africa needs to create about 20 million jobs a year to absorb new young workers, so Chinese investment can really help here.' Putley says he'll be watching for more indications that Chinese businesses are willing to foster talent in areas such as accounting and finance.
Ultimately, however, the impact of Chinese investment will depend on how well Africans use it. 'We already notice that Chinese projects have a far more positive effect in countries with relatively stronger governance like Kenya or Tanzania than in countries where corruption or mismanagement is more problematic,' says Dollar.
'Fundamentally, it is up to African states themselves to take their destiny in their own hands,' says Gu. 'It is not up to the West or China.'
Christopher Fitzgerald and Fernando Florez, journalists
Jobs created in Africa from foreign direct investment
| | |
| --- | --- |
| China | 38,417 |
| US | 11,430 |
| UAE | 8,109 |
| France | 8,087 |
| Japan | 6,630 |
| Germany | 2,389 |
| UK | 2,383 |
Top six African recipients of Chinese loans 2000–15
| | |
| --- | --- |
| Angola | 20% |
| Ethiopia  | 14% |
| Sudan | 7% |
| Kenya | 7% |
| DRC | 3% |
| Other African countries | 49% |
Sectors in Africa receiving Chinese loans 2000–15
| | |
| --- | --- |
| Transport | 32% |
| Energy | 24% |
| Mining | 10% |
| Communication | 7% |
| Other | 27% |
Source: China Africa Research Initiative
"Chinese businesses are starting to look at Africa as a market for goods rather than just a golden goose for natural resources"