Andy Minifie FCCA, national managing partner at Haines Watts in the UK, discusses the business of people and redefining roles in an age of increasing automation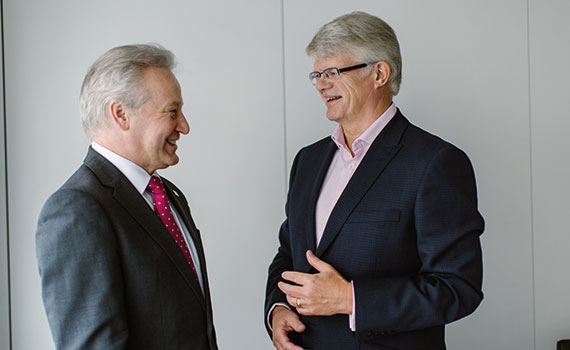 This article was first published in the January 2018 UK edition of Accounting and Business magazine.
For Andy Minifie the business of accountancy is all about people and not so much about numbers. The national managing partner of top 20 UK firm Haines Watts says: 'Dealing with people is the interesting bit – not looking at the balance sheets.'
This is a useful mentality given that the mid-tier firm's clients are predominantly owner-managed businesses (OMB). Minifie, who celebrated 30 years with the firm in October 2017, points out that the OMB's approach is different from that of other companies. 'Many businesses don't have clearly defined aims and objectives. They need help in clarifying their destination. And working with advisers should bring speed and certainty to the journey towards that goal.' Minifie calls it holistic support, not just accountancy.
He recognises that this requires a people-heavy, and therefore expensive, model. 'Often one person heads the business and they're lonely. What they need is a new perspective.'
Haines Watts' approach is partly driven by commercial reality. 'We have recognised for some time that compliance-based services are being increasingly automated,' says Minifie. 'Traditional accountancy is a reducing proportion of the firm's workload.' Compliance work is a need rather than a want for clients. 'Because of automation, accountancy is becoming commoditised, but that gives us the opportunity to employ differently skilled people to have different types of conversations with clients – conversations that are more valuable.' And ultimately – but not yet – the firm may be business advisers first and accountants second.
And that aligns with ACCA's vision of developing accountants the world needs. For this to happen, says Minifie, accountants need a wider range of skills. 'For years the profession has produced people who are good with numbers. It now needs to develop people who are good with vision, emotions and communication. We need to resonate with clients on different levels.'
He says he can predict the seniors who will be managers in two years' time. 'They stand out as being a little bit different. They know what they're talking about. They have confidence without arrogance.'
Haines Watts is growing its own talent but does need to go outside to fulfil demand. Minifie is also candid enough to say the firm, like many others, is not as diverse as it would like to be. It's something he's working on.
Fresh perspectives
He says the profession, as well as his firm, needs young, enthusiastic and experienced professionals with a desire to succeed, who want to achieve something and who have taken responsibility early on. 'Although it is difficult to find that combination, they are out there,' says Minifie.
Much like mid-tier firms, Minifie says, OMBs have two constant needs: more customers and high-performing people with fresh perspectives. In response, and specifically to help with growth, Haines Watts set up a 'business improvement' division. However, it has been carefully branded. 'Clients don't like the "consultancy" word. They see it as expensive and impractical,' he says.
The firm has also added legal advice to its repertoire of services (because 'for standard legal work clients like briefing only one set of people') and HR services. In addition, it is offering property services/real estate advice, as business owners often have some interest in property through the premises the business occupies and/or buy-to-let.
And as mid-tier firms' service offerings move away from straightforward accountancy, Haines Watts is looking increasingly overseas. Its membership of the Geneva Group International network is growing in importance as clients see more opportunities overseas and need help with this. 'Love it or hate it personally, Brexit is upon us and bringing lots of new opportunities. Most of our clients have operated in the EU, so tariffs and duties will be a new area for all of us.'
The right path
Minifie sees a close match between Haines Watts and ACCA in terms of both organisations' philosophy on team working, and thoughts on the future changes to the profession.
'A lot of our board's thoughts were driven by the ACCA report Drivers of change and future skills, which led the way in the thinking of the profession. It certainly helped codify our thinking and provided us with the information and encouragement to see that we were going down the right path.'
Robert Stenhouse, ACCA deputy president
"Accountants need a wider range of skills. We need to develop people who can resonate with clients on different levels"