Economies need entrepreneurs to be successful, but entrepreneurs need support. Enter Julie Devonshire FCCA, director of entrepreneurship at King's College London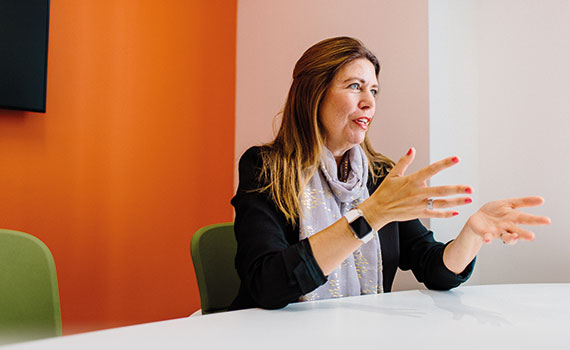 More female entrepreneurs are needed, says Devonshire. 'Look at any cohort at any accelerator and typically you will find more males than females. I aspire to 50/50 cohorts and we have to work on that.' <br><br> Why the imbalance? 'Sometimes the language, imagery and outreach of accelerators are male-orientated,' she says. 'Also, women sometimes have a slightly different attitude to risk-taking and investment.' <br><br> How to correct the imbalance? 'Through the role models we use and the stories we tell. For example, perfumer Jo Malone came to speak to 400 at King's, and that helps to answer the questions that female entrepreneurs have as they seek role models.'
This article was first published in the January 2018 UK edition of Accounting and Business magazine.
Entrepreneurship is a shining hope for economies. And King's College London is determined to turn that hope into reality through its Entrepreneurship Institute. That is the vision of Julie Devonshire FCCA, director of entrepreneurship at King's and successful serial entrepreneur.
The institute was founded four years ago, and Devonshire has been in role for two. 'We're here to support the entrepreneurial mindset across all the university's 30,000 students, 7,000 staff and all alumni who graduated in the last seven years,' she says. 'Some are born natural entrepreneurs, but some skills and attributes – such as sales and marketing – can be taught.'
From that population, the institute first wants to seek out and equip careerist entrepreneurs. In 2017 it received 193 applications, from which it selected the 20 best ventures to host over a 12-month period. Among the support it offers are six experts in residence, including coaches, an entrepreneur and an investor.
The institute's second objective is to support anyone from King's who recognises that in their career they may make use of entrepreneurs' tools. 'For instance, medics need to be innovative, agile and problem-solving, relishing overcoming the challenges that exist in healthcare,' Devonshire explains. 'We want to give our hundreds of medical students those skills.' While some identify as entrepreneurs, Devonshire says that many don't realise they will need the attributes and skills associated with entrepreneurs.
Patriotic entrepreneurship
Devonshire describes the work as patriotic. 'The entrepreneurship world is a shining light; it is the next generation pressing forward with ideas, some of which will eventually employ swathes of people,' she says.
At the end of their time in the institute, Devonshire wants those 20 ventures – which include groups – to be better entrepreneurial leaders. 'As well as a better skillset, we want to create new, sustainable, scalable businesses that will trade, take investment, and provide employment and internships.'
That's because, Devonshire says, governments across the world are defining economic success through the filter of entrepreneurship. That will be realised only if entrepreneurs receive support. It is a belief that is central to Devonshire's approach.
She describes the institute's students as 'fanatical' about entrepreneurship – a trait she has never known before and a source of huge optimism. This is perhaps, she says, because of the role models they identify with – such as Facebook's Mark Zuckerberg – and the media attention on startups and those who run their own business.
This path involves failing, trying and hardship, as well as success: 'It's quite a rollercoaster,' Devonshire says. 'You need such resilience to take the knocks when introducing something that's never been seen before.' It is a view that is informed by her own experience.
Building business
ACCA-qualified Devonshire says she was following a 'classic path' as a financial director but was always more interested in the making of the money, rather than the financial reporting of it. She joined a friend in a venture called One Water, where the idea was to use the profits from the mineral water brand One to build water pumps on behalf of clients – coffee shops, supermarkets – in sub-Sharan Africa. 'I was at the products and business development end of the business,' she says. 'It was a massive struggle. We learnt so much; we had tears and tantrums as well as success.'
After five years of trading, accumulated profits were £8.2m and the business had built hundreds of water pumps, as well as garnering a clutch of social and entrepreneurial awards.
Devonshire then joined Oxfam, which she had worked with while she was at One Water. The charity gave her the job of improving the revenues of its 700-plus shops and three large sorting centres for donated clothing.
Moving on to UnLtd (a foundation supporting social entrepreneurs), she worked on investing an £8m lottery grant across different social enterprises. She was awarded an OBE for this and the effort she has put into communicating about entrepreneurship, especially mentoring female entrepreneurs.
Back at King's, she brings real-life experience and knowledge of entrepreneurship ecosystems including, crucially, strong connections with early-stage investors. 'It's about bringing the outside in, helping students prepare to become more skilled,' she says.
Even today this is not all about tech, although most propositions are executed through digital technology. A King's example is C the Signs, a tool that lets GPs identify cancer early. Developed by two medics, who combined artificial intelligence with the latest medical research, C the Signs reaches a conclusion in 30 seconds. It also won a Tech4Good award in 2017.
King's has huge street-facing posters across its central London sites picturing such eminent alumni as the Duke of Wellington, Archbishop Desmond Tutu and Florence Nightingale. Devonshire says she'll know the institute is a success when one of its entrepreneurs joins this wall of fame.
Peter Williams, journalist