Sinead Bryan FCCA, CFO of Vodafone Ireland, describes how a series of personal and corporate transformations have demonstrated that change is a force for good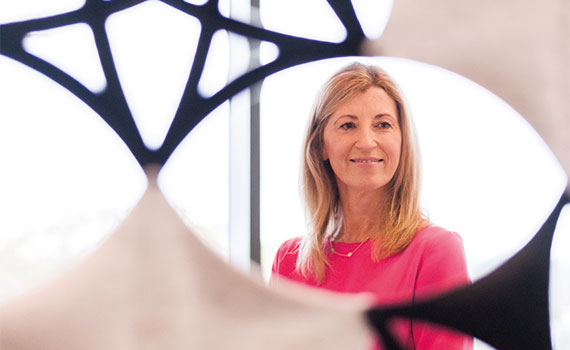 This article was first published in the March 2018 Ireland edition of Accounting and Business magazine.
Edenderry native Sinead Bryan FCCA first came to Dublin as a student intending to study marketing and languages. Fast forward almost 30 years, and she now holds one of the top finance jobs in the country: CFO of Vodafone Ireland.
Not exactly what you would expect from someone whose first ambition was to become a French linguist. So when did the marketing and language paths diverge? As Bryan explains, she was always torn between becoming an accountant and studying French, even though these are two very different paths. 'I wasn't giving up on a love of languages, but rather following some sage advice.' It was her uncle who convinced her that an accounting degree was the best foundation for someone with ambition in the business world, and, with hindsight, Bryan's career path has proved him right.
Following college, Bryan went on to complete her ACCA exams while working in professional practice. 'The three years I spent in audit were a great grounding to ensure that I thoroughly understood accounting principles and their application, but I always felt that I wanted to be in a commercial role.'
'The ACCA Qualification provided me with a lot of practical experience, rather than just the theory, which I feel is important in any education,' she adds.
Before moving on to a career path in industry, like most young graduates, the lure of travel and adventure was strong. So Bryan satisfied both her desire for travel, and for career progress, by taking a position as a contract accountant at a property leasing company in Sydney, Australia.
After her tenure in Australia came to a close, she returned to Ireland, gradually building up her work experience to the point where, in 2000, she joined Fusion Business Solutions (FBS), a decision that would change her career trajectory dramatically.
Career rollercoaster
As financial controller with full responsibility and control of the finance function across the group with annual revenues of €25m and 250 employees, Bryan was in for an exciting ride. In a fairly short time, it became clear that this was not going to be a typical controller's job. FBS was a SAP and Remedy reseller specialising in consulting solutions, while the Fusion Group specialised in IT consulting across a range of products in Ireland and the UK.
As Bryan explains, however, she joined the company just before the dot.com boom, and within a year her role expanded from financial controller of two companies, to six. 'I was also a senior member of the Fusion Group management board,' she adds, 'so I was able to help steer the company through significant growth.'
However, two years later, Bryan found herself working on a restructuring when the dot.com bubble burst. 'It was definitely a challenging role in many ways,' says Bryan. 'I learned an incredible amount by experiencing two very different economic climates over a very short period of time. In the last six months of that job, I took on a contract sales role in the SAP division, which gave me even further experience in the IT sector and strengthened my commercial acumen.'
Clearly the technology sector was destined to be Bryan's sweet spot for many years to come. In January 2003 she joined Oracle in its shared service centre in Dublin where she gained extensive experience leading finance transformation programmes and mergers and acquisition (M&A) integration. She then moved into business finance in 2007 where as vice president finance, she served as a business partner to a number of senior vice-presidents of Oracle's lines of business across Europe, the Middle East and Africa (EMEA).
As Bryan explains, her experience at Oracle was very rewarding as the business was constantly changing and evolving. 'So was finance,' she adds. 'As a result, I became very comfortable with leading and implementing change; I really feel that change brings opportunity.'
Bryan joined Oracle during a time when its goal was to be the best financial organisation in the world. 'The transformation of the finance function was based around four key principles: standardise, simplify, centralise and automate,' she explains.
In terms of simplify, the organisation's structure moved from a geographic focus to a line of business focus and systems were amalgamated into a single global platform, explains Bryan. At the same time, Oracle also moved to global standard processes across the organisation. Shared services centres were centralised and automated, driving a self-service culture across the organisation, using the latest technology.
In addition to breadth of financial management experience during that time, in her latter years at Oracle, Bryan's role included spending time speaking to customers about Oracle's business and finance transformation. 'It takes you out of your comfort zone, gives you a customer's perspective and really gives you credibility when you sit at the boardroom table,' she says.
As to how these experiences have prepared her to take the top finance role at Vodafone Ireland, it has been the building of business acumen during times of dramatic change in processes, technology and consumer demand that have given her the edge.
Technology transformation
As Bryan explains: 'Organisations are undergoing a dramatic transformation due to digital and cloud-based technologies. Vodafone as a service provider of cloud and IT solutions wants to drive and shape that transformation.' For finance specifically, digital transformation is being driven by CFOs who recognise that being competitive means drawing upon rapidly converging technologies and business trends such as data analytics, robotics and cloud computing, and with the use of automation and highly sophisticated algorithms, delivering deeper business insights to support faster decision making.
'In this environment, now more than ever, CFOs need a broader skillset. I feel passionate about driving the digital change agenda,' she says. More specifically, the CFO needs to shape and execute the company strategy, being co-pilot to the CEO. Meanwhile, they need to drive the effectiveness and efficiency of the entire organisation, attract and retain talented finance people, and do all of this while managing enterprise risk and driving the right level and ownership of governance.
For Bryan, leading the finance function at Vodafone depends critically on building the right team in a highly competitive job market. 'It's the top talent that will make all the difference,' she explains. 'Having a solid accounting background is the base line, but I'm also looking for people with strong commercial acumen and communications skills.' Making sure the working environment is flexible enough to cast a wide net is also key. 'We need to ensure that we have the right inducements to encourage female talent into our organisation,' she adds. 'Vodafone is tackling that objective by having a fantastic wellbeing agenda, which includes flexible working hours, and a number of programmes that encourage women back into the workforce. As a CFO and mother of two young children, it's absolutely critical, and was a key factor in helping me make the decision to move to Vodafone. Ultimately we need to be open to different ways of working that suit individuals, while clearly ensuring that they still get the job done.'
Ramona Dzinkowski is a Canadian economist and editor-in-chief of the Sustainable Accounting Review
"We need to ensure that we have the right inducements to encourage female talent into our organisation'"
"In this environment, now more than ever, CFOs need a broader skillset. I feel passionate about driving the digital change agenda"