Left in tatters by the 1994 genocide, Rwanda's economy is now one of the standout performers in Central Africa, notching up year-on-year growth and a notable fall in poverty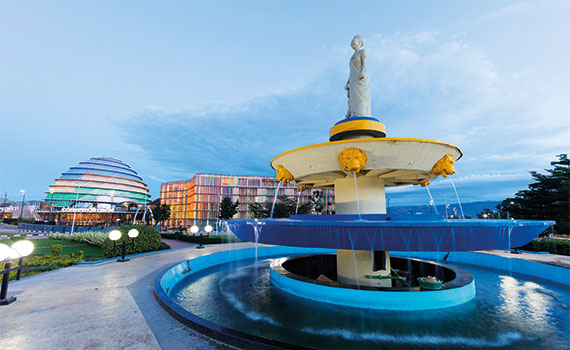 This article was first published in the April 2018 African edition of Accounting and Business magazine.
When I first travelled to Rwanda in 1996 for professional financial management work, there was still a night-time curfew in force across Kigali, its capital city, and its people, shell-shocked after the then very recent genocide, were quietly reconstructing their shattered lives. Even back then, women had begun taking a leading role in national development, and the foundations for the future were being carefully laid.
Two decades and much hard work later, Rwanda is something of a beacon in the region. Between 2002 and 2015 the country chalked up consistent average real GDP growth of 8% year on year. The World Bank cites it as the only country in sub-Saharan Africa that managed to achieve most of the United Nations Millennium Development Goals by 2015. Today, Kigali is curfew-free and in terms of gender equality the country is an example to the world – more than 60% of members of its lower chamber of parliament are women, compared with just 23% globally, according to the Inter-Parliamentary Union – an enviable proportion that many developed countries might wish to emulate. In sub-Saharan Africa, its closest rivals in this context are South Africa with 42.1% and Senegal with 41.8%.
Rwanda's GDP of US$8.38bn (2016) supports a population of 11.9 million, equipped with strong aspirations and a good work ethic, and it is among the least corrupt countries in sub-Saharan Africa. Gross national income per capita was US$700 in 2015, according to the World Bank, whose Ease of Doing Business Index ranked Rwanda as 41st out of 190 countries in 2017, making it second-best in Africa.
Business is mainly focused on agriculture, trade, energy, hospitality and financial services, but the economy is overwhelmingly rural and heavily dependent on agriculture. Strong recent growth in the services sector, particularly construction and tourism, has contributed to the overall upward momentum of the economy. The government's economic priority is to turn Rwanda into a regional trade, logistics and conference hub. It is building several new international business-class hotels and a convention centre in downtown Kigali, as well as expanding and investing in the fleet of the national carrier RwandAir.
Rwanda defined its long-term development goals in its Vision 2020 programme, which aims to transform the low-income, agriculture-based economy into a knowledge-based, service-oriented one with middle-income country status by 2020.
Things are moving in the right direction. The proportion of people living below the poverty line fell from 57% in 2005 to 39% in 2013. However, there is still a long way to go, as 63% of the population still live in extreme poverty, as defined by the World Bank, surviving on less than US$1.25 a day.
According to the National Bank of Rwanda, the country attracted US$379.8m of foreign direct investment (FDI) inflows in 2015, representing 3% of GDP. Rwanda had an accumulated FDI stock of US$1.4bn in the same year. A new investment code in 2015 includes equal treatment for foreigners and nationals generally, free transfer of funds, and compensation in the event of expropriation.
The Companies Act 2009 requires that financial statements in Rwanda be prepared in accordance with international accounting standards and authorises the Institute of Certified Public Accountants of Rwanda (iCPAR) to set accounting standards compliant with IFRS Standards. International Standards of Accounting (ISAs) issued by the International Auditing and Assurance Standards Board (IAASB) have been adopted without amendment.
The Capital Market Authority defines the regulatory framework under which the Rwanda Stock Exchange operates. Listed companies are expected to comply with the requirements of IFRS Standards and ISAs.
The World Bank report on the observance of standards and codes in accounting and auditing in 2015 concluded that while Rwanda had made significant progress in strengthening corporate financial reporting since the first such report in 2008, further development was needed to support the country's growing economy. A strong accountancy profession will be central to achieving good governance and improving accountability, transparency and efficiency in resource deployment.
Research shows a positive correlation between the number of accountants in employment on the one hand, and GDP per capita and the United Nations Development Index on the other. According to the Nexus 2 study conducted by IFAC, accountants are thought to add US$575bn a year to the global economy. Rwanda needs to greatly expand the number of nationally qualified accountants if it is to achieve its goal of being a financial and services hub and bolster service delivery across the public sector. Having a strong accountancy profession in place will give the country the best chance of attaining its Vision 2020 targets.
Alnoor Amlani FCCA is an independent consultant based in East Africa
"Trade and investment reforms have created an enabling business environment that appeals to investors"